Deadly Racism in our Justice System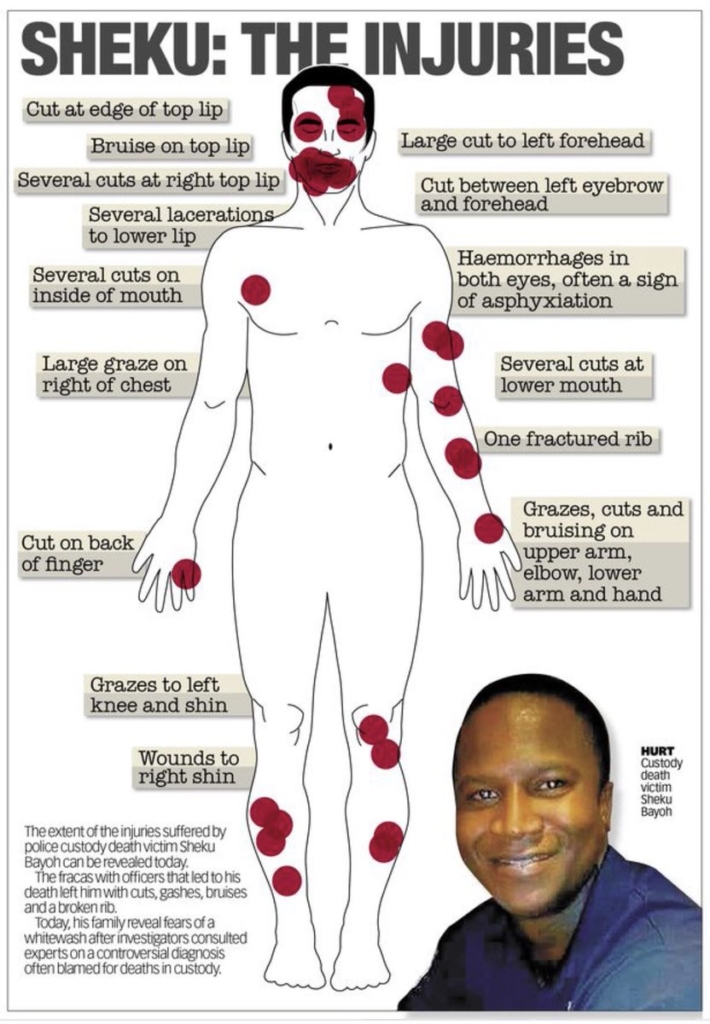 On May 3 2015, Sheku Bayoh died in police custody. Three-and-a-half years later, his family and friends learned that none of the nine officers involved in his death will face prosecution.
Sheku Ahmed Tejan Bayoh, was a 31 year old Sierra Leonean man who worked for British Gas and had two young children. After being arrested by police in Kirkcaldy, Fife, Mr Bayoh had been detained, handcuffed, pepper-sprayed, and put in leg restraints following an alleged altercation with a police officer. At a meeting held earlier this week at Edinburgh's Crown Office between Bayoh's sisters; Kadijatu Johnson and Adama Jalloh, Aamer Anwar, the family's lawyer, and James Wolffe, the Lord Advocate, it was announced that Scotland's chief prosecutor will not be pressing charges against any of the white officers involved in the event.
After Wednesday's unsurprising – the decision had been leaked to the press in preceding weeks – but gut-wrenching disappointment, the Bayoh family are calling for a public inquiry, believing that "an FAI would be another betrayal and would do nothing to bring about real change, accountability and justice." A public enquiry would offer the opportunity for all evidence regarding the case to be disclosed and it continues the focus on a case that Police Scotland would like to sweep under the carpet. And perhaps, more importantly it keeps hope alive of the possibility of justice. However, many public inquiries are an exercise in whitewashing the sins of the police and other institutions. They are about people, not just procedure, so they reveal all kinds of conflicts in our society over things like government secrecy, deference, and the power of professions. Often families want to know what had happened to their dead relatives and why, whereas the focus of public inquiries are often on the organisational failures which allow people to commit the crime.
Mr Bayoh's story is part of a pattern in the UK when it comes to Black people and the police state.
Research conducted by INQUEST (a British charity providing specialist advice services to the bereaved and the wider public on contentious deaths and their investigation) found that between 2005 and 2015, a disproportionate number of those who die in, or following, police custody in England and Wales as a consequence of force have been from Black and Minority Ethnic (BAME) communities.
Over the past 24 years, more than 500 BAME individuals have died in suspicious circumstances whilst in state detention. Yet not a single official has been successfully prosecuted, according to a report by the Institute of Race Relations. A large proportion of these deaths involved undue and excessive force, and many more were due to a "culpable lack of care". Often individuals detained suffered from a mental illness. The majority of the 509 BAME deaths studied since 1991 occurred in prison, with 137 cases in police custody and 24 deaths recorded in immigration detention.
Some of the most high profile Black victims of police brutality, police neglect, and gross misconduct by the police include: David Oluwale (1969), the first known Black person to have died in police custody in the UK; Cherry Groce (1985); Joy Gardner (1993); Stephen Lawrence (1993); Christopher Alder (1998); Roger Sylvester (1999); Azelle Rodney (2005); Frank Ogboru (2006); Sean Rigg (2008); Jimmy Mubenga (2010); David "Smiley Culture" Emmanuel (2011); Mark Duggan (2011); Kingsley Burrell (2011); Anthony Grainger (2012); Julian Cole (2013), who has been left in a vegetative state; and now Sheku Bayoh (2015). In the case of Stephen Lawrence, it took over twenty years of campaigning to bring his killers to justice after the police played a key role in obstructing the course of justice, but still, for the victims and their families, there remains no justice and no peace.
In the UK, a Black person is less likely to be shot dead on the streets (although Mark Duggan was) than in America, but they are still likely to be detained with brute force and left to die at the hands of neglectful officers. The racism in Britain's justice system is gradual, insidious but deadly nonetheless. Amid recent claims that Scotland has a higher rate of race-related murders compared to the rest of the UK and as Mr Bayoh's death in the care of Police Scotland demonstrates, Scotland and it's devolved justice system is not free of the same racism which ultimately kills. We are complacent because we do not think things like this happen here, but they do and they have done for years.
The death of Sheku Bayoh – a Black man – whilst in police custody didn't happen in Glasgow – where 12% of the population are of Black and minority ethnic – but in the small town of Kirkcaldy, with a population of less than 50,000. Scotland is a small country of small towns and small places, often idealised as a place where everyone knows one another and where doors can be left open. But racism, institutional or otherwise isn't bound by city walls. Sheku Bayoh would have been hypervisible as a Black man in Kirkcaldy, known to those in the small town, including the police. Sheku would have known what happens to Black people who step out of line. He would have known not to resist.
As I stood for over three hours outside the Crown Office in Edinburgh with fellow supporters, awaiting an outcome which we already knew, there was still hope. Hope that Scotland really was different, that we can and will recognise our failings towards the Other in the past, in the present and work towards a country which is for us all. After all, law and order is a devolved matter.
We are not many here in Scotland and Sheku's death will affect how Black and people of colour see ourselves and how we are seen. This decision sends a dangerous message, aligning us with other countries and white supremacy ideology, who don't think Black Lives Matter.