Scottish Investment Bank Gets Closer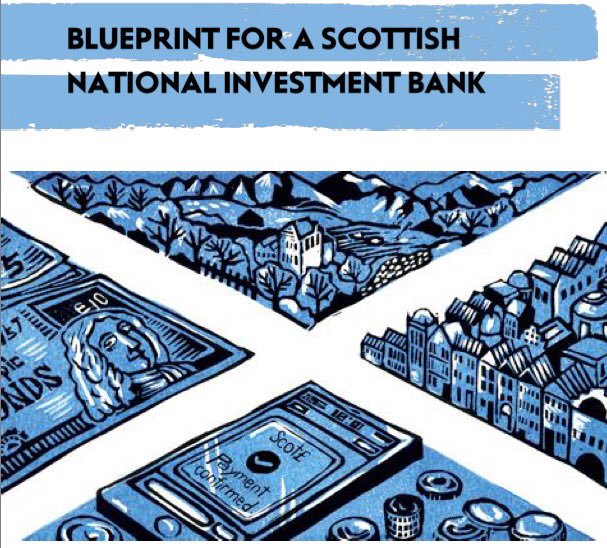 Plans to create the state-owned Scottish National Investment Bank (SNIB) are getting closer, thanks to the SNP government. The legislation to set up SNIB should go to Holyrood in February or March next year and the bank could open its doors in 2020. That's a fast-track by in legislative terms and means SNIB will be fully operation by the May 2021 Holyrood election.
However, there are still holes to fill in regarding how the bank will operate and – crucially – who will run it. The good news is that the Scottish government and the civil servants running the show are very clear SNIB will not exist simply to fill holes left by the failures of the commercial banking system, i.e. correcting so-called market failure.
In fact, commercial capitalist banking markets fail all the time, and existentially once a decade on average. The only true way of eliminating market failure is to eliminate capitalist financial markets altogether and replace them with a rational system guided by social need rather than greed and rampant speculation.
As it happens, the past few weeks have seen everyone from Gordon Brown to analysts at JPMorgan, the giant US investment bank, start predicting that the next banking disaster will happen circa 2020 – exactly when SNIB will be available to help the Scottish economy keep motoring.
Who Will Run the SNIB?
Present civil service thinking says SNIB will be run by a professional board appointed by Scottish ministers and operating under a strategic plan signed off by the Scottish government. There will also be a separate advisory committee monitoring the SNIB board and feeding advice to ministers.
Worry #1 is that the SNIB board is stuffed full of risk-averse, professional bankers from Charlotte Square. Actually, you might be surprised (as I was) by the number of lefty, radical bankers you find working in the City of London. If you employ 700,000 folk, some of them are bound to be anti-system. Let's hire some convinced public sector interventionists but pay them less than the First Minister.
As a democratic precaution, the SNIB CEO should be subject to approval by the Scottish Parliament. If we need to hire a few specialists at exorbitant market fees, let it be on a short-term contract only, milk them for what they know, then send them back to Goldman Sachs or Barclays whence they came.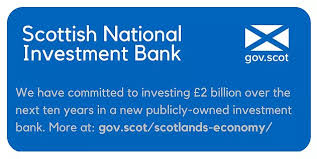 Worry #2(a) is that the strategic guidelines under which SNIB operates are too loose (because ministers like to be all things to all voters), meaning the bank's professionals can do what they like. Worry #2(b) is that the guidelines are subject to random shuffling as Holyrood administrations change or when ministers feel the need to save a factory in their constituency. The solution is to give the external advisory committee a serious planning role enshrined in legislation.
Rather than have ministers mouth platitudes and the SNIP professionals lend to their pals, we want a return to serious indicative planning in Scotland. This would be driven by the SNIB external advisory group, rechristened as the Scottish Popular Planning Council. The PPC would have a mandate and budget to consult widely (not just with industry) on the social and economic goals Scotland wants to achieve over the appropriate planning horizon, say ten years to smooth out global cycles. The PCC would have to sign off on the bank's strategic plan and monitor its implementation through statutory reports to the Scottish Parliament.
Note: by indicative planning I don't mean the PCC should write a detailed, inflexible sectoral output plan on the old (and failed) Stalinist model. I mean it should consult the Scottish people at a popular level – a genuine exercise in participatory planning in which (once a decade or so) communities, councils and trades unions discuss a draft plan that defines a hierarchy of social and economic goals. From this exercise the SNIB's strategic plan should emerge. The plan will not be sector driven, but mission driven. Loans and investments would incentivise those coming to the SNIB with concrete proposals for projects that helped meet the target goals.
Worry #3 is who sits on the external advisory group, the Scottish Popular Planning Council. SNP governments have had a weakness for stuffing quango boards full of business grandees with a hostility to the independence movement or Establishment types whose main credentials are that they won't frighten the horses. We need a SNIB that has an appetite for risk, so we need advisors willing to think outside the proverbial box.
Cliff Edge, Anyone?
As I write, monetary events in the UK look less than propitious. The growth rate of the Bank of England's 'broad' measure of the money supply – M4x, which measures the available liquidity in the economy – has been slowing for the past two years, and economic growth with it. But recently M4x has suddenly fallen to stall speed. Brexit cliff edge ahead?