Flipstones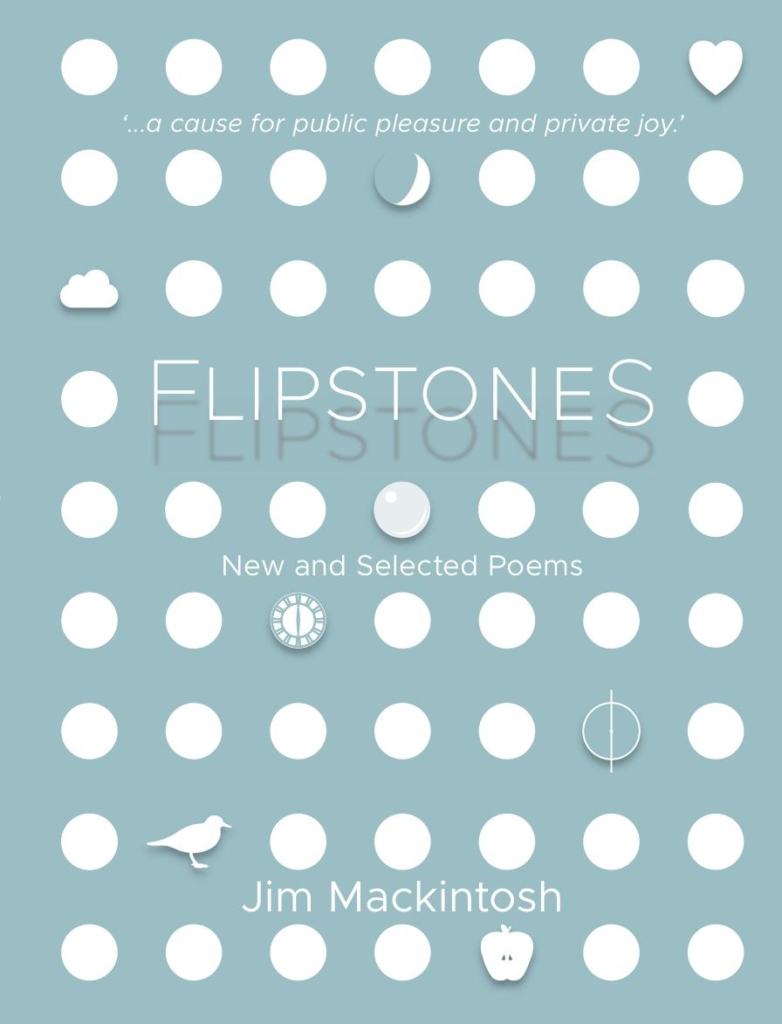 "For all my family. For all my friends. Including you." So goes the most heart-warming dedication to a poetry collection you're likely to read this year. In his latest book, Flipstones, St Johnstone's poet-in-residence Jim Mackintosh has caught the imaginations of so many, not only through the dazzling array of subjects on display in his poetry, but also the deeply humane and thought-provoking nature of his writing.
Flipstones is a joy to read and a credit to ground-breaking publisher, Tippermuir books, who have proven themselves a credit to Scottish literature time and time again with releases such as Matthew Mackie's much-loved Scots translation, "The Tale of the Wee Mowdie" and Anthony Camilleri's affectionate and moving memoir "Hunters Wee Stories from the Crescent".
Jim is the working definition of a people's poet, and reading Flipstones is like taking a stroll on a warm summer's day with a friend whose thoughts delight. With his eagle's eye for detail, deep curiosity about the inner lives of his subjects, and startling talent for original imagery, to take a stroll with Jim through the landscape of this collection is to remember with dazzling clarity what life is really about. But his talents only begin with description. Jim is also the poet as advisor, as a spokesperson, as a chronicler of our times.
This said, there is also a gentleness to Jim's narrative voice, along with a real concern for the subjects of his poetry, no matter how long ago they may have lived. In his poem, "For the Man of Atholl", inspired by an exhibition about the discovery of a long cist burial at Bridge of Tilt, Jim speaks to the remains of a Pictish man, asking the kind of questions only someone with a heart and a half would think to ask:
"Did you have bairns? Those gentle voices
who missed you at their next hushie-ba,
at the next bite of snow, your memory
caught in the stick reek mizzle, warm coils
of your absence, and the years drifting by."
There are a myriad of themes in this versatile collection, but the one which most resonates is Jim's innovative approach to the concept of time. The fluidity and ease with which he shifts from one age and viewpoint to another is remarkable, and he does so while remaining wonderfully free of cliché.
In the poem "James, A King in Waiting", the late King James turns his eye on the country he acted to preserve, with full knowledge of the 'generations of damp history' which have covered modern Scotland since his death. Eyeing this new present, King James speaks out from under 'generations of damp history/layered in soil broken crockery', with a palpable air of disappointment at what Scotland has become. "…but I have become used to false dawns / to the glimpses of justice promised then discarded in school jotters"
Other poems which draw richly from the past are more personal than political, though Jim never seems to write with either theme exclusively in mind.
In the poem "The Skim of Pasts", for example, the gaps between generations, rather than ages, come to the forefront. Here, while standing on the beach, trousers rolled up, feeling for the perfect pebble to skim into the water, Jim finds he has:
"turned into my Grandfather
without a hint of protest, standing
in second best suit trousers neat
with rolled up precision to knees"
While Jim recognises that he "lacked the collarless shirt and pipe to finish the transition", this simple description of a man now gone, once fully consumed by this simple act of leisure, makes for a touching piece of poetry, in which boy and man (and the man the boy later became) are conjured up all at once, simply and beautifully.
The theme of nature runs like a current throughout this book, and in poems such as these it acts as a conduit between past and present, with man, nature and death all dancing as one as a stone is thrown, skims across the water five times, and sinks, "…returning to wait / for the next generation of rolled up trousers."
Again and again in Jim's poems, nature acts as a portal to the past, its tactile, living presence a constant reminder of the timeless nature of the human experience. Through making explicit nature's ability to summon up men and women long dead, Jim reminds us not only of our own mortality, but our responsibility to preserve the planet for future generations. Here is a poet who writes with the past, and the future, firmly in mind.
In his sobering poem, "The Estuary 1914", Jim surveys a landscape of mud flats, thinking of the soldiers whose lives ended "In the un-timbered trenches of autumns past". Here again, nature bridges the gap between the dead and the living:
"Assassin stalks: days moving ancient bones
Distracting the break of honest toil
Upwards through buds and leaves and
Nests embroidered with inherited wisdom"
That such an intricate poem should spring from this association may seem natural, but it is Jim's poetic craft which is at work. Few poets are able to keep a grasp on so many facets of life all at once while maintaining such strong imagery. This is a gift which Jim has honed to an art form, offering us a kaleidoscope of images from disparate lands and lives, all intertwined – shifting, interlinking, dazzling, speaking straight to the heart.
By the time the poem ends, we have become so grounded by the almost uncanny backdrop of this once idyllic landscape, that the image of these ghostly soldiers, searching "For the wind heaved spot where they'd planned / The routes of unhurried journeys never to be taken" is too much to bear.
Despite the often challenging subjects of his poetry, it is impossible not to stand and stare at the landscapes Jim walks us through so thoughtfully, so expertly. He has perfected the incredibly difficult art of conjuring up a scene so rich with life and history that it feels as though you are recalling your own experience as you read his poems. How lucky we are that Jim has decided to invite us along with him on this marvellous journey. Follow him, not as a fan, but as a friend, with joy in your heart. You won't regret a single step.