Can immersion school 'love potion' save Belgium?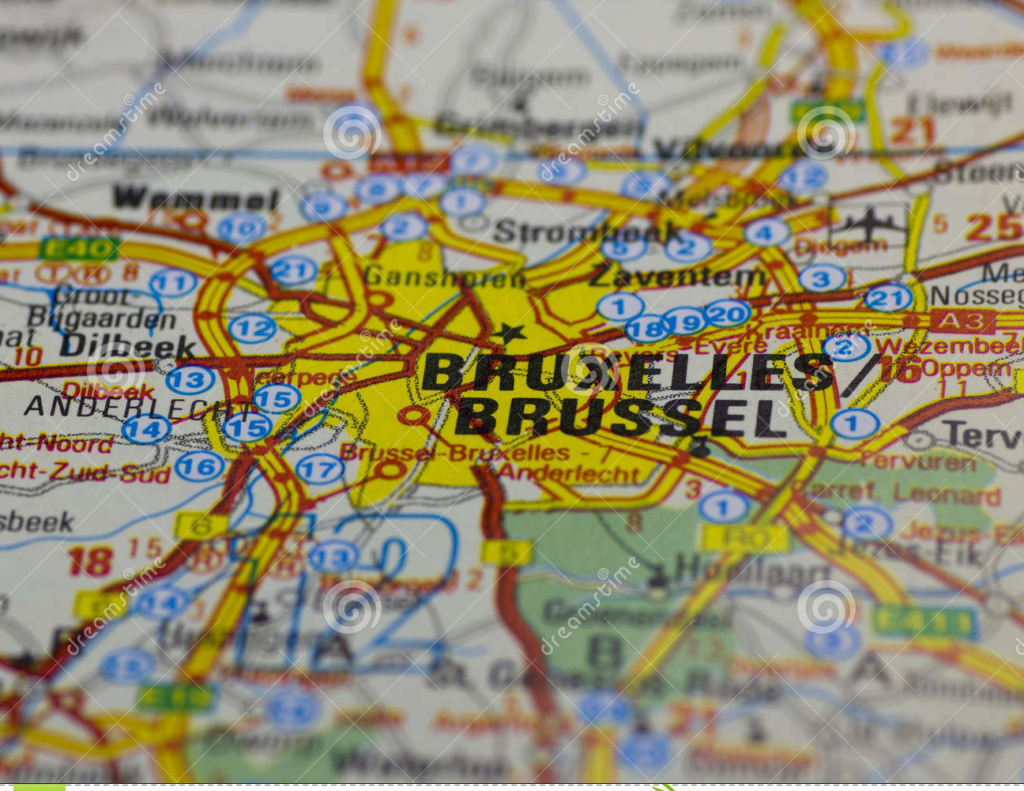 French-speakers and Dutch-speakers in Belgium are drifting towards a divorce, and one of the last hopes for national unity are bilingual schools, writes Justin Stares in Rixensart, Belgium.
When French-speaking politicians in Belgium's south battle with their Dutch-speaking counterparts from Flanders, you can feel the fallout on the school playgrounds. As their leaders slug it out in public, children become less inclined to learn the language of schoolmates who in many cases live within walking distance.
Bitter negotiations on forming a coalition in 2010 and 2011 became personal and language-based. Dutch-speakers accused French-speakers (many of whom speak poor Dutch) of "raping" their language and of despising the "other" linguistic community.
By comparing the results of questionnaires undertaken in 2010/ 2011 with similar surveys conducted a decade earlier, researchers discovered that schoolchildren's motivation during the crisis dropped "significantly" over a range of variables. On both sides of the language border they said they found their neighbours' language less useful professionally, and less attractive. Language-learning motivation is a political barometer, academics concluded.
This question is not simply academic. For Belgium, it's existential. The French and Dutch linguistic communities already live to a large extent in blissful ignorance of each other. My French-speaking village, Rixensart, sits right on the language border to the south of Brussels, but the majority of residents here have very little contact with our Dutch-speaking neighbours in Overijse, just a few kilometres away.
No-one, be it government officials or private enterprises, caters for a bilingual clientele here. Rixensart gyms and restaurants advertise their services exclusively in French; there is not much point translating a menu into Dutch if the Dutch-speakers seldom come. On the other side of the border, at the Overijse swimming pool, staff are under instructions to speak nothing but Dutch. "We play sport in Dutch" reads the banner visible to all swimmers. French-speakers sometimes go there because their children like the wild-water slide, but they are hardly made to feel welcome.
Tensions in Brussels, officially a bilingual city, run higher still. Hundreds of years ago Brussels was Dutch-speaking, but today it's almost exclusively francophone. Dutch-speakers, who make up fewer than one in ten inhabitants, have been reduced to frequenting a few bars and restaurants in the city centre if they want to relax in the mother tongue. While many still commute into town every day for work (Brussels is after all the capital of Flanders as well as the capital of Belgium) the vast majority do not live there.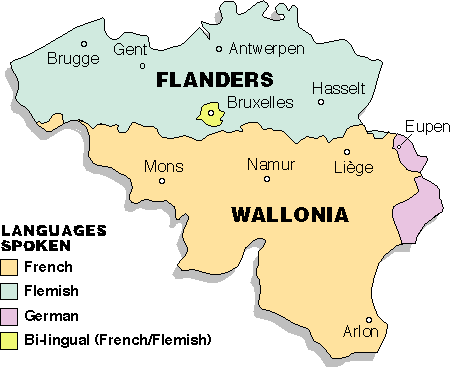 Language sensitivities are such that no-one knows precisely how many Dutch-speakers are left in Brussels; linguistic surveys have been banned. It is however possible to gather an idea via the number of people who use Dutch to apply for a car number plate, or to communicate with utility providers. These numbers, while sometimes criticized as imprecise, suggest there are very few Dutch-speakers left, perhaps as few as 3%. There might even be more Arabic-speakers in Brussels.
You can live in the capital (as I did for nine years) oblivious to this ongoing 'linguistic cleansing'. The tens of thousands of European Union officials, lobbyists and diplomats who call Brussels home have made the European quarter around the European Commission something of an English-speaking bubble. If they do venture further afield into the city, they get by in French.
But in the Brussels suburbs, where the Belgians live, using the wrong language can cost you your job.
In September last year, I interviewed Betty Simons, who was forced to close down her crèche by the Flemish authorities. She was furious because she was fully qualified to take care of young children, and was what's more providing a service that was sorely needed.
Betty's problem was that she had chosen to study in French. Flemish welfare minister Jo Vandeurzen informed her by letter that her diploma was not valid, despite the fact that it had been issued in Belgium. The decision was all the more frustrating because Betty is perfectly bilingual thanks to her French-speaking mother and Dutch-speaking father.
"Before opening my own crèche I studied all the rules. I know how many square metres is required per child. I worked for three years in crèches before deciding to set up my own," she told me. "The Flemish authority says my qualification is not good enough because it does not come up to the standards of the Dutch course."
While educational qualifications are in theory recognised nationwide, the minister's letter states that this no longer applies to crèche workers. Betty's French-language course is considered inferior because it comprised fewer hours' tuition than the equivalent Dutch-language course. "I even planned to give the children singing lessons in Dutch, but that was not good enough," she continued. "My lawyer says that if I had been from outside Belgium, even Turkey, there wouldn't have been a problem. What they are really afraid of is that in my crèche I would be bringing up French-speakers."
Betty worked on one of the fault lines of Belgium's language dispute: Crainhem (in French) or Kraainem (in Dutch). This suburb is effectively part of Brussels and is populated mostly by French-speaking Belgians and other Europeans. It is however officially a bilingual suburb, known as a 'facility commune', meaning residents can chose to communicate with the authorities (town hall, police) in either French or Dutch. But importantly, it lies in the territory of Flanders, where Flemish law applies.
Belgium is slowing separating by means of a series of political reforms that have taken power away from the federal government and transferred them to the country's three regions: Flanders in the north, Wallonia in the south, and Brussels. Pre-school education policy has been 'regionalised', and Kraainem must follow rules laid down by Flanders, even if few of the suburb's residents are Dutch-speaking.
Flanders, Belgium's wealthiest region, is engaged in a losing battle to keep control of what were historically Dutch-speaking neighbourhoods around the capital. The city (population, around 1.2 million) has grown faster than its infrastructure, and the French-speakers are spilling out into the Flemish surroundings, inexorably changing their linguistic makeup. That is why the staff at the Overijse swimming pool have been told to speak nothing but Dutch: local politicians, and some residents, are trying (largely unsuccessfully) to prevent the village become French-speaking.
Flemish hostility towards greater use of the French language around Brussels – sometimes derogatively referred to as the francophone "oil spill" ("olievlek") – is understandable from a historical viewpoint. Dutch-speakers were officially relegated to second-class citizens when the country was founded in 1830. French, the preferred language of the monarchy and the industrial elite in Wallonia, became the official language of politics, schooling, and the courts. It took Dutch-speakers a century of hard struggle to gain linguistic parity, in the face of consistent francophone resistance. Resentment boiled over in the 1960s in the Flemish town of Leuven, resulting in riots and the splitting of the city's university along language lines. A new, French-speaking university, Louvain-la-Neuve, was created at a safe distance in Wallonia. The books in the Leuven library were divided up randomly.
Belgium's largest political party, the New Flemish Alliance or N-VA, is in favour of the creation of a Flemish state and the dissolution of Belgium, though it does not have a majority, either in the Flemish parliament or among the Flemish. The long-term goal has therefore been put on ice in favour of a series of reforms that will, at their current pace, eventually achieve the same result. Federalism – the devolution of powers to the regions – is very advanced in Belgium, and, in addition to education, the environment, waste, planning permission and transport policy now includes taxation. This makes life complicated for accountants: burglar alarms, for example, are no longer tax-deductible everywhere.
Observers might conclude that it is just a question of time before Belgium breaks up. Some would say that the country was, after all, an artificial construction, and not a natural geopolitical entity (this is debatable).
There is however still a little hope: bilingual Belgian children. Over the last 20 years, particularly in the south, there has been an explosion in 'immersion' schools, both primary and secondary.
These French-language schools offer immersion programmes in English and German, though most are in Dutch. In 2015-2016, 191 primary schools and 100 secondary schools were enrolled in the immersion system. The number of pupils enrolled in 2013-2014 came to 32,000, or around 6% of primary school children and 3.9% of secondary school pupils.
These schools are run according to the Content and Language Integrated Learning (CLIL) model, which in practice means that from the third year of infant school the teacher is a Dutch native speaker for most of the time. Certain subjects, such as physical education and religion, continue to be taught in French, though these typically occupy around one day a week. At the immersion school my children attend, the relative weight given to French over the school week shifts back to 50% by the third year of primary school. French then becomes the dominant language – around 80% of the working week – as the pupils prepare for their pre-secondary school exams.
In Wallonia, immersion schools have existed since 1998, though, due to the language sensitivities explained above, they were not introduced in Flanders until 2014.
The method is not without its detractors. It produces mainly passive knowledge i.e. children understand well, though they seldom learn to speak fluently, and always revert to using French with their classmates when teacher is not around. Learning a subject such as maths in one's second language is probably not ideal, though the small amount of research undertaken on this topic has shown no difference in terms of tested capability between CLIL-pupils and non-CLIL pupils.
My daughter, who speaks English and Spanish at home, ended up somewhat comically learning arithmetic in her fourth language. Rather than insist on mono-lingual classrooms, where either French or Dutch is spoken exclusively, a number of academics have suggested that the division at immersion schools should be less strict.
Finding immersion teachers has also proven a headache for headmasters, in particular when those who crossed the border from Flanders to Wallonia faced a pay cut.
While some criticism is inevitable, the Belgian immersion system seems to have achieved one of its principal "socio-affective" goals. Research published last year suggests pupils who attend Dutch language immersion schools not only find Dutch less difficult and more attractive, they also show greater interest in Flemish culture, and as a result end up better disposed towards living in a multilingual, united Belgium.
Is this positive attitude entirely due to the Belgian immersion system, or do the "open" attitudes of parents also play a role? This is unclear. Researchers also noted that while respondents might feel better disposed towards Dutch-speakers, this does not necessarily mean they will actually be willing to cross the language border for work, or to live.
It is also worth underlining that while better inclined towards Dutch, Belgian pupils of all backgrounds remain by a long chalk more positive about English. Rather than moving to another Belgian region, therefore, they would logically prefer to emigrate to the UK or the US: hardly the goal of the Belgian immersion system.
A Eurobarometer survey from 2012 found that 72% of Belgians spoke a language in addition to their mother tongue. This tiny country is full of bilingual and multilingual speakers. It is not uncommon to come across a butcher who speaks Spanish, or an accountant who reads Italian.
There are however mono-lingual blackspots, or more precisely: many French-speakers remain incapable of speaking Dutch and unwilling to learn. Among the Dutch-speakers, particularly the young, English is displacing French as the second language, despite the fact that French remains compulsory at school.
The psychological distortions of years on the linguistic frontline have made Brussels a somewhat surreal city. Unlike in Wallonia or Flanders, you can send your child to a French-language school or a Dutch-language school in Brussels, but you will struggle to find a bilingual French-Dutch school. Amazingly, employers in Brussels report that they have better responses when they advertise for trilingual French-Dutch-English speakers than when they advertise for bilingual French-Dutch speakers!
When you enter a restaurant, it is not uncommon to be greeted in the bilingual fashion: "goedeavond, bon soir", but that doesn't mean the waiter actually speaks both languages. If you reply in Dutch, he or she might well switch to English. It's most bizarre.
The idiom "we speak the same language" refers to more than just communicating in the same tongue. It means getting along with that person; understanding where he or she "comes from". In Belgium, research suggests that this is more than an expression; it could well be scientifically true. The growing success of the immersion system in Wallonia has led it to be nicknamed the Belgian "love potion". Whether this cocktail is enough to assure the country's future, however, remains to be seen. It is for the moment largely a southern, Walloon initiative, though it could spread into Flanders.
With no common language and very patchy respect for the monarchy, the glue holding Belgium together is not particularly strong. Parliamentarians from the N-VA refused to applaud the national football team when it obtained the FIFA Football Federation's number one ranking – a key litmus test.
It is perhaps asking a lot of immersion schools to reverse decades of ill-will.
*
Justin Stares is a Belgium-based freelance journalist who tweets about Belgium @JustinStares