Lessons from Chomsky at 90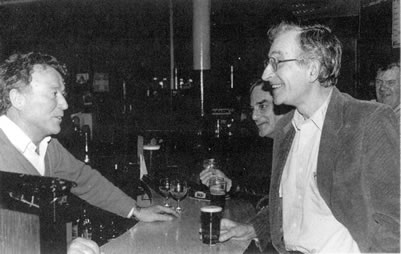 This week Noam Chomsky turned 90.
Here Nathan J Robinson's writes '13 Lessons from Chomsky': "If I were to summarize the main points I've taken from Chomsky's writings and talks, they would be this: You should have both compassion and consistency, care about freedom and fairness alike, and be rational, curious, and humble".
His thirteen lessons are summarised as …
1. Libertarian Socialism
2. Pragmatic Utopianism
3. Rejecting Simple Binary Distinctions 
4. The Consistent Application of Moral Standards
5. Clear and Accessible Writing
6. Skepticism of Status
7. Self-Critical Science
8. Commitment to Open Inquiry
9. Critiquing Power Without Conspiracy Theories
10. Simple Things Are The Most Complicated Things
11. Not Liking Politics
12. Public Fearlessness, Private Generosity
13. No Gods, No Masters, No Idols 
Each of these is explored in more detail here.
'People at the top often try to convince those at the bottom that you get to the top by being smart. In fact, Chomsky says, success is probably driven by the possession of "some combination of greed, cynicism, obsequiousness and subordination, lack of curiosity and independence of mind, self-serving disregard for others, and who knows what else." Education, he says, selects for passivity: You do well if you flatter your teachers by repeating what they think, you do less well if you refuse to go along with the assignments you're given because you think they're stupid.
The education system in the United States, Chomsky suggests, does not really educate. It subdues. A genuine education involves helping someone through a process of self-discovery and curiosity, not just learning to regurgitate facts. Thus, because the people who do best in our current education system are those who got the most As, as opposed to those who developed their minds the most, we shouldn't trust a person to be wise just because they're educated. This is something a lot of people realize intuitively, but there are still a lot of "educated fools" who are listened to and given a lot of credence.'