A Celebration of Sixty Years of Scottish CND – Scotland: A Peace of History
Scottish CND are launching a mobile exhibition featuring sixty years of the anti-nuclear movement in Scotland this Saturday (15th December 2018 at the M)itchell Library.
The Scottish Campaign for Nuclear Disarmament has created a mobile exhibition of a visual timeline with accompanying video testimonies from key figures in the nuclear disarmament movement. Scottish CND, which turned sixty this year, hopes that this exhibition, will be nostalgic, inspiring and educational.
Enjoy and share these key infographics, courtesy of Bella on Facebook, Twitter and Instagram.
This is the toxic legacy of the British State. A free Scotland will be a nuclear-free Scotland. A free Scotland will be a country without weapons of mass destruction.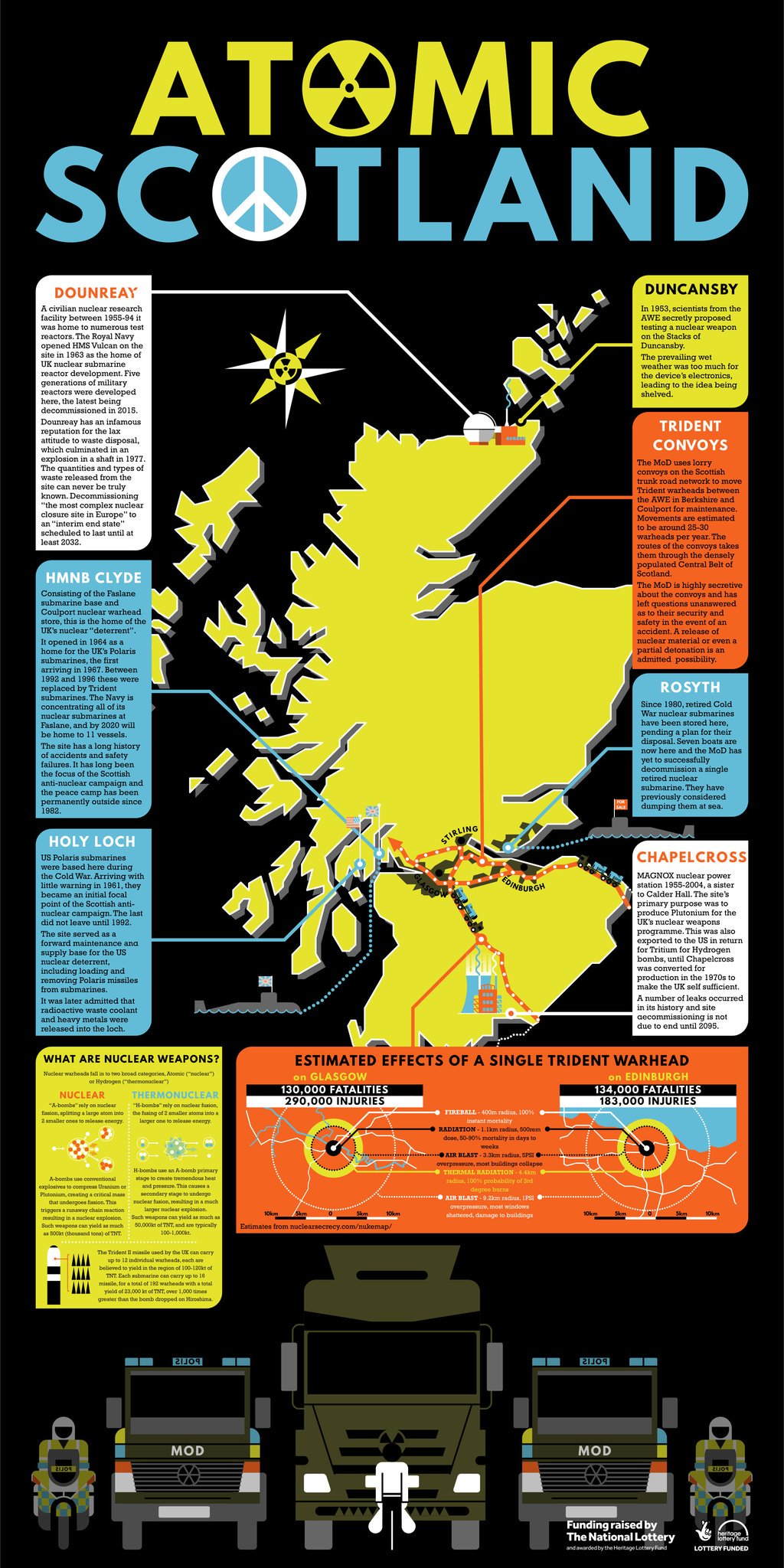 Arthur West, Chair of Scottish CND, told Bella – "Scotland: A Peace of History is an opportunity to look at everything CND have achieved, there is a significant body work there and we should be proud of that. We are grateful to the Heritage Lottery Fund for supporting this project. It is very encouraging to see the Fund get behind an initiative which tells the story of Scottish CND and the wider Scottish peace movement."
Emma Cockburn (campaign worker at Scottish CND) told Bella:
"This is a massive project, the first of its kind which collates nearly eighty years of peace activism in Scotland. Every one of us has a role in the campaign against nuclear weapons on our land and in our sixtieth year as a campaign, nuclear disarmament is needed now more than ever."
Key events in the exhibition show the progression of nuclear weaponry from the first 'a-bombs' to the multi-billion dollar global industry that exists today. Scotland: A Peace of History show how the weapons involved not only technologically, enhancing their targeting capabilities and destructive power, but also how possession of nuclear weapons progressed into a symbol of strength and status, coveting by powerful nations. Events such as international treaties and agreements regarding nuclear weapons give a historical view of the ways in which the global community have tried to navigate this dangerous and divisive topic.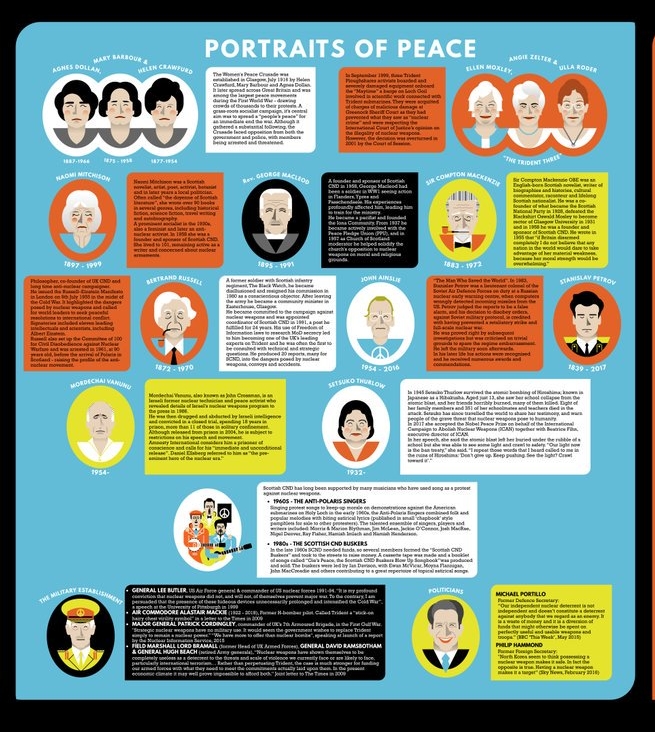 The exhibition will launch in the Moir/Dyer rooms of the Mitchell Library between 12:30pm and 4:00pm this Saturday 15th December and will be going on tour at schools and community spaces around Scotland early 2019.
If you want further reading, there will be an online resource to interact with the timeline and view the videos.