From Katowice to 1.5
Richard Dixon looks back on the UN climate conference and the enormous challenges ahead.
See how easily we could have solved the climate crisis if we had started in 2000! Only 4% reduction per year. Now we need 18% per year. You can thank climate deniers, lobby groups and cowardly politicians for this delay. From Global Carbon Project, https://t.co/Vc92JSjH1K pic.twitter.com/69T7gFXCr3

— Stefan Rahmstorf (@rahmstorf) December 6, 2018
The UN climate conference in Katowice has finished after more than 24 hours of extra time. It has agreed most of how to implement the Paris Agreement of 2015. But much of it isn't very good. Not surprising when the US, Saudi Arabia, Brazil and others have played a wrecking role and the big oil and gas companies have been able to freely stride the halls of the conference.
During the second week of the conference I went to three scientific side events. I didn't hear anything that hasn't already been public but hearing it all together was sobering:
Even if every country delivers what they have promised the world is heading for 3.2ºC by 2100.
India, Russia and Turkey are over achieving on their promises (the last two because their promises where rubbish) and Brazil, China and Japan are on track on their promises. EVERYONE ELSE IS BEHIND WHERE THEY SHOULD BE …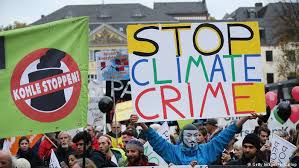 Stabilising at 1.5ºC is a "pipe dream" unless we get moving immediately. We need to do 3 time more than currently promised to have a 2ºC world, 5 times more for a 1.5ºC world. One scientist who has been working on climate change for 30 years said he had never been so worried because of what we now know and how little we are doing about it.
If every country copied the best practice in the world on energy generation, housing, transport, agriculture and industrial efficiency we would close about half the gap between what is promised and what is needed. So we need to go even further than best practice, and we need to do it everywhere. A top 10% of high-consuming people are responsible for 50% of all global emissions.
There is good news because 49 countries covering something like 35% of global emissions have emissions that are now coming down, The bad news is that all countries' emissions need to fall to zero before the planet's temperature can begin to stabilise.
There are a number of tipping points we are approaching. The Greenland icesheet will be on an irreversible path to complete melting at somewhere between 1.5ºC and 2ºC, eventually raising sea levels by more than 7m over hundreds or thousands of years. And then there's the Antarctic ice …
A warmer Arctic means changes for the Gulf Stream, at the southern end reduced numbers of fish, at the northern end less heat reaching north-western Europe. There has already been a 15% reduction in the heat transferred by the Gulf Stream and associated currents. This is partly why Scotland is seeing rising average temperatures but not as rapidly as other parts of the world.
So the world really needs some good examples. Luckily for us we have a draft Climate Bill making its way through the Scottish Parliament. It could be one of those good examples. Sadly it isn't yet, with a target for 2030 almost unchanged from the target set in 2009, despite the world's woeful lack of progress in the last decade.
But there is a chance to improve this. As one of the part of the world most responsible for climate change, but least affected by it, we could be setting the kind of standard that everyone must follow. If you haven't already done so, please ask your MSPs to tighten up the ambition in the Climate Bill.
And why not go and talk to your MSPs ? A visit from constituents really makes an impression on MSPs. Here are some helpful tips from Stop Climate Chaos Scotland.