Routes to Independence Five: Change is Coming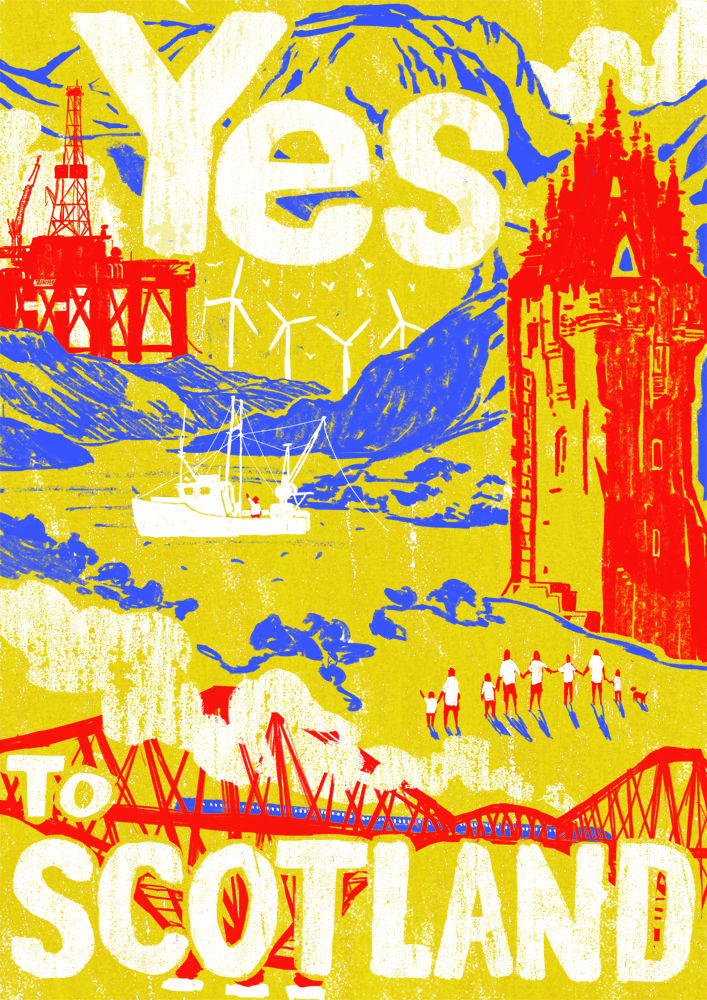 The fastest way to get to independence is to move opinion then trigger a vote. The fastest way to move opinion is to form a solid, shared strategy and then put our shoulders behind it, argues Robin McAlpine.
This is a follow-up to the article published in Bella (and reprinted in the Sunday National) at the weekend. When Mike first asked me to do 800 words on 'where now' with a short turnaround, I didn't expect quite so much debate about it – so he has asked me to do a follow-up. I just want to make two points – trying to get a referendum now is the real 'do nothing' option while starting a campaign now is the active, front-foot option.
To recap, I start from the assumption that what people want is independence as quickly as is possible. My analysis is that the best way to achieve this is absolutely not to try and trigger a referendum from where we stand.
There are three primary reasons for that. First, it simply drags the entire debate about independence into one about process – it just gives unionists the ability to focus on saying 'no more referendums', the one message that has some resonance with our target group (soft No voters).
It gets unionists off the hook of having to defend the mess that is the UK right now and lets them focus on a simple, repetitive and destructive message – they're saying 'put your head in the sand', and I'm afraid that in early 2019 that's an attractive option for many.
So let's stay away from talking about referendums and let's instead talk about independence. Because the next problem is two-fold – either we do it the 'procedural' way and ask for a Section 30 order which will be rejected or we do it the 'less procedural' way with a consultative referendum and spend a year in various courts as it is challenged. (I have reliable sources which tell me the UK Government has taken legal advice on this and is confident of the outcome.)
Either way, we'd end up spending a year talking about the least attractive thing for voters (referendums, tiring parliamentary procedures, long and ugly court battles) and not making a positive case. (Please don't pretend that the procedures won't push the positive debate out the window because it will.)
And at the end of this we'll have a weary, bored public who manage to be sick of hearing about independence even though they haven't actually heard anything about independence. Like last time (June 2017), there's a very big risk we'll bounce them into being unreceptive at just the wrong moment – and we still won't get a referendum.
I labour this point because I want people to understand that asking for a referendum now is (in my judgement) about the best way to delay independence. Because if I'm right about the above we'll probably end up needing to 'pause' the case like Nicola Sturgeon did in 2017 (which was not a good look) – and it will be happening just before a Holyrood election.
My heartfelt plea is to avoid the two-year error that would be a rash charge into the wrong battle at the wrong time.
I understand why some people think that sounds like 'wait and see'. Many have been unfairly led to believe that another referendum was on the horizon and if you've got your hopes up because of that I understand how it feels to have those hopes challenged.
But I'm afraid those were false hopes. Forget what you've heard or read – at no point over the last two years have we been close to an immanent announcement of a referendum. It is waiting and waiting for something that isn't coming which is the passive course of action.
The active course of action is to start a proper national campaign now (no more waiting), and it is that I'm fighting for. Some people say 'but this is just a delay', as if achieving majority support among the Scottish population isn't one of our key tasks. It is, and if it comes first, all our other tasks will be completed much faster.
Which leads to anxieties that we can't convert No voters to being independence supporters outside a referendum, in part because of a hostile media. Some people think we've tried and it hasn't been working.
This is just defeatism – though if what you mean is 'we can't convert people if there's no leadership, no coordination, no proper work on messaging and campaigning, no good materials, no answers to key questions, no resource, no infrastructure and if those with a media profile won't make the case' then I've got a lot more sympathy.
Because that's where we are. I spend much of any given year traveling the country talking to Yes groups and SNP branches who are all making valiant efforts to keep things going, to run some kind of campaign. But they virtually all express strong frustration that they get no support and no back-up, that there is no plan or strategy to coordinate with.
They're right – and the outcome is alarming. The penetration of the independence movement's campaigning among our core target audience (soft Nos) is terrible. A lot has been invested in public attitude research by the Scottish Independence Convention and it is hard to find any evidence of people being aware of an independence campaign at all other than Nicola Sturgeon on the TV. Can you name the street stalls you saw out the corner of your eye when you were shopping at the weekend?
So first, don't say we can't change minds until we try properly. Which leads us to the question of how you do it. Here I want quite deliberately to not emphasise the detail of my own personal preferred strategy. Instead I just want to make the case for why strategies (and the infrastructure to implement them) are a good idea.
Because the world is stuffed to the gunnels with campaigning, from tiny local activist groups to giant, incredibly well funded and powerful international bodies. This is not new territory, it's an incredibly well-rehearsed and extensively-analysed sphere of activity – especially when you realise that advertising and marketing have the same basic function.
Put very simply, there is very widespread knowledge among people who do it of what works and what doesn't work. For example, in recent years there has been a big increase in the focus on 'storytelling' as research has increasingly identified the fact that humans tend to form their opinions not based on facts but based on stories. Stories are facts and emotions placed in a chronological order with the listener at their heart which help people to understand how the facts and emotions 'move them' from one place to another, from one opinion to another.
Right now most campaigners would tell you that reciting facts outside of stories is actually a major turn-of for people. To compare and contrast, the Remain campaign worked mainly by barking facts at people while the Leave campaign told a simple story about self respect and personal agency.
We're still barking facts and statements. 'The UK is collapsing and only independence will save you' is not a story but an assertion. The same point but threaded into a story just works much better:
"Remember when your community pulled together and pooled its resources to make things better for everyone? Remember when we trusted each other? And do you remember when Westminster started to chip away at that togetherness, at that trust? How can we regain our trust and togetherness if we're stuck with the very Parliament which has done so much to undermine them?"
Another lesson is that people are most likely to form opinions based on what their peers are saying (and not on social media…). So we need to get lots of short, sharp messages (the Americans call them 'talking points') out and into public conversation. Hearing two people at your local cafe or at parents night repeating one of these messages, telling one of these stories, is worth much more than hearing it from a politician.
So there is something of a revolution in campaign theory just now which is about routes of communication – how messages reach people. It is nothing to do with left or right politics, but the Bernie Sanders campaign used a very impressive range of techniques to bypass the fact that they had virtually zero media exposure.
It involved recruiting large numbers of advocates who all shared those short messages and stories with family, friends and colleagues – when it made sense to do so, when a conversation was already happening.
(Don't knock people's doors outside of set democratic processes like elections or referendums. People will accept the need to engage when a decision is imminent but do not appreciate being disturbed at home when there is no decision to make…)
I could piece all of this and more together for you into a detailed campaign strategy (I've of course been thinking about this an awful lot). But I don't want to get derailed into a discussion of one specific strategy versus another.
I am trying to make there simple points:
(1) It is not only possible to change people's opinions without media support and without a referendum, it is absolutely bog standard and it happens everywhere all the time.
(2) The tools to do it are well known and well developed, easy to pick up and shown to be effective.
(3) But it only happens with a strategy, with infrastructure and with coordination.
It's time to be brutally honest with ourselves. Without a majority of the Scottish public supporting independence, there will be no independence. Calling a fast referendum is a reckless gamble if we don't have the public support – and we won't get one anyway. But we can definitely move public opinion, so long as we do the things that move public opinion.
And much as I like a march and respect the crucial role of solidarity and motivation they impart, there is next to no evidence that street stalls or marching or chapping doors works unless a decision-point (a specific deadline when the public knows it has to make a choice) is immanent.
We've been trying to use 'official campaign period' tactics outside an official campaign (in part because so many came to this anew in 2014 and are just repeating what they learned to do then). It's not working. So we need to put A LOT of effort into doing the things that work outside an official campaign.
The fastest way to get to independence is to move opinion then trigger a vote. The fastest way to move opinion is to form a solid, shared strategy and then put our shoulders behind it. It doesn't in any way rule out more radical tactics (like civil disobedience) if there are barriers later – in fact, it's a precondition for those tactics.
I reject wait and see – wait and see whether the never-ending trail of bread crumbs really leads to a referendum announcement, wait and see if Westminster says yes even if we ask, wait and see what happens if we get a knock-back.
I embrace get-the-fuck-on-with-it. That means campaigning properly with a strategy, a message, resources and coordination. Talking carefully and cleverly to undecided voters is the real fight we need to fight – not damned parliamentary debates with braying Tories.