Defending Essential Nursery School Provision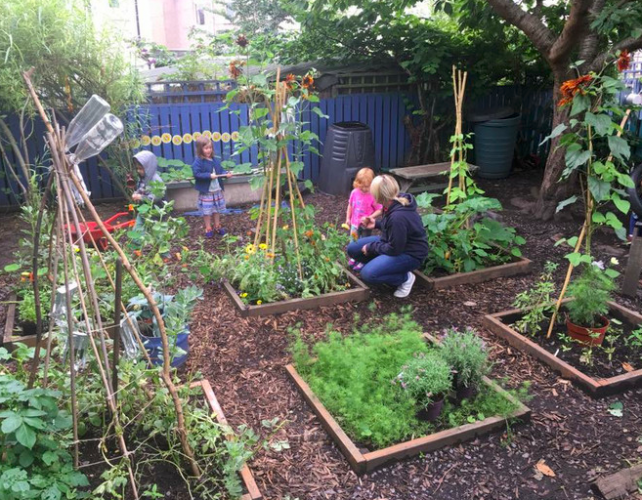 Scotland has a proud history of kindergarten and nursery education. It is in danger of throwing that away. Edinburgh's nursery provision is under direct threat from proposed Council cutbacks. This is an open letter from the Child's Curriculum Group opposing the moves.
We of The Child's Curriculum Group read with dismay in this week's press of the proposal to remove teachers from Edinburgh nursery schools and classes altogether, apparently because they are in short supply elsewhere. Edinburgh is far from the first council to go down this route, as councils constantly have to retreat and regroup to spread everything thinner and ever thinner.
These days, there's a lot being said up in government about education and the drive to close the attainment gap. And rightly so.
These days there's a lot being said and done down in local government that will make it less likely that these dreams will be realised. Everybody knows that local councils have their backs to the wall trying to maintain existing services on less and less money.
Frankly, it's a bit obvious that you can't make anything better by removing the resources that are needed to bring about that objective.
In the middle, between the good intentions and the reality of diminishing cash input, and inevitably a diminishing quality, there are children, human beings eager to contribute with pride as the next generation. Children who are going to be spending more and more hours in pre-school settings, an initiative that is ploughing on without enough qualified staff in the country to do the job. And while the government will talk of the drive to recruit and train staff, it takes more than five minutes to produce someone who has learned what to do. It looks like this might lead to recruiting people with no qualifications, or experience, at all, just a pair of not very well informed hands.
The most important resources that children need are well qualified adults. They need those adults to keep them safe; to meet their physical needs; to contribute to meeting their emotional needs; to make bad things a bit better by supporting the whole family; to help them get on with each other; to help them fulfil their potential, and to make a strong beginning to their learning through life.
In the good old days this was achieved by a team of differently qualified adults who worked in a complementary way, led by a specialist teacher often holding an additional qualification. The specialist teacher knew how to do all of the above, and most specifically the last two, and managed the team to collectively realise these objectives. The specialist teacher was qualified to work at all stages through primary, and probably had done so, giving an understanding of what lay ahead. Such importance was placed on expertise that it was rare to find a probationer teacher in nursery.
Children in nursery schools and classes were doing things competently and independently which they may never have had the opportunity to do again in primary classes, even although they were older…baking and cooking, woodwork, science experiments. They often had more autonomy, more self-reliance and more independence than their primary counterparts. Many "stand alone" nurseries across Scotland, led by a specialist headteacher, were acknowledged centres of excellence.
Now come the bewildering bits. With an urge to close the attainment gap, why would you close these Scottish centres of excellence, or reduce their excellence by putting them in the hands of the already very stretched headteacher of a school a mile up the road who has no nursery expertise, and who will never get to know the children and their families by popping in now and again to see how things are going? It took hard work and long hours and the building of good relationships to create these excellent and rich learning experiences for our youngest children. Surely retaining a headteacher and then giving him or her three schools to run just might affect how excellent any of them could get to be? Should our children be offered anything less than excellence, is it okay not to aim for that?
Why talk about creating more opportunities for people to take degrees to have more graduates working in pre-school provision, while removing the graduates already there…the teachers?
Why would you take anyone out of the system at all, when there aren't enough people qualified and available to take on all the extra posts created by the additional hours?
Why bother to talk about attainment at all after removing the key people who brought depth and substance and quality to the experience for children?
Why talk about education when you have taken out the people who are best qualified to deliver it?
It's 15 years since the EPPE study (The Effective Provision of Pre School Education, published by the Education Dept. in 2004) which demonstrated that children did best in an environment that had teachers in the mix, leading the team. Why would that finding ever have changed? One can read these days that there is no evidence to show that the presence of teachers makes any difference. It wouldn't, would it, when the "presence" of a now peripatetic teacher might mean that that he or she spends an hour every few weeks in each of several providers, never really getting to know the families and the children, never really being part of the team, far less being in a position to lead the thinking, and is often diverted into filling in for an absent teacher and having no nursery input at all on that occasion.
The training and qualification of a nursery teacher is unique and consequently her or his contribution to raising attainment is also unique and irreplaceable.
Do parents know that the headteacher to whom much will be entrusted might know nothing about nursery, might never have worked in one? Do they think that all the nursery staff are teachers? Do they understand what is being done? Are these extra hours something that is of any real use to them, since the hours their children spend in the primary school are different? Are these long hours away from home really what is best for a child and the family?
Politicians wouldn't go into a court of law and tell a lawyer he isn't presenting his defence case properly, nor tell the neurosurgeon how to perform an operation. Is the Scottish Government interested in hearing what the people who know the most have to say? People whose prime motivation is not ideology, nor winning the popular vote, nor career advancement…children, only children, their wellbeing, their happiness, their futures.
We, the undersigned, a group of concerned professionals and academics whose individual skills, knowledge and experience in the field as practitioners, educators and thinkers over many, many years, wish to express our very deep concerns about what is happening in early years provision, rightly acknowledged by the world's leading economists as the most effective place to spend money on giving children a good and supportive start to become contributors to our community. We would question the rationale of bothering to talk about raising attainment at all while not understanding who and what it is that children need and how this can be achieved. When money is all that speaks, we are lost.
Jillian Adie, Sean Bradley, Dr Jonathan Delafield-Butt, Professor Aline-Wendy Dunlop, Kate Frame, Judy Goodier, Brett Housego, Dr Karen Ludke, Marion MacLeod, Gill McKinnon, Chris Miles, Kitty Renton, Barbara Robertson, Moira Small, Kenny Spence, Colwyn Trevarthen.