A Phased Return To Fortress Europe?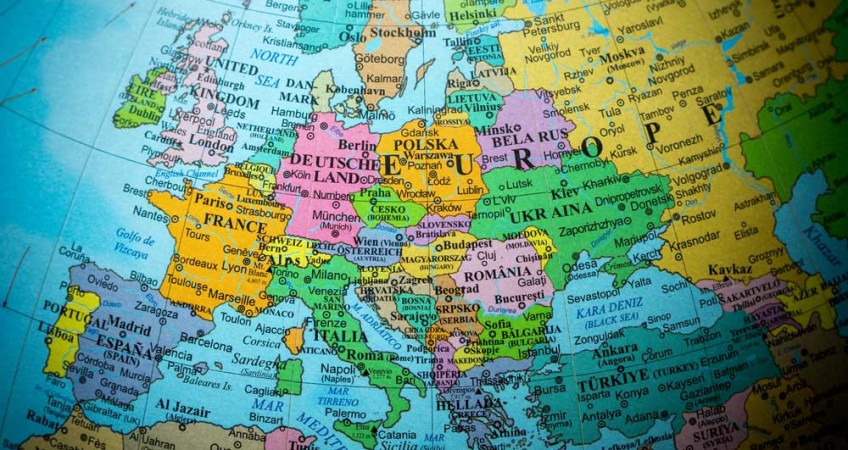 When Nicola Sturgeon first spoke about Scotland making a "phased return" to the EU, I couldn't help picturing her standing in the ticket office at Glasgow Central, struggling to explain her intricate travel plan to the hapless ScotRail employee behind the glass-screened counter. "Naebody's ever asked fur that before," comes the confused response. "It's gonnae involve quite a few platform changes and probably a ferry ride as well, ah think."
Meanwhile, a queue of impatient customers is growing – and groaning – behind our globe-trotting First Minister. As the line begins to stretch out into the main station concourse, a big bearded bloke with blue and white woad painted on his face and a lion rampant draped around his shoulders – probably heading to Hampden – starts scrunching up his SNP season ticket and yelling: "C'mon hen, jist buy a wan-way tae Independence Street like the rest ae us."
The fact that the FM first publicly referred to Scotland "regaining" EU membership in a serious of stages way back in May 2017 (on the Andrew Marr Show) reveals that she never thought there was a snowball's chance of stopping Brexit or lobbying Downing Street successfully for separate access to the single market and customs union for Scottish exporters. She was right about that, although she could have spared us some of her pointless rhetoric.
Consequently, all we can do now is count the lifebelts because there's no time left to scramble off the Great British ship of state as it sets sail into the wild Atlantic without a navigation system and a captain completely clueless about where on earth we are heading. As Scots, we're stuck as usual down in the stinking hold, with all the other valueless cargo, praying we don't develop scurvy on the voyage.
Whether we can or will stage a successful mutiny before this crazy vessel collides with some killer economic iceberg is impossible to say at this point. Even more unsettling, we can't foresee what the EU will be like if we ever do manage to escape the sinking hulk of the UK. Will it remain the seeming rock of stability and security to which most Scots are currently so desperate to cling? Again, none of us know.
All of which made Alyn Smith MEP sound as credible and convincing as Mystic Meg or Russell Grant (remember him?) when he reached recently for his laptop to tell readers of The Herald without a scintilla of self-doubt: "Scottish independence will mean being part of the EU and being part of NATO."
Smith has grown a bit arrogant since he delivered what he modestly described as "the speech of my life" in the stunned aftermath of the UK referendum result. Who could possibly forget his passionate, plaintive plea to his fellow Euro Parliamentarians in Strasbourg: "Please remember this, Scotland did not let you down. Please, I beg you, chers collègues, do not let Scotland down now!"
A telegenic performance alright, which earned him a roaring standing ovation in a chamber not known for riveting exchanges. And certainly quite a mammoth contrast to the last time he packed such an impact with his stirring oratory. Smith, you may also recall, was loudly heckled and jeered at the SNP's great Nato debate in 2012 when he told delegates that maintaining opposition to the nuclear alliance would be "hopelessly naive" and a sign Scotland was "not ready for the big league".
I remember watching it at the time in my apartment in Dublin and being especially incensed by the "big league" bit. That off-the-cuff contempt for fellow nationalists who still had the audacity to dream of a nuclear-free nation encapsulated just how grotesquely half a decade in semi-power at Holyrood had already gone to some people's heads in the SNP hierarchy. They were starting to lose the run of themselves, as the Irish would say.
Now, as I spool through that debate on YouTube, it's the "hopelessly naive" jibe that gets on my goat, for there is no finer description than that of Alyn Smith MEP himself. By continuing to fantasise about an independent Scotland being warmly embraced by both the EU and Nato, he is clearly still pinning his naive hope in a hopeless illusion of independence – as is the leader of his party, alas.
Neither Sturgeon nor Smith seem to have clocked the fact that Nato's days are numbered. Before too long the North Atlantic Treaty Organisation will join the Great British ship of state at the bottom of the ocean.
The Western alliance is doomed not just because of The Donald: some time before Trump started moaning and tweeting about freeloading Europeans sheltering under the US's nuclear umbrella, military strategists had begun rapidly shifting their primary attention from the North Atlantic to the Pacific in response to a rising perception in the Pentagon that Xi Xinping's China now poses a far graver threat to America's global preeminence than Putin's Russia.
Nato is also in the final countdown to oblivion because of the startling new direction in which the EU has been heading since that smooth talking, enigmatic political operator called Macron emerged from the dark shadows in the City of Light to sweep to power in France's presidential election.
He's been hailed as Europe's saviour but this Emmanuel is evidently no prince of peace. Since taking up residence in the Elysée Palace, the former Rothschilds banker has been as bellicose as anyone inside the Washington Beltway. Less than a year after ascending to office, Macron quickly reversed a decade of defence cuts by approving nearly €300bn in military spending by France by 2025 (a year after his current five-year term in office expires).
Even more ominously, France's demagogic president chose to mark the centenary of the First World War at Verdun – the site of one of the longest and most savagely fought battles of that horrendous conflict – by calling for the creation of a "true European army" to counter what he termed the mounting threat posed not just by China and Russia but America also. Although he later retreated a bit, it was plainly a premeditated rhetoric missile attacked.
Since the start of the Cold War, it has been a recurring fantasy of the French political elite – across the party divides – to end what they see as American hegemony in western Europe, but few have voiced opposition to this subtle vassalage so openly up to now. Such diplomatic reticence was abandoned a second time in December when a former French prime minister also showed no compunction about alienating the Americans.
Calling on the UK to abandon its oft-vaunted (at least on this side of the Atlantic) 'Special Relationship' with the UK by entering into a nouveau alliance with France, Bernard Cazeneuve stated on camera: "This (proposed new) relationship cannot be torn between the willingness to strengthen the (European) Union's capabilities, which is France's view, and the privileged relationship with NATO and the United States which, traditionally, is more the United Kingdom's view."
It is with a former secretary-general of NATO that this ex-PM teamed up to swiftly advance this agenda. The Right Honourable Lord (George) Robertson of Port Ellen co-authored a report drawn up by the Franco-British Taskforce under the joint auspices of the Institut Montaigne in Paris and the Policy Institute of King's College London. At the launch of their report a few months back, this former defence secretary in the first Blair administration, stated: "Two countries equally serious about defence obviously make natural allies in the fight against common threats."
A staunch defender of both Trident and the Anglo-Scottish Treaty of Union, General George – never slow to don a military helmet or clamber aboard a tank for media photo stunts – infamously warned a (doubtless spellbound) Washington audience, in the final furlong of the 2014 referendum campaign, that it would be "cataclysmic in geopolitics terms" for Scotland to break-up Britain, "still an anchor of the Western world."
The peer from Port Ellen (unelected, of course) has surfaced again – like the first Polaris subs he protested against on the banks of the Holy Loch as a teenager – because the geopolitical nightmare which has started to affect his sleep at night is now a potential weakening Anglo-French military co-operation.
Displaying his penchant for apocalypticism, he echoed Cazeneuve by warning: "It would be simply disastrous for Britain and dangerous for our people if we were to allow Brexit to put a brake on co-operation." It certainly would be a disaster for the military-industrial complex, on both sides of La Manche, if the London-Paris axis he so fervently advocates does not soon solidify.
A Franco-British alliance that will endure whatever becomes of Brexit is assuredly what Macron and May were cooking up when she flew down to his holiday pad in the south of France for secret talks over a four-course gourmet meal. It's also why this duo appeared so close and conspiratorial when they met more publicly at the Royal Military Academy in Sandhurst
From a hawk's perspective, continued joint production of Eurofighter Typhoon jets – produced by a consoritum of Airbus, BAE and Leonardo – cannot be jeopardised. Britain and France presently account for 50% of European defence spending and even more of its actual capability. Most crucial of all, they are the only two member states which possess nuclear weapons.
In our case that means, of course, the four submarines and weapons storage and support base at Faslane. MoD strategists have made no secret that it could take well over a decade to replicate these anywhere in England or Wales. Consequently, there will be no decommissioning of Coulport for those determined to guard Britain's permanent seat on the UN Security Council post-Brexit.
To fulfil his dream of transforming the EU into not just an economic but also European superpower, Macron must lock the UK into a Franco-British partnership. There has even been speculation that the French might fund one of the four new subs on the Holy Loch to seal the deal on this unholy alliance.
A senior French source told Politico: "It's really important to have the British on board, not just because they have the most capable, rapidly deployable armed forces along with our own, but also because we share the same strategic culture and history of projecting force outside Europe."
Such 'projection' is more accurately termed liberal imperialism or neo-colonialism. Just last month, Macron signalled France's determination to step up its interference in the Middle East and its former colonies in North Africa. The French are even funding paramilitaries in the latter region.
While this is being done ostensibly to counter the threat of Islamic terrorism, it is primarily to exert military force and manage the exodus of refugees and asylum seekers from the chaos and carnage across the Mediterranean. Last summer, Macron swung behind Italy's vision of a Fortress Europe to staunch the flow of economic migrants across this narrow stretch of sea. Whatever the current tensions between Paris and Rome, the French President is sure to triumph in his bid to transfer more power from member states to Brussels.
History in all parts of the world has repeatedly demonstrated that there is nothing so effective as a perceived external threat to unite a previously diverse and disparate population. Europeans have proven themselves time and time again to be anything but immune to that virus, as tragically witnessed in the first half of the twentieth century.
It is "less and less logical", observed the French strategic expert Pascal Boniface about the EU in 2000, "for an economic, commercial, technological power…to remain a minor power on the strategic plane. It is a historical incongruity."
It may have taken almost a full two decades for a French president to passionately omit to ending that incongruity, but none of us should be in any doubt: Emmanuel Macron is totally determined to do so.
Alyn Smith's chers collègues can never in a month of dimanches deliver the "internationalist, cooperative, ecological, fair, European" country in which he professes so passionately to believe. The European Parliament is not – and never has been – where real power lies within the EU.
It's time to wake up and smell le café. Europe's supposed saviour is hell-bent on building a European superstate bristling with nuclear weaponry and a menacing geopolitical masterplan.
When it finally dawns on SNP members – and the wider independence movement – that Nicola Sturgeon is seeking to purchase a "phased return" ticket to Fortress Europe, there will be fury not just at the Glasgow Central ticket office. A rallying cry will reverberate across our endangered land: Vive L'Écosse Libre!