Short Changing Scottish TV Viewers
For some people the BBC is irredeemable until independence. For others the BBC is irredeemable until broadcasting is devolved. Some have described the new channel as "a giant apology to the Yes movement".
The new BBC Scotland channel has been slated from some quarters (too male, too stale, too many repeats, too timid in commissioning are some of the criticisms that have been made). But it's also had a surprisingly positive response from others.
Many people are reserving judgement till they see how it rolls out but already there are some positive reviews.
But looking at the raw numbers, many people are just thinking it just doesn't have the budget it requires.
By comparison S4C – the Welsh language channel gets £84 million.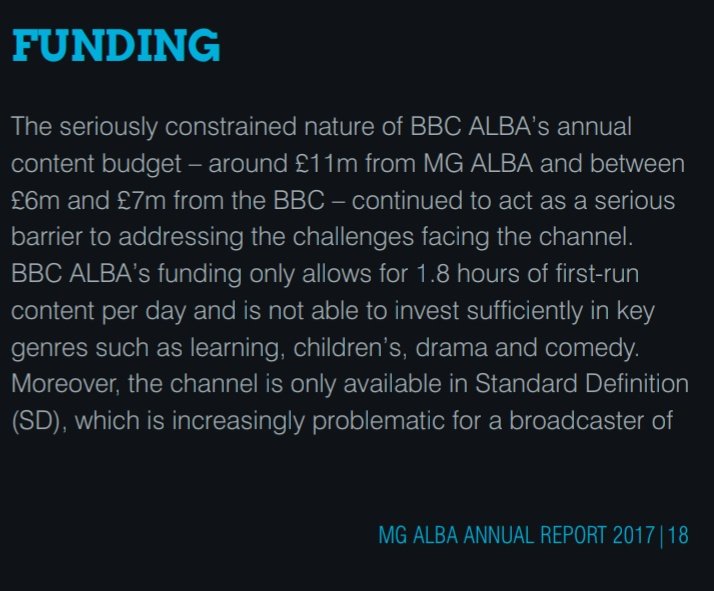 Even if you combine BBC Alba, with its budget of £17/18 million (MG Alba Annual Report 2017/18) and the £32 million allocated to the new BBC Scotland channel that leaves a combined budget of only £50 million.
That seems to have a whopping £34 million disparity between Wales (population 3.1 million) and Scotland (population 5.23 million).
In 2015/16, the BBC raised about £320 million from Scottish licence fee payers but only spent 54.6 per cent of that revenue in Scotland. In contrast, Wales, had 95 per cent (£177.7m) of the £186.5m raised from licence fees spent in the country – though some of this is down to the demand for Welsh-language programmes. In Northern Ireland the figure was 74 per cent (£73.4m).
Of course there's complexity – we need to pay-in for the wider UK coverage (even if it's embarrassingly anglo-centric) and the issue of what "spend" in Scotland looks like is highly controversial.
Setting aside the ongoing Mentorn fiasco, and averting our gaze from the dreadful Mark Meechan situation for a moment, it still looks like Scotland is just massively short-changed.