Switching To The Socio-Eco Lane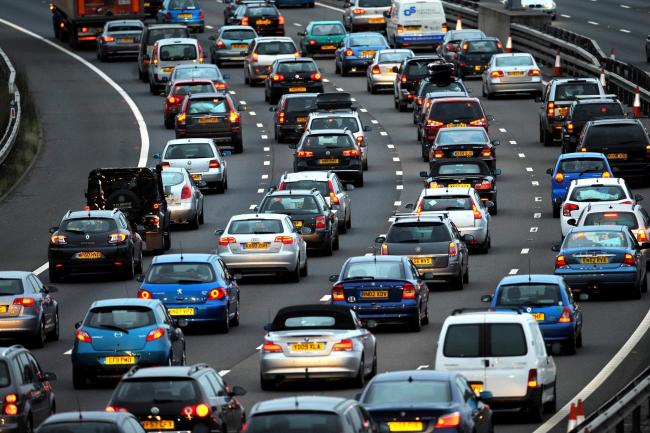 Rob Brown laments the SNP's 12-year seduction of car drivers and spotlights a radical practical alternative.
Living in Kinross's conservation area, just a five-minute stroll from the south shore of Loch Leven, is rather idyllic. A crisp late autumn walk might even be blessed by one of the most glorious wildlife spectacles on these islands – the thousands of pink-footed geese guided back here from Iceland or north-east Greenland each year by nature's sat navs.
Alas, rounding off such a prefect day by dropping into The Boathouse for brunch or lunch also serves up a less tasty reminder of how almost impossible it has become to escape completely from Scotland's insane car culture – even on a National Nature Reserve.
Every single time I perch with my mug of tea on the dinky pier outside, eager to savour its splendid vista up the loch, I find myself distracted by the incessant stream of vehicles tearing up and down the too near M90.
Even though there are plenty totally tranquil spots around this massive open expanse of water, I can't help regularly cursing the rank hypocrisy of a Scottish Government whose ministers and spinmeisters would eagerly rack up any number of air miles to flaunt their environmental credentials and their Europhilia.
The stark truth is that the SNP has failed abysmally for 12 entire years to adopt the sort of radical socio-ecological policies widely implemented on the continent to produce dramatic shifts from private car to public transport use.
Even the body charged with 'delivering the Scottish Government's vision for transport' is finding it ever tougher to put a positive spin on the Nats' road performance. The latest set of statistics just released by Transport Scotland show that the total number of motor vehicles licensed in this country passed the 3m mark in 2017.
No fewer than 2.5m of those petrol and diesel-fuelled automobiles (83% of the total) are private cars, of which many households have a couple parked in their driveway or clogging up the public streets.
Combine all those new and used bangers with trucks and other commercial vehicles and together they clocked up a total of 30bn miles on our roads in 2017 – a three per cent increase on the previous year.
Confronted with these noxious figures by First Minister's Questions, Nicola Sturgeon's nostrils flared, snapping back to the Greens' impertinent leader that greenhouse gas emissions from road traffic are slightly lower than when he SNP took power in 2007.
What the FM omitted to mention was that this reduction stems purely from car manufacturers and oil companies being legally compelled to meet increasingly strict EU emission standards. Damage to the ozone layer could have been reduced far more dramatically had the SNP devised and implemented even one truly progressive transport policy during all its time in office.
Instead, over the past five years, the number of bus passengers has continued to fall – despite the Scottish Government's £250m annual support for the bus industry. The FM was at pains to stress this subsidy in her tetchy responses to Patrick Harvie and seemed genuinely perplexed that it hasn't changed every single one of our commuting habits.
Perhaps a wee part of the problem is that her predecessor plainly thought that buses were for losers. Even after receiving massive donations from Stagecoach supremo Sir Brian Souter, Alex Salmond wouldn't have been seen dead stepping out victorious from a LibDem-style 'Battle Bus'. Who can forget him emerging with presidential swagger from that helicopter when he achieved his first (wafer thin) election win?
It should have been instantly clear right then which way his political sat nav was pointing. But none of us could have forecast just how rapidly the Nats would race away from anything resembling an environmentally responsible and socially progressive transport policy.
The main reason there are so many cars tearing up and down the M90 is because one of Salmond's first acts on forming a minority administration in 2007 was to scrap tolls on the Forth and Tay bridges. Making the whole of Scotland toll-free was a key plank in his populist strategy to secure an outright majority in 2010.
Dualling the A9 from Perth to Inverness was pursued with the same speed, although Eck could reasonably claim that these thousands of tonnes of added tarmac would reduce fatalities on some of the most notorious stretches of road anywhere in Scotland, as well as consolidating the growing prosperity of the Highland capital.
Far less justifiable was his government's failure to build upon the rail renaissance ushered in by the Lib-Lab coalition. Laying tracks out to Alloa, Larkhall and the suburbs of Edinburgh – closely followed by extending the new commuter line between Waverley and Bathgate all the way out to Airdrie – is a legacy of the last Scottish Executive.
Credit for reconnecting the Borders into the nation's rail network must also be given to Jack McConnell as it was his administration which pushed through the Waverley Railway (2006) Act before exiting office. Because of the fragility of his first fledgling administration, Salmond was in no position to renege on that commitment if he had been so inclined. His successor currently stands accused of gross betrayal by Labour for refusing to back a direct rail link between Glasgow Airport and Central Station. Maybe Nicola (whose constituency is on Clydeside) heard the nearby rumble of Edinburgh's trams when this proposal arrived on her desk at St. Andrew's House?
The SNP's apparent allergy to light rail schemes cannot stem entirely from the astronomical cost of that capital folly – especially since most of the financial burden for completing the troubled tram project was transferred to the City of Edinburgh.
Because the Barnett Formula recognises geography and demography – Scotland makes up a third of the British landmass but has only 8.3% of the UK population – state expenditure on transport has always been considerably higher per capita north of the Border. In 2013 the Institute of Fiscal Studies estimated that it was 56% more.
But what was really revealing in that IFS report was its breakdown of the figures. Spending on Scotland's railways was only 43% above that south of the Border. The amount per capita poured into our trunk road system was 73 per cent higher.
An even better way to embarrass eco-conscious members and supporters of the SNP Government is to compare their feeble efforts with what some of their counterparts on the continent have managed to do in order to shift trends in the opposite direction – from private cars toward public transport.
In 2013, Tallin introduced totally fare-free services on its municipal buses, trams and trolleys. All registered resident need do to avail of unlimited trips around the Estonian capital is to purchase a "green card" for €2.
And the radical thinking begun in the Baltics is catching on across western Europe: more than two dozen French cities have since made their municipal buses fare-free.
The latest and largest to adopt that approach, back in the autumn of last year, was the historic port city of Dunkirk in northern France. Its hop-on-hop-off buses are precisely that – no rummaging for coins, cards or special passes required.
To put this in perspective, Dunkirk has a population of around 200,000 – roughly 50,000 more than Dundee. But when it comes to how its citizens commute to work or get to city centre shops and entertainment, Dundee is much less like Dunkirk than like Detroit. 'Yes City' is just as much of a Motown.
On both sides of the Atlantic, let's face it, cars are crude status symbols and a source of social segregation. Automobiles don't just create autonomy but atomisation. Consequently, curbing private car usage isn't only an important way of tackling climate change, it's also about promoting social cohesion.
One reason many Americans genuinely find it impossible to swap their autos for mass transit is what they call "the last mile problem" – the often arduous trek up and down stairs and escalators or between bus stops and trains stations to your final destination.
Our FM prefers the term "active travel", which sounds like a whippy way to improve public health. Especially when you're gliding by in your chauffeur-driven government car to St. Andrew's House, while the taxpayers who paid for your luxurious transportation are trudging through rain, sleet or snow from St. Andrew's bus station.
Surely not having to stump up any fare would massively diminish any such discomfort and persuade far more of us to leave our cars in the garage or take them for one last drive down to the local scrapyard?
So, let's try out free-fares on some of Scotland's buses and train services. And, to pay for this bold experiment, let's follow the example of Dunkirk, which levels a public transport tax (the versement transport) on companies with a dozen or more employees.
Far more progressive than finance minister Derek Mackay encouraging cash-strapped local authorities to slap parking fees on even the lowest earners. The big problem with that policy – adopted in a panic in order to get Green support for his recent budget – is that it's all stick and no carrot.
Doing away with bus fares, as more than two dozen French cities have done, would be a very juicy carrot to dangle before commuters – and the electorate.
It might not be cheap to increase service frequency on the busiest routes, or to expand the fleet of buses. But, in the words of Dunkirk's progressive mayor Patrice Vergriete: "You can't put a price on mobility and social justice."