Dignified and Appropriate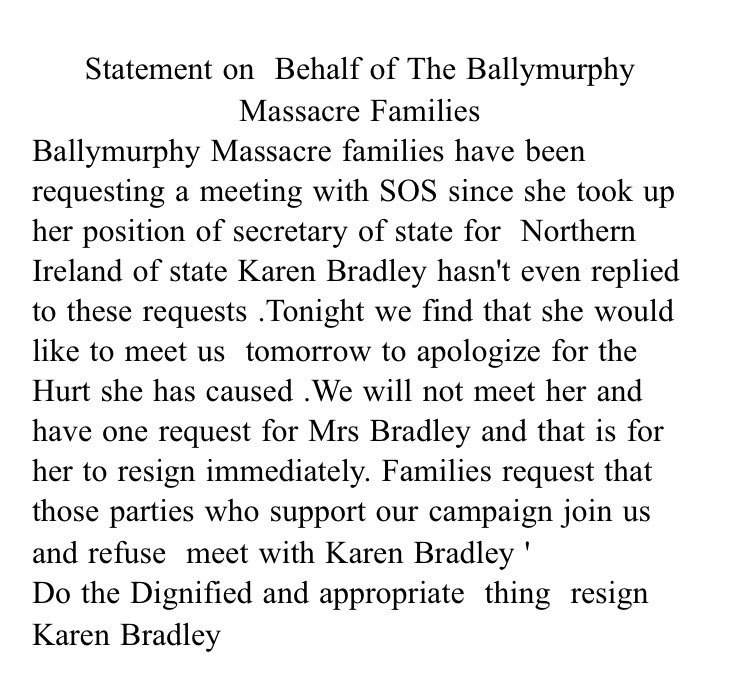 Out of the Tories Catastrophe Cabinet, one giant steps out beyond Gavin Williamson's psychotic militarism, and beyond even Chris Grayling's monumental venal incompetence: and that is the Northern Ireland Secretary Karen Bradley, who this morning, in a fit of self-abasement and confusion told the PA:
"I want to be very clear – I do not believe what I said, that is not my view."
But no amount of Kafkaesque apology will atone for what she did yesterday – condoning state killing of unarmed civilians.
Yesterday she stated that the killings committed by the security forces during the Troubles were somehow "not crimes". Instead, she went on, they were the actions of "people acting under orders and instructions, fulfilling their duties in a dignified and appropriate way".
Condemnation came from many people including the former NI Police Ombudsman Nuala O'Loan who said:
"Karen Bradley has demonstrated yet again she is not fit to be SoS for Northern Ireland. We cannot continue to have a Secretary in such a state of ignorance that she doesn't even understand the basic principles of governance and law."
Karen Bradley "is not fit to be the Secretary of State for Northern Ireland" says former police ombudsman Baroness Nuala O'Loan, after comments about the Troubles#bbcwato https://t.co/C8da5ktgKn pic.twitter.com/PN5kkrRfNk

— The World at One (@BBCWorldatOne) March 7, 2019
Bradley appeared to compound her insult by asking to meet representatives of those killed in the Ballymurphy Massacre in 1971, despite having ignored them since coming into office. They instead called for her immediate resignation.
The victims at Ballymurphy were:
Father Hugh Mullan, 38, and Francis Quinn, 19, were shot in an area of open ground behind Springfield Park
Daniel Teggart, 44, Joan Connolly, 44, Noel Phillips, 19 and Joseph Murphy, 41, were shot near the Henry Taggart Army base near Springfield Park
John Laverty, 20, and Joseph Corr, 43, were shot at separate points at the top of Whiterock Road
Edward Doherty, 31, was shot at the corner of Brittons Parade and Whiterock Road
John McKerr, 49, was shot outside the old Corpus Christi Parish
Relatives of other people killed by the security services reacted in horror to Bradley's comments.
They remembered other victims:
"Barney McGuigan, aged 41, was shot in the back of the head while he went to the aid of the fatally wounded Patrick Doherty, 31. Mr McGuigan was waving a white handkerchief, Mr Doherty was crawling to safety."
"Thomas Reilly was shot dead by a British soldier who was later convicted of his murder, a criminal act that devastated his family and was certainly not carried out in a "dignified and appropriate way".
"Majella O'Hare was 12 YEARS OLD when she was shot twice in the back and killed by a para."
"Annette McGavigan. On the 6th of September, '71, she was 14 and was still wearing her school uniform when a British soldier shot her in the back of the head."
"15 year old Manus Deery was shot dead by the Army in May 1972. An inquest in 2017 found that Manus was 'totally innocent' and the soldier was not justified in opening fire."
"Seventeen year old Jackie Duddy was killed with a single bullet wound, while he was unarmed and running from the army."
People who remember the Bloody Sunday Inquiry and before that the Stalker Inquiry on the Shoot to Kill policy with its horrendous fallout, the Miami Showband Massacre, and Pat Finucane and the Kincora Boys Home – and countless other examples of collusion and state killing of unarmed civilians – will have no doubt that the Northern Ireland Secretary's position is untenable.
You don't have to be a republican or a nationalist to find Bradley's comments extremely distasteful, you just have to be a decent human-being.
You don't have to be an expert in law to know that what she said yesterday (and tried to unsay today) – was obscene and preposterous – you just need to have a basic moral compass.
The comments go beyond Bradley's famously self-confessed ignorance of anything to do with Northern Ireland, but are uttered in the context of the British government's disgraceful abandonment and undermining of the Good Friday Agreement. Withdrawing from the EU may shatter the fragile peace in Northern Ireland.
If Bradley doesn't have the decency to resign immediately, and it seems clear she doesn't, she should be sacked, not for the ignorance that makes her unfit for office but for the moral failings to be unable to recognise that killing is wrong.