Land, Monopoly Power and Systemic Change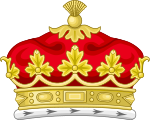 In what seems like a significant moment the Scottish Land Commission today have published a major report addressing how changing Scotland's pattern of land ownership can unlock economic and community opportunities. Though understated and evidence-based, it doesn't pull its punches. Describing this monopoly power as "socially corrosive" the report argues that the governance of Scottish land ownership must be radically reformed to reverse the concentration of power and influence and wealth in the hands of a small number of ultra-wealthy individuals and public bodies.
Hamish Trench, CEO of the Scottish Land Commission said:
"The evidence we have collected shows clearly that it is the concentration of power associated with land ownership, rather than necessarily the scale of landholding, that has a significant impact on the public interest, for example in relation to economic opportunities, housing and community development. This points to the need for systemic change beyond simply a focus on good management."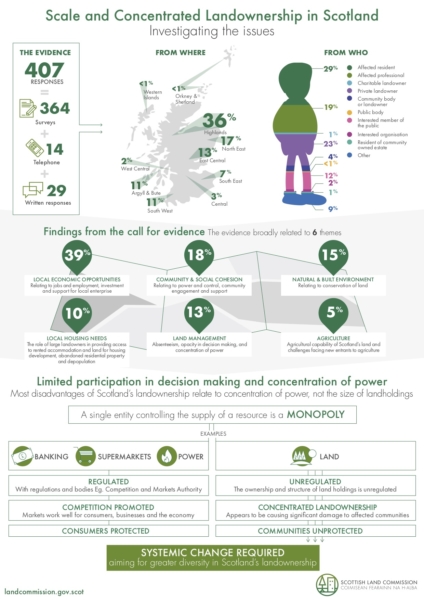 The report – the "most substantial nationwide investigation conducted into the impacts of scale and concentration of land ownership in Scotland"  – follows a call for evidence by the Commission last year, for anyone with experience of living or working in parts of Scotland where most of the land is owned by a small number of people, to share their experiences.
The main findings are that:
Most of the disadvantages associated with Scotland's current pattern of land ownership relate to a concentration of social, economic and decision-making power, not simply the size of landholdings
The advantages identified relate mainly to potential economies of scale
In some parts of Scotland, concentrated ownership hampers economic development and causes serious and long-term harm to the communities affected
The problems are not associated exclusively with any particular type of landowner – the Commission found a consistent pattern of evidence relating to land owned across the private, public, NGO and community sectors
There are issues to address beyond ownership, specifically a lack of effective participation in land use change decisions
The pattern of market and social power in concentrated land ownership, has parallels with monopoly power in other sectors of the economy
There is – currently – little or no method of redress for communities or individuals, where there are adverse economic or social impacts.
The report found that about 1,125 owners, including Highland lairds and major public bodies such as Forest Enterprise and the National Trust for Scotland, own 70% of Scotland's rural land, covering more than 4.1m hectares (10m acres) of countryside.
That includes 87 owners whose holdings total 1.7m ha, with some estates owned by the same family for more than 400 years. Scotland's two most powerful private landowners – the Danish clothing billionaire Anders Holch Povlsen and his wife Anne; and the Duke of Buccleuch – each own more than 80,000 ha (200,000 acres), spread across multiple properties.
Land campaigner Andy Wightman has called the report: "A vital & timely report that confirms what many of us have been arguing for decades. Hegemonic landed power needs to be eliminated."
"Land reform has tinkered at the margins for too long…we could be on the brink of resolving the central problem of Scottish land ownership: the centuries-long persistence of hegemonic landed power."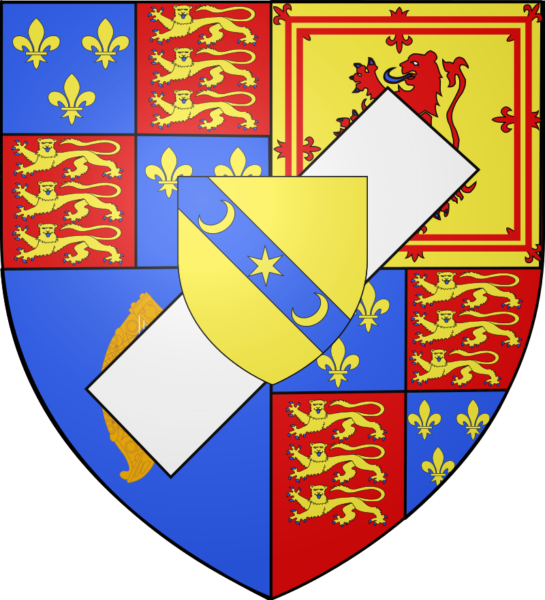 Recommendations
Among a series of recommendations the commission has called on the Scottish Government  to introduce:
Legal powers to subject large land sales to public interest tests in special cases in order to stop owners having excessive power.
A requirement for owners of large estates to draw up management plans that involve local communities.
Powers to investigate cases where landowners abuse their power, which could lead to compulsory purchase or community buyouts.
New ways to increase the number of small and privately owned estates, farms and forests.
We can expect these modest recommendations to be fiercely resisted.
The consequences for breaking up this monopoly power go way-beyond rural housing and estate management.
It has the potential to have huge consequences for our ecology, breaking up the concentration on hunting, shooting and fishing and the devastating impact this has on vast swathes of Scottish land.
When Bella Caledonia was leaked the information about the financial backers of Scotland in Union, the common denominator about the donations and supporters was the extent to which they represented an old landed elite.
This is landed power. I don't think people are aware of the extent to which we still live in a society dominated by power elites based on inherited power through land, and the extent to which this filters through to political campaigns, lobby groups, and totemic institutions such as the House of Lords.
A spokesman for the Scottish government said:
"We welcome the SLC's report and will be working closely with the commission and stakeholders to consider the recommendations in the coming months. We expect that the report will inform how we address long-standing issues caused by the concentration of land power in rural Scotland, to the benefit of local communities."
The test will be to what extent that's true.