Reasons To Be Cheerful: The Bigots and Xenophobes Don't Have Any Good Tunes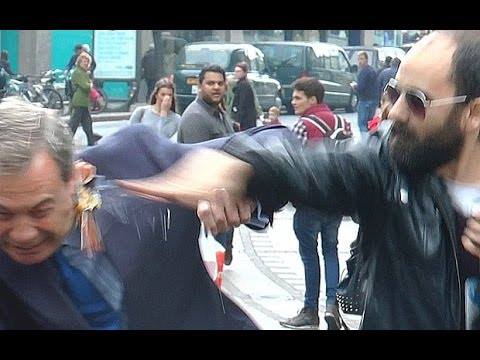 This is by Boff Whalley from Chumbawamba.
There's a little film doing the current Twitter/YouTube rounds; it's a montage of scenes from the recent pro-Brexit march in London, posted by the Bruges Group (Farage's unofficial fan club). There are puzzled-looking kids, crop-haired blokes in England shirts, lots of sunshine and a broad selection of pipe bands* in military-style uniforms. Strangely, the pipe bands can't be heard above the film's soundtrack, which is a song by Chumbawamba, 'Tubthumping'.
Chumbawamba wrote the song 'Tubthumping' in a spirit of revolutionary optimism, not in a spirit of inward-looking, blinkered nationalism. 'Tubthumping' is not, and never could be, a song to cheer reactionary and narrow-minded Brexiteers. We have demanded (through official channels) that Twitter and YouTube take down the film as it breaches copyright laws.
We might not play as Chumbawamba any more, but we guard our history well, and we call out the occasional misguided idiots who try to use our music for their own insidious ends. We've previously stopped Nigel Farage and Donald Trump from using the song. Chumbawamba were a leftist/anarchist band who wrote 'Tubthumping' to celebrate the resilience of people surviving under governments hell-bent on destroying working class communities. Like the Conservative Party, for instance. Or UKIP, who seem to have taken over the Conservative Party of late.
How come the film's heavily-featured pipe band's music wasn't used as a soundtrack? Maybe because it isn't very good. Maybe because those pipe bands, set against stirring rants by the younger Paisley (who, in the film, does a great Spitting Image-style caricature of his dad) sound like the echoes of a violent, divisive, sectarian past.
The reason 'Tubthumping' was used was no doubt because the film-makers thought it was an easy, lazy, feel-good option. Getting knocked down, getting back up again. But let's be honest – the real reason these people will grab for the nearest uplifting tune (without permission, obviously) is that they haven't got any music of their own. They've got pipe bands and at a push they can claim an audience sing-along of 'Rule Britannia' at the Last Night of the Proms. Oh and they have Roger Daltrey too don't they? But he never wrote any of The Who"s music, so… they haven't got any songs. Additionally, they haven't got art, or film, or photography, or theatre, or television, or poetry, or a thousand other facets of this country's culture, either.
These film-makers are the people who, like their lowest-common-denominator rags the Mail and the Express, denounce Comic Relief as being "Corbynite Propaganda". These are people whose version of culture is made up of past-its-sell-by-date nostalgia. Blighty, White Cliffs of Dover, Bernard Manning and 'Love Thy Neighbour'. So, as Chumbawamba, we now have to chase up Twitter and YouTube to keep some semblance of integrity in the song. To stop it being hi-jacked by those who, no matter how much they might scramble around in the dirt, can't find their own songs. Because the xenophobes don't have any songs… apart from sectarian pipe bands and maybe Garry Bushell's skinhead compilations from the 1980s.
Chumbawamba, March 2019