The RAF's Phantom North Sea Duels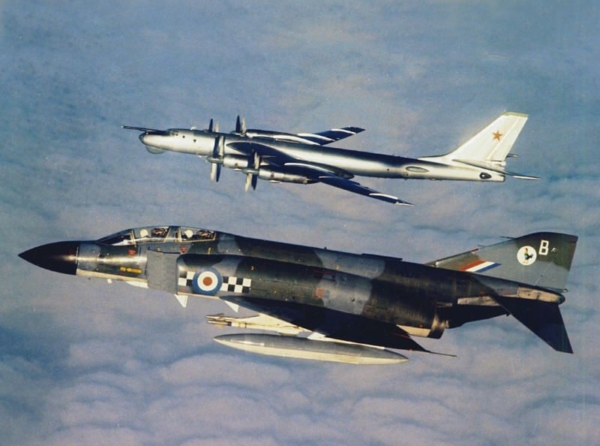 With a New Cold War mentality in Whitehall, Rob Brown suggests we treat MoD spin with the same skepticism as that from Moscow.
For most of us the clocks went forward an hour at the weekend to usher in the start of British summer time. But for some folk they went back about five decades – to the darkest period of the Cold War – as Typhoon fighter jets were "scrambled" from RAF Lossiemouth to "intercept" Russian aircraft over the North Sea.
I might have made a frightened dash for Scotland's Secret Bunker near St. Andrews had I not collapsed in a heap of laughter when I read in the Daily Express that a 'military source' described this denouement as "an outrageous bid to further destabilise the nation" on Brexit Day.
How strange then that such 'incursions' were being regularly reported long before Boris and Farage pulled off their wafer-thin referendum triumph. According to a statement attributed last summer to the minister of state for the armed forces, Mark Lancaster, the RAF has had to scramble jets to intercept Russian military aircraft more than 80 times over the last decade.
I almost choked on a Cornish pasty when I was heading up a journalism school down in Falmouth and heard about one such reported incident off the coast of Cornwall. The only difference was the Typhoons that time were launched from RAF Coningsby in Lincolnshire.
Perhaps we shall have to fight them on the beaches as well as up in the sky? The Royal Navy claims to have responded to Russian military ships approaching UK territorial waters 33 times in 2017 compared to just once in 2010.
We're in a "new age of warfare", according to the defence secretary, who tells us to "look at Russia's resurgence under President Putin". This is standard issue sabre-rattling from neocon hawks who have yearned for a New Cold War almost from the moment the Berlin Wall was reduced to rubble.
Gavin Williamson's lauding of "our brave RAF pilots" for having "shown again that we are ready to respond to any threat to the UK" made it sound as though they were performing the same valiant feats as the men who heroically manned Spitfires in the Battle of Britain. But nobody presently based on the Moray Firth has engaged in any perilous encounter, far less aerial combat, with any Russian adversary.
By repeatedly scrambling fighter jets from various bases, the Ministry of Defence has been conjuring up phantom duels in our imaginations as part of its ongoing struggle for a substantially bigger budget. It is time our minds were unscrambled.
The "increasing aggressiveness" Williamson attributed to Putin wasn't coming on this occasion from the judo wrestler in the Kremlin but from himself as he arm-wrestled Philip Hammond for more money for the MoD.
War games in Whitehall are almost as rough as those currently underway across the far north of Scotland.The boys need to play with their toys and Scotland provides a splendid biannual playground for such earnest amusement. Joint Warrior they call it because it is a tri-service exercise involving the RAF, the Royal Navy and the British Army.
Together with comrades-in-arms from other Nato states, British servicemen are currently spending a full fortnight launching mock airborne assaults and amphibious landings. There's also training in counter-insurgency, counter-piracy and interstate warfare, as well as live fire exercises on the weapon range at Cape Wrath.
All sounds such spiffing fun it's a wonder the highlights don't get televised by the BBC, with Huw Edwards providing the solemn, sonorous commentary as he does so well on Remembrance Sunday or for Royal Weddings.
Seemingly the best bit is when Russian aircraft streak along the fringes of Britain's sovereign airspace to try to sneak a look at what's going on in the bens and glens. But the only footage of that is shot by Putin's propagandists, apparently, and supplied exclusively to RT (possibly for Alex Salmond's amusement in between his studio recordings).
All the British media receive from the MoD are grainy aerial photos of RAF Typhoons or Voyagers monitoring Russian Blackjacks. Still, more than enough to get graphic artists on the Daily Mail and The Sun scrambling to produce 'Aggression of the Bear' side-panels to accompany panting news analysis pieces about Moscow's military muscle-flexing.
Jingoism and journalism have been lusty bedfellows since the golden age of Fleet Street. And the relationship has not withered since the last ink-stained hacks abandoned their old battered typewriters for characterless computerised newsrooms and tonier watering holes.
Not that the outpourings of what was once called the White Commonwealth Press matter nearly so much nowadays. Britain's dominant source of news – north as well as south of the Border – remains by far the BBC. And Britain's semi-state broadcasting service can always be counted upon to pump out the official MoD line.
What about Russia's response to such gung-ho rhetoric? You guessed it – not a single syllable, on any of its mushrooming channels and radio stations or on its sprawling website. This is par for the course: very rarely do we hear the Kremlin's side of this long running story, despite the fact it has been frequently proffered.
Reuters did report the Russian embassy in London scolding Britain for plotting to undermine Moscow's international image. "We consider these and similar statements as a PR exercise, meant to demonstrate some assumed 'aggressiveness' from Russia, as well as panache of certain British politicians," said its spokesman.
"Russian planes carry out the routine flights in international airspace over the North, Barents and Norwegian seas. This doesn't sound scary or, in fact, interesting to the public. But, with some creativity and juggling of words, the story sounds quite different.
"The MoD speaks of the RAF having 'intercepted' Russian planes in the British 'areas of interest,' 'our skies,' and similar. Yet no incursion into UK airspace has ever taken place, and no Russian plane has been forced to land or even change its course."
Kremlin spin doctors might not ooze massive credibility when they comment on Crimea or Chechnya – or on the murder of opposition politicians and probing journalists in Moscow – but a cursory read between the lines of MoD statements and briefings soon reveals that the above rebuttals by Russia are, for once, soundly based.
Failure to report that counter-narrative renders the BBC no more reliable than RT. In fact, it makes our so-called public service broadcaster almost as untrustworthy as the old Soviet Communist Party's propaganda sheets. At least the Russians weren't legally compelled to purchase an annual license to fund Pravda.
The latest yarn about RAF fighter jets having to be scrambled from Lossiemouth probably is loosely connected to Brexit and the further destabilization of the Anglo-Scottish Union resulting from that bourach. Doubtless the intended outcome – by the MoD – is that those pesky Scot Nats will all pipe down again and be eternally grateful for still being an integral part of a leading world power that can repel such aerial aggression.
It's time for Scotland to set aside such retro anti-Red scaremongering and reclaim her land, sea and sky. Then let's see who launches incursions into our sovereign airspace and territorial waters. If history and geography are our guides, any threat to our national security is likely to stem from somewhere a lot nearer to us than Russia.