Gorgie Residents Launch Campaign to Stop 'Intrusive' Student Development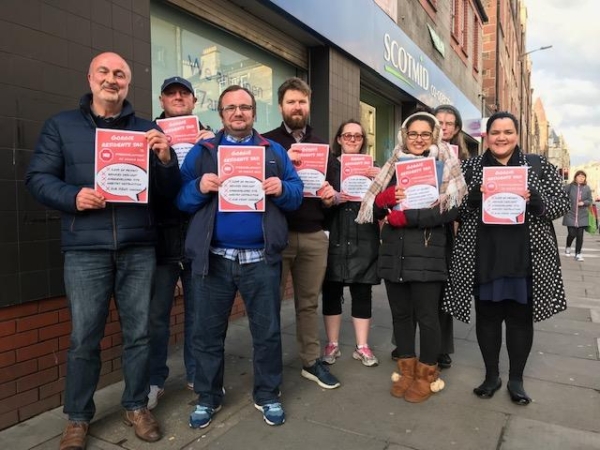 Local Residents in Gorgie today launched a campaign to oppose a proposed 6-storey student development on the site of the current Scotmid store at 236 Gorgie Road. An earlier version of the proposal was refused after attracting 52 objections and not a single letter of support from local residents.
Independent Sighthill-Gorgie Councillor Ashley Graczyk is leading the campaign to reject the plans on behalf of local residents with support from the local Common Weal Edinburgh South West group. She explained that a number of residents had raised serious concerns:
"All of the residents I have spoken to in my ward oppose this enormous, intrusive development. It is completely out of keeping with the surrounding tenement housing, significantly reduces daylight and sunlight to a number of properties and invades the privacy of tens of backgreens. In the case of 2 blocks, neighbours are facing having a brick wall built in front of their windows."
It was previously reported that Scotmid was accused of 'dirty tricks' by local residents after attempting to influence the planning process by encouraging their own staff to register supportive comments about the development. Gorgie residents attending the Gorgie-Dalry Community Council earlier this week called on the Community Council to object to the proposal.
Local resident Graeme Smith criticised the developer's tactics after being shocked to witness the destruction of trees and the removal of bird and bat habitats behind Smithfield Street tenements: "Scotmid sent workers to cut down trees in our gardens and remove a beautiful wall of ivy, disturbing nesting birds. It is obvious they have absolutely no concern for the community we live in."
Common Weal Edinburgh South West co-organiser Katriona Gillespie added: "We recently held a community placemaking workshop and one of the biggest areas of concern for people in Gorgie is the feeling that our views are ignored by the local authorities. In fact, the very lowest score was registered against the category 'influence and sense of control'. This is our community and we want the voice of local residents to be heard."
There are currently 85 objections to the development registered with the Council. Members of the public are able to comment on the proposals on Edinburgh Council's Planning Portal until 8th April 2019.