When the criminal courts let me down, I sought my own justice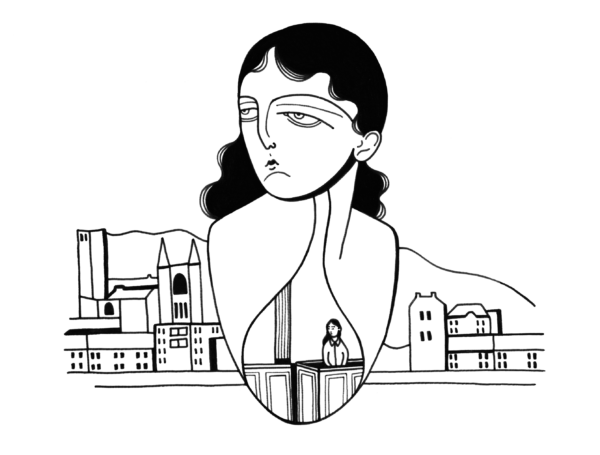 By Miss M
Bella Takeover 10-12 April, with Guest Editor Caitlin Logan
Content note: Rape and victim-blaming
Miss M has been widely reported as the person who took a landmark civil case against her rapist and won. What readers don't know is that behind this landmark case was me, an ordinary eighteen-year-old, desperate to erase the memories of being raped by Stephen Coxen.
I naively thought that wiping the blood-stained fingerprints left behind in my bedroom and showering would erase the fact I had been raped. That sleeping on the couch would take away the memories of what had happened just next door. That moving flats would somehow turn me back to the person I was before I'd been raped, the person I wanted to be. Months went by before I realised that there was nothing I could do to change what had happened, but perhaps I could stop him doing it to someone else.
I soon realised that the only way others would know what Stephen Coxen is capable of was by reporting him to the Police and my case being investigated. If I could prevent someone else experiencing this pain, then it was worth every tear, every deferred exam and all the sleepless nights. Most of the pain was due to frustration, being treated as a "witness" to my own crime by the procurator fiscal and being left without any information. There is some strange comfort in being involved in your own case; I think the rare time that I was involved allowed me to foster some hope that something was being done, that the way I was feeling was for a purpose. In hindsight, I shouldn't have placed reliance on a system that rarely provides justice to rape survivors.
Initially, I was happy my case got to court. Apparently I was "one of the lucky ones". But nothing, no counsellor, no matter how good, can prepare a rape victim to take the stand. No advice or court familiarisation can prepare you for what it is like to retell the graphic details of the night you were raped, the details you have tried so desperately to forget. To relive the trauma while the person responsible, the one who inflicted this pain, sits metres away, just across the room.
I thought it couldn't get any worse, until I was cross-examined. As the cross-examination began, I started to feel ashamed and responsible for what had happened. The defense built up a picture, one where I had drunk too much and it was my fault I was raped. The hours I had spent with a counselor, trying so hard to rebuild my confidence and self-worth, were slowly being destroyed.
For the rest of the trial I was told to wait outside the courtroom – apparently the complainer sitting through her own rape trial gives the "wrong impression" to the jury. I sat each day outside the court, waiting. Beside me in my bag were the revision notes I hadn't touched for months. I had an exam in a fortnight and I convinced myself that I wasn't going to let this affect my future anymore. I asked my brother to go into court and hear the evidence. I regret asking this of my brother; it was harrowing when he began to tell me details of my rape that I was unaware of.
A few days passed before he came out of court to explain that my case was now closed, that the witnesses who were going to be cited had given evidence. This was the point when I felt my hope and belief in a process I relied on so heavily start to fade. My surgeon hadn't given evidence and neither had my doctor. I suffered an injury to my tongue during the rape which required surgery, but my surgeon wasn't cited to give evidence. If the important and relevant details of my surgery were missed, what else was? I had waited for two years to get to this point and there I was, completely powerless.
The verdict was "not proven". I had spent the last two years convincing myself that this pain was for a reason, that I would see justice. The courts had failed me but I blamed myself, believing that I had failed society as I hadn't been able to protect other women from his violence. The nights immediately after I was raped were lonely, but this was nothing in comparison to the isolation I felt when my case was over, the very point when everyone else expected me to be okay. They thought that I could press play again on my life, that I would continue where I left off. But I was no longer the same person whose life had been put on pause. As my friends said in court, I was a shadow of my former self.
The not proven verdict didn't provide an end to this harrowing process and it certainly didn't bring closure. It was an insult to the trauma I had been through and to the tenacity I had shown over the last two years. I returned to university and tried to pick myself up, my friends returned to classes, and my family travelled home. I went back to pretending I was okay, but this was far from the truth.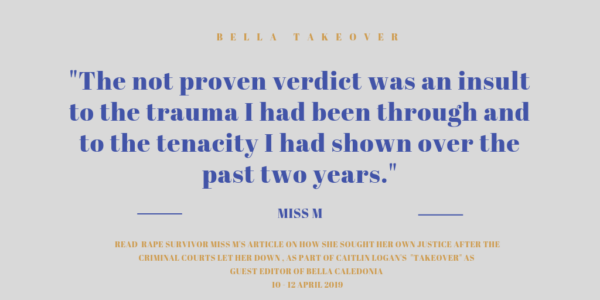 The night terrors of being raped were now being accompanied by the defense counsel calling me a liar in court. Before the trial I at least had hope; I hoped that this nightmare would end, but now it never was. The not proven verdict felt like I had been given a life sentence – a jury should have made a decision: guilty or not guilty. I couldn't imagine a future and this began to scare me. It felt like I only had two options, to either give up on life or to show the world what happened to me was wrong and against the law.
I chose the latter and spent time working out what the not proven verdict – unique to Scotland – meant. It was explained to me that the not proven verdict meant the jury believed me but there wasn't enough evidence to convict. This was wrong and it didn't take long for me, a then 21-year-old, to work this out for myself. The not proven verdict is just a second form of acquittal and is used disproportionately in rape cases.
After months of searching for someone who could help me, I found the Scottish Women's Rights Centre. I spent over two years preparing my civil case and went through all of the evidence that was missed in my criminal trial. I took the stand for a second time and then sat and listened to every single word of the evidence. The civil case, which has a lower burden of proof than criminal cases, had an additional five expert witnesses who were absent in my criminal case. It doesn't take a genius to work out my criminal trial wasn't thoroughly investigated.
As the one who was raped, I was given the opportunity in the civil case to work alongside my legal team. I wasn't just a witness. I was believed, I was supported, and I felt for the first time in five years that I had control. I had done nothing wrong, and, for the first time, I was not afraid to believe it. When I walked out of the Sheriff Court, I walked out with my family, my friends and the legal team who investigated my case properly. I left knowing that no matter the outcome, my case and all of the evidence had been presented properly.
The Sheriff ruled that I was successful, that Stephen Coxen had raped me, and for the first time, those tears were happy tears. The civil case meant I could have legal representation, it gave me back some control, and it made sure that all the aspects I knew were important were investigated. Stephen Coxen took my control when he raped me and the criminal courts compounded that loss of control. It was nearly five years after being raped that I finally received justice.
The civil process in June 2018 taught me that justice is possible, but you have to fight hard for it. I now look myself in the mirror, knowing that I did absolutely everything I could do to protect other women. I am "one of the lucky ones" who eventually received justice, but it shouldn't have been this hard. I strongly believe that without legal reform, rape survivors in Scotland cannot rely on the criminal justice system to bring them justice. Now I campaign for the third verdict, not proven, to be abolished in Scotland.
At one point, I questioned what my future with a not proven verdict was, but now it is clear. I will spend the rest of my life fighting for other rape survivors to get justice, just like the Scottish Women's Rights Centre did for me.
Image credit: @Fidjit on behalf of Miss M, to represent her giving evidence on the stand with the St Andrews skyline behind.