K Punk. The Collected and Unpublished Writings of Mark Fisher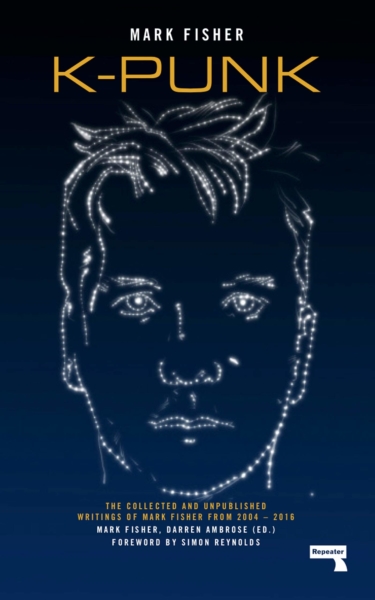 Mark Fisher K Punk. The Collected and Unpublished Writings of Mark Fisher (2004-2016) Repeater Books
"We have to invent the future" Mark Fisher
There was a time back in the late 1970s and early 80s when within the covers of the New Musical Express you were as likely to encounter references to Dostoyevsky, William S Burroughs and Jacques Derrida as you were the latest review of post-punk angst. From that paper's scribes (Ian Penman, Paul Morley) through to the manoeuverings of musician-provacateurs like Gang of Four and Scritti Politti its readers were offered portals to another world of ideas and possibilities. A time which now seems lost but serves as a starting point from which the late writer Mark Fisher set out to explore the cultural landscape and ask 'What happened to the future?'
In 2003, with a background teaching cultural theory, he launched a blog under the pseudonym 'KPunk'. The 'K' a nod to the cybersphere his writings inhabited
and 'Punk' serving as a counter to the more austere background he emerged from. Over time it built up a significant following and he went on to publish his books Capitalist Realism (2007), Ghosts of My Life (2014) and The Weird and the Eerie (2017).
This doorstopper of a book (810 pages) serves as a reminder of Fisher/K Punk's continuing relevance and a tribute to his analysis of our present (and past) woes. Spilt into several secctions it covers writings on books, films, music, TV and politics along with excerpts from interviews he gave over the years.
In an "age of temples looming over food banks" he sums up 'Capitalist Realism' as the widespread sense that capitalism is the only viable economic and political system.and it now being high on impossible to imagine a coherent alternative to it. He quotes Frederic Jameson: " it is now easier to imagine the end of the world than the end of capitalism".
It's a recurring theme throughout the book. It links to his writings on mental illness and what he describes as "the privatisation of stress", A longtime sufferer of depression (he took his own life in 2017) he makes the link between the pervasive boredom and alienation brought on by life in the 21st century and mental distress. Tellingly (and sadly) he quotes Autonomist Franco 'Bifo' Berardi: "suicide is the decisive political asct of our times". In examining the issue Fisher asks important questions about the nature of depression and what it means to be human now..
Elsewhere he riffs on matters as diverse as Ronald Reagan, Mark E Smith and the occult, the encroaching loss of our public spaces and the political Right's co-opting of late 60s ideas such as libertarianism. It all makes for provocative and lively reading.
He explores the idea of 'lost futures' referencing (amongst others) the music of Joy Division, novelist David Peace and dub-step pioneers Burial/Kode 9. Here he argues that we are haunted by futures that failed to happen tying it in with the recent tendency of pop-culture to remake/re-mix/ re-model the past. Adopting the idea of 'hauntology' (a concept taken from Jacques Derrida) he hears in the muffled electronic soundscapes of Burial "a city not only haunted by the past but by lost futures".
The pieces culled from the earlier days of K Punk are punctuated with dense language and knotty concepts that belie his academic training and his readings of Slavoj Žižek, Deleuze et al but as the book progresses the style becomes more lucid as the tone of his voice becomes more urgent.
The poignant last chapter 'Acid Communism' (the basis of a book he was due to complete) seems both a lament for the past and a rallying call for the future. He looks back again to a time with possibilities but still there is within plain sight "the spectre of a world which could be free."