Financial Mismanagement – Making it Happen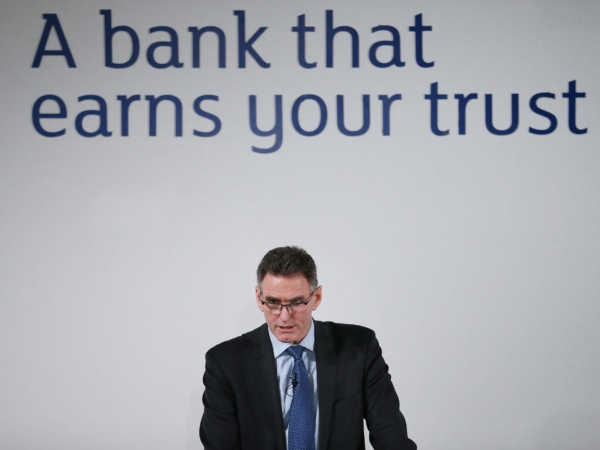 George Kerevan on the ongoing shambles of RBS, a bank we own but don't control. In recent years RBS has sold off assets now worth twice the bank's current value.
FAREWWLL ROSS McEWAN, YOU WILL NOT BE MISSED
AND so goodbye Ross McEwan, failed boss of what is left of RBS, once the biggest bank on the planet – you will not be missed.
The grumpy New Zealander took over RBS – still 62 per cent publicly owned – in 2013. The previous boss, Steven Hester, was fired by then Chancellor George Osborne, because he opposed a quick privatisation. As it happened, Hester was correct in his estimate that RBS could not be made "profitable" quickly, to allow Osborne to flog it off and so recoup at least some of the £37bn Alistair Darling previously had pumped into the bank when it was rescued from total collapse in 2008. Currently, RBS is worth circa £31bn.
McEwan's mission was to smash down costs at RBS Group (including its Nat West and US bits) any way he could, in order to make it look as if the bank was viable. This was a scorched earth strategy that had nothing to do with commercial sense or long-term planning. McEwan (I can vouch from personal acquaintance) lacks charm, empathy or the ability to persuade. He was hired because he is a self-styled "hard man" who was more interested in slash and burn than growing a successful enterprise.
The results were all too predictable. For starters, McEwan continued Hester's use of the bank's infamous Global Restructuring unit (aka GRG) to force SME customers into "special measures". These consisted essentially of putting the business customers into forced liquidation by deliberately undervaluing their assets worth (meaning they were in technical breech of their covenant with the bank). GRG then made a habit of selling off these undervalued assets to West Register, another wing of RBS. West Register then magically sold off these assets at their real value, with RBS appropriating the profit.
McEwan also put into overdrive the policy of selling off the most profitable bits of RBS, not the dead wood. Under McEwan, RBS dumped its profitable US subsidiary, Citizens Financial Group, just as the US economy went into overdrive. Citizens is worth around £13bn today.
McEwan was merely following a well-trodden path of dumping the best bits of RBS in order to downsize the bank into a tiny, domestic retail shop. For instance, in 2010, RBS flogged off its payment processing unit (WorldPay) for a song. Last month, WorldPay was resold for a cool £32bn – more than RBS is now worth itself.
In 2012, RBS sold also off its airliner leasing business, Capital Aviation. Dublin-based Capital Aviation (now called SMBC) is one of the biggest owners of airliners on the planet and has regular revenues of circa £1bn per annum – making it more profitable than RBS for most of the past decade. Capital Aviation is now worth anything up to £20bn – a fair chunk of RBS's current £31bn value.
In other words, taking just three examples, RBS has sold off assets now worth twice the bank's current value. Which means UK taxpayers have been comprehensively diddled by a series of Tory Chancellors of the Exchequer and a sequence of RBS cost-cutting bosses.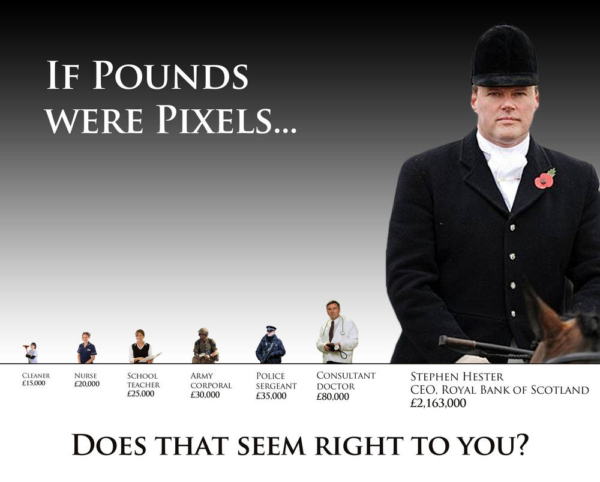 WHERE NEXT FOR RBS?
Ross McEwan managed to cut RBS costs to the bone, latterly by closing local branches. MPs have complained on behalf of their constituents and the bank has duly made ameliorating noises. Do not be fooled. McEwan's plan has long been to eviscerate the branch network completely and turn RBS Scotland into a purely internet bank.
The logic is impeccable. If you see RBS only as a modest retail bank then you need to compete head-on with other UK retail financial groups, and these are primarily internet based. So serving local communities has to go. And with branches and asset sales, jobs are shed. Under McEwan, over 40,000 RBS jobs have disappeared. There are many more to come.
Unfortunately, there is a little thing called "fintech". Politicians get dangerously over-excited about fintech, which is shorthand for new technology which is disrupting current banking practices. I won't embarrass anyone by mentioning Holyrood politicians who have been extolling visions of fintech in Scotland.
The problem is that fintech means the end of the traditional high street bank and the jobs that go with it. Eventually, fintech will match individual savers with individual borrowers – directed by the great algorithm in the sky. Or, more probably, by algorithms supplied by some giant US tech monopoly which will use its knowledge of your finances to screw you. Regardless, it is goodbye RBS and its like.
In the interim, RBS is now a plump take-over target for anyone wanting access to UK bank customers. Mr McEwan having reduced it to a retail outlet for mortgages, SMEs and consumer credit, RBS is a prospective good buy for a Chinese bank wanting to grab a share of the UK market on the cheap. Thanks, Ross. Enjoy your absurdly large pension.