Folk Film Gathering 2019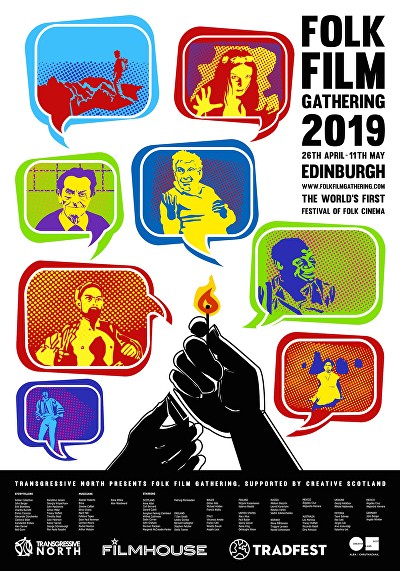 As part of a series of collaborations and guest editorships we're delighted to be working with Transgressive North on the the 2019 Folk Film Gathering (which starts today). "Folk film" is a new genre that disrupts the idea of cinema and incorporates elements of live, traditional arts performance at screenings and draws on folk and oral traditions as well as confronting contemporary issues and movements.
This year the Folk Film Gathering revolves around a theme of storytelling, "exploring some of the many instances in which Scottish and world cinemas have sought to invoke the qualities of folk tale and oral tradition. From Seachd's celebration of the Gaelic oral tradition and BeDevil's uncanny mix of folklore and urban legend among Australian aboriginal communities, to adaptations of master storytellers John Berger, Alan Garner and Neil Gunn, our programme this year looks at how diverse traditions of storytelling intersect with world cinema."
The gathering kicks-off today with at the Filmhouse with a rare chance to see Timothy Neat and John Berger's celebration of European connectedness – WALK ME HOME – with songs from Arthur Watson and a discussion led by Fraser MacDonald and Donald Smith. More details here. Other highlights include The Silver Darlings, 'a rare opportunity to see the 1947 adaption of Neil Gunn's Scots literary classic on the big screen in 16mm';  Norwegian silent film classic Laila; and a screening some of the short  films of "Wishaw's under-sung queer, avant-garde pioneer Enrico Cocozza."
There's also to be a screening of 'Seachd: the Impossible Pinnacle', one of the first films to be made in Gaelic, Seachd stars celebrated figures within Scotland's Gaelic community – Angus Peter Campbell, Dolina McLennan and Padruig Morrison – in a tale about the passing down of stories and spirituality from one generation to another. When Angus's parents are killed trying to climb Skye's Inaccessable Pinnacle, he is brought up by his grandfather, amongst the magical stories of the Gàidhealtachd: of the water horse, buried gold, of poisoned lovers. When his grandfather falls ill, Angus must confront what is just a story, and what is true.
Next Tuesday (30th April) we'll be screening the Scottish premiere of Tiempo De Lluvia / Time of the Rain (2018) then chairing a discussion with the director Itandehui Jansen. The screening will be introduced with traditional Mexican songs from Carmen Moore.
Tiempo De Lluvia weaves together the story of different generations of women from Mexico's indigenous Mixtec community.
Traditional healer Soledad is bringing up her grandson Jose in a small, rural village whilst her daughter tries to find work in Mexico City. When her daughter makes plans to marry, Soledad is faced with a difficult choice: should Jose stay with her, within a community and landscape he is growing to love, or should he join his mother in the city? In Times of Rain is a powerful story about women finding themselves caught between different experiences of life, on the sharp end of economic migration.
TIEMPO DE LLUVIA – Trailer from Lista Calista on Vimeo.
***