Line Dancing – Gimli and the Rough Wooing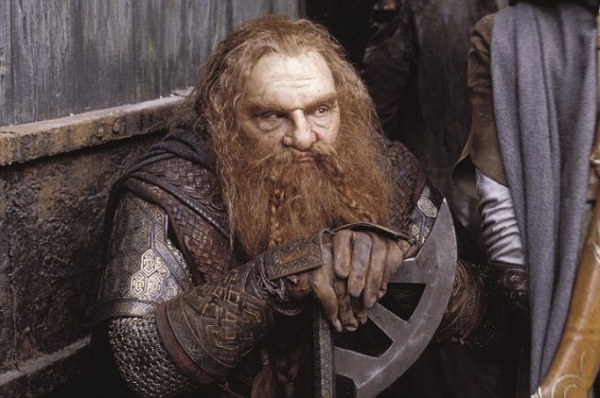 Writer J.K. Rowling, 11 June 2014:
"I've heard it said that 'we've got to leave, because they'll punish us if we don't', but my guess is that if we vote to stay, we will be in the heady position of the spouse who looked like walking out, but decided to give things one last go. All the major political parties are currently wooing us with offers of extra powers, keen to keep Scotland happy so that it does not hold an independence referendum every ten years and cause uncertainty and turmoil all over again. I doubt whether we will ever have been more popular, or in a better position to dictate terms, than if we vote to stay."
Actor John Rhys-Davies on BBC Question Time 25 April 2019
:
"We have to keep the Scots in line, the Irish in line, the Welsh in line, English in line".
Of course Rhys-Davies disgraced himself by a bizarre triggered outburst against Caroline Lucas and is more of an actual dwarf than his fictional Gimli ever could be:
In a bid to steer clear of the extremes of left and right #BBCQT invited on an actor who

*checks notes*

believes in the great replacement of white people and shouts at others to read right wing rational choice theorists.pic.twitter.com/OEoCttq37i

— Aaron Bastani (@AaronBastani) April 26, 2019
It was the weirdest meltdown on QT we've seen in years *, strangely ignored by the new chair Fiona Bruce, the Steven McLean of current affairs. BBCQT has become a sort of bear-pit of TV clickbait and this angry shouty man was just the latest in a long run.
But Rhys-Davies aside, it does seem difficult to reconcile Rowling's upbeat prospectus for post-NO relations, doesn't it?
The opening quote from JK Rowling is the most famous – but what she said next in a famous contribution to the Independent is worth recalling. She wrote:
"I doubt that an independent Scotland will be able to bank on its ex-partners' fond memories of the old relationship once we've left. The rest of the UK will have had no say in the biggest change to the Union in centuries, but will suffer the economic consequences. When Alex Salmond tells us that we can keep whatever we're particularly attached to – be it EU membership, the pound or the Queen, or insists that his preferred arrangements for monetary union or defence will be rubber-stamped by our ex-partners – he is talking about issues that Scotland will need, in every case, to negotiate. In the words of 'Scotland's Choices' 'Scotland will be very much the smaller partner seeking arrangements from the UK to meet its own needs, and may not be in a very powerful negotiating position.'
The killer line, as we prepare to leave the EU against our wishes is: "The rest of the UK will have had no say in the biggest change to the Union in centuries, but will suffer the economic consequences."
This sentence is richly packed.
In saying that the rest of the UK "will have no say" it misunderstands the globally recognised (and legally enshrined) understanding of the process of self-determination.
In saying that the UK will "suffer the economic consequences" it implicitly recognises Scotland's net input, which is nice, if harshly ironic given the impending economic crisis about to be imposed on Scotland through the Brexit fiasco.
Instead of the "extra powers" J.K. thought we'd be festooned with, we've seen the Brexit power-grab in play, and instead of being able to "dictate terms" we've been treated with constitutional contempt, excluded from talks and our MPs treated disgracefully at Westminster, to the point a which you sometimes wonder what they are doing there.
It's deeply ironic that the same people who pleaded with Scots to vote NO and to be part of the precious Union now routinely treat them with abject contempt for, er, being part of the Union.
Make your mind up guys.
How's the wooing going? You feeling wooed?
* I say "we"  – I don't watch it anymore.