Independence Rising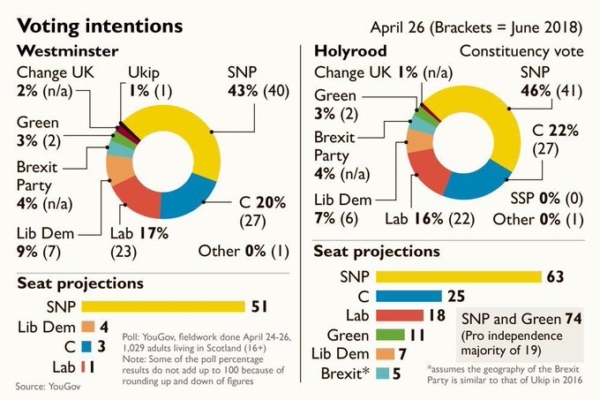 This Times/YouGov Scotland poll (right) is remarkable. The standout figure is the 49 per cent of Scots intending to vote for independence (the last survey for the Times, carried out June 2018, showed that Scotland was split 45/55%).
The poll comes as an instant rebuke for David Liddington.
The polling means that in the event of a second referendum we would be starting with nothing in it. With the propaganda and disinformation of 2014 broken and the case for the Union lying in disarray from the toxic Brexit process this is very positive news. The union is in deep peril at a time when its own political system is visibly failing.
There's quite a lot to unpack from it.
The Tories & Labour going nowhere (or backwards) despite much over-hyped cheerleading for Ruth Davidson and (early) optimism about Richard Leonard. Some are saying that Davidson could return and be protected by her absence. But she'd return to a new Tory landscape of far-right takeover, constitutional shambles and a party split and divided from top to bottom. An "it wasnae me" defence might work but would she have a party to stand for? The Leonard leadership has been a complete disaster.

Support for independence is rising – but just as important is the 19 seat pro-independence majority projected for Scottish Parliament. Alliance-building and movement building remains essential in the months ahead.

Theresa May and Jeremy Corbyn are neck and neck, in the worst possible way. 76% of people think May is doing badly, while 77% think Corbyn is.
The polling for Holyrood is great news for the Scottish Greens. If translated into actual votes it would mean eleven green MSPs. You could be arguing "abut bloody time" and ask questions of Patrick Harvie's effectiveness. But as climate consciousness becomes the defining issue of our world and enters the mainstream, we can expect the Greens to do better and better.
Westminster doesn't have any better news for the Conservatives and Labour. Scottish Westminster Voting Intention: SNP: 43% (+3) CON: 20% (-5) LAB: 17% (-4) LDM: 9% (+1). The Westminster vote is no longer a safe space for unionist parties.

There's a triple-level generation time bomb ticking underneath these figures. 76% of 16-24 year olds want Scotland to run itself. The generational gulf runs like a lifeline alongside similar surveys on austerity, Brexit and climate change.
There are signs everywhere that the Conservatives are facing a near-death experience. The right are split and divided by money pouring into new parties and pacts with Change UK, the Brexit Party, UKIP all drawing votes away from the Conservative Party (north and south). Matthew Parris today writes: "It is highly likely that we shall have three prime ministers this year, and that by the end of it the Conservative Party as we've known it will have ceased to exist. It is also likely that by year's-end we shall have either revoked our notification to leave the European Union or committed ourselves to a fresh referendum. None of these outcomes is certain but each is more likely than not."
The SNP are

26 points ahead of Labour in European voting intentions. Perhaps not surprising given the chaos of Labour policy presentation on Brexit.

Scotland is poised to elect an MEP from Nigel Farage's Brexit Party as voters abandon the

Scottish Conservatives

, according to a poll for The

Times. Ruth Davidson's party faces losing its only representative in the Strasbourg parliament, analysis of the research by YouGov found, as nearly 40 per cent of voters who backed the Scottish Tories two years ago switch to Mr Farage's new group. If true this would represent a remarkable failure for Davidson.

These polls need to be replicated to be taken seriously (don't just accept the polls you agree with and discount the ones you don't), but they come in the week when not one but two new professional campaign groups were launched: the SIC's Voices for Scotland, and the SNP's Yes Scot. The movement now has several assets it simply didn't have in 2013/14. We have a media landscape that is more diverse than ever before. We have think-tanks and polling agencies that previously didn't exist. We have a grassroots movement that has learnt (and is learning how to act effectively). There is a lot to be done and all of these groups need your support, but momentum is everything. We are on the brink of being able to force the hand on multiple fronts.
Despite political differences, or perhaps because we have a living breathing contentious movement alive with ideas, the indy movement is rising while the British political system descends into chaos.