The Codfathers and Coastal Clearances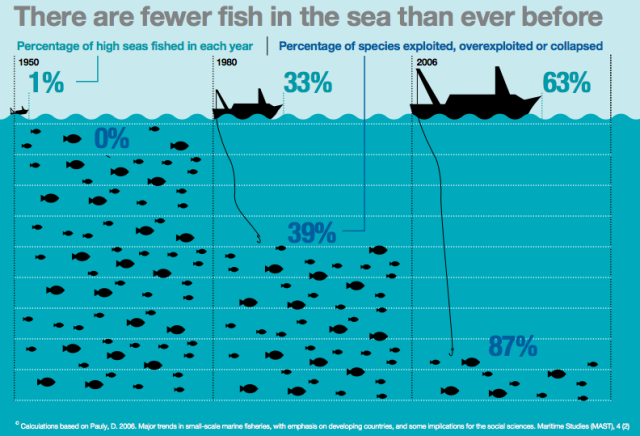 Rob Brown finds deep, dark truths about Scotland's fishing industry being blithely sailed over as the Tories and the Nats battle shamelessly to exploit Brexit.
On a recent shufty around the East Neuk of Fife, I did not just surrender again to the lip-smacking aroma from the award-winning Anstruther Fish Bar and Restaurant but also wandered along the harbour front to pay my first visit to the Scottish Fishing Museum. It was a good decision.
Not only does this facility convey the inventive ways people in this part of the planet have harvested a healthy source of protein since the first human settlements here in 7000 AD, its final displays pose a question we should all be pondering seriously as Brexit looms – is there a future for Scottish fishing?
That might seem a daft question to ask when Davie Milne, chairman of the Scottish White Fish Producers Association, is standing at the bow of his boat yelling about how small seaside towns and villages around Scotland could be "re-invigorated" by escaping from the Common Fisheries Policy. This Fraserburgh-based fisherman blames Brussels for having "wrecked" many of this country's coastal communities.
He's far from alone. Almost two decades ago to the day, Iain MacSween, chief executive of the Scottish Fishermen's Organisation, served up this juicy soundbite to a House of Commons inquiry into sea fishing: "The confirmation of property rights in the fishing industry will do for coastal communities what Highland clearances did for the agricultural sector."
Aye, there's naethin' beats the Highland Clearances when it comes tae grabbing the headlines back hame. And why not? The life spirit has been drained out of many of our once teeming fishing ports as it was from the bens and glens.
Elie and St Monans – just a few miles along the Fife tourist route from Anstruther – are eerily quiet places. They have retained some lingering charms but that just means they have been colonised by the Edinbourgeoisie, who thunder over the Queensferry Crossing in their mighty four-wheel drives for a bit of respite from Auld Reekie in their pricey second homes.
To observe what have been romantically hailed as 'the last of the hunter gatherers', most of us nowadays can only watch fly-on-the-deck TV documentaries. Repeatedly churned out at Pacific Quay, such lightweight series cheerily sail over something the Scottish Fishing Museum does well to remind visitors: fishing boats have always been alien predators in the oceans' ecosystem.
If vigilant Eurocrats or mandarins in Whitehall or Edinburgh didn't keep a close eye on these gargantuan gannets, they would soon not only wipe out fishing stocks but completely wreck the marine environment by hoovering up the entire seabed. For, in stark contrast to natural underwater creatures, industrialised leviathans increasingly deploy state-of-the-art satellite and sonar technology to hunt not simply to make a reasonable living but to amass huge financial fortunes.
Dive into official Defra statistics – as Greenpeace did for a recent Unearthed investigation – and you find that almost half (45%) of Scotland's fishing quotas are wholly or partly owned by just five powerful families who have become a perennial feature in the Sunday Times Rich List.
For good reason these coastal clans have been labelled the Codfathers (even though the white fish they land is usually haddock). Some of them were caught up in one of the biggest criminal overfishing scams ever to reach the country's courts. The 'black fish' scandal was a sophisticated racket to systematically evade quota restrictions and land 170,000 tonnes of catch illegally over several years.
Among those prosecuted were four members of the Tait family, worth £115m according to the Rich List. Their Klondyke Fishing Company is well-named: the second-largest quota holder in Scotland, it has paid out over £56m in dividends in the past five years.
Much of this is down to the approach successive UK governments have taken to implementing the CFP. As in so many other economic sectors, they opted for turbo-charged neoliberalism and totally unleashed market forces. In effect privatisation of the sea, such deregulation made it far easier to swap, sell or lease quotas to others. Fishing rights became a tradeable commodity, with predictably disastrous results: not just a 'Spanish armada' of 'quota hoppers' storming into the North Sea, but concentration of ownership of fishing rights – and hence vessels – in fewer and fewer hands.
Today the bulk of UK quotas are controlled by a handful of family dynasties and a trio of foreign multinationals. Two-thirds of Scotland's total annual catch by value is landed by just 20 super-trawlers, which pursue the most destructive forms of fishing.
A golden opportunity to challenge that oligopoly has been presented to us by Brexit, which necessitates a new regime to replace the CFP. A radical redistribution of fishing rights would throw a lifeline to small-scale coastal fisherman, who operate 80% of Scottish boats but are forced to make do with 1% of quotas. As their operating margins are often close to zero, their existence is precarious.
So, having issued a dark warning about 'coastal clearances' back in 1999, what is the Scottish Fishermen's Organisation now proposing should be done to reinvigorate our coastal ghost towns and villages? Next to nothing.
In a statement to Unearthed at the tail end of last year, the SFO said keeping the existing quota distribution would recognise "the investments made by fishermen and fishing businesses over the past 20 years, and as such helps to maintain business stability within a period of great political uncertainty."
The case for the status quo – unbridled capitalism – will doubtless be swallowed hook, line and sinker by both the Tories and the Nats since they have swum together into the same neoliberal net. As they each trawl for votes in the north-east, the only difference between these shameless opportunists is that the SNP still peddles the delusion that it could successfully negotiate 'Independence in Europe' without submission again to the CFP.
Throughout his long spells as an MP and MSP, Alex Salmond represented several north-east seats but he was as economical with the truth as any central belt economist/banker when it came to telling his constituents and the country what is actually required to bring a new lease of life to our lengthy coastline – exiting the EU, redistributing fishing quotas and imposing restrictions on second home ownership (as has started to occur in some parts of Cornwall).
With Nicola Sturgeon also ducking and diving on this matter, it has been left to a coalition of small-scale fishermen, academic experts and conservation groups such as Greenpeace to campaign for radical quota reform. Government ministers, they argue, must recognise that fisheries are a public resource which should be stewarded to secure the greatest social, environmental and economic benefits.
But who is going to listen to any of them? Who is itching to visit the Scottish Fishing Museum and learn about the deep, dark truths lurking beneath the depressingly shallow debate about this sector's future? For the average landlubber, fish simply means fried haddock in batter from the local chippy or a cheap salmon steak supplied to supermarkets from often sea lice-infested cages.
The law of the free market jungle is the same as that of the oceans: the big fish eat the small fish. But the primary purpose of progressive politics should surely be to enact robust laws to curb relentless and reckless accumulation.
Since legislation to end the Darwinian distribution of existing quota does not appear to be in the pipeline – at Westminster or Holyrood – it would be foolish to expect any great Brexit dividend for small-scale fishermen, far less a new generation of fresh hunter-gatherers. The most any of them might get is a chance to scavenge for any new meagre quotas that can be wrung out of Brussels.
The only hope of real change to which any of us can cling is that the biggest fish in the Scottish political pond – the Sturgeon and the Salmond – might soon eat each other, freeing up the water for a truly radical independence movement to flourish.