Our Climate Emergency and our Climate Change Bill
Many people think the Scottish Government's proposed Scottish Climate Change Bill is completely inadequate. Stop Climate Chaos have issued this petition urging "setting a target to reduce greenhouse gas emissions by 80% by 2030 (compared to 1990 levels) and setting out coherent and immediate policy changes to deliver those reductions – especially in how we heat our homes, travel around and grow the food we eat." Sign it here.
Here, Paul Mather puts the climate crisis in the context of: 'historic equity'; the globalised nature of our lifestyle emissions; and in the relationship between the IPCC, the UK's Committee on Climate Change, and the Scottish Government.
On the 2nd May the Committee on Climate Change (CCC) published a long awaited report in response to the IPCC's special report on 1.5°C. The report by the CCC advises the UK, Scottish and Welsh governments on their long term decarbonisation targets in light of the IPCC's recent 1.5°C special report. The CCC's report is a long and detailed document, produced by some amazing, hardworking and dedicated people. What it proposes is a significant step forward in terms of trying to protect our futures and an amazing piece of work. It describes in great depth how we can completely stop our contribution to climate change, whilst not spending any more money. Because they focus on reducing all greenhouse gases to net zero, not just CO2, the pathway they have identified is clearly more ambitious than required at a global level for staying "well below 2°C" (commonly taken as a 66% chance of 2°C), and is even in line with a 50-66% chance of limiting warming to 1.5°C, that is, if the whole world reduces it's emissions at the same rate coupled with "ambitious near term targets".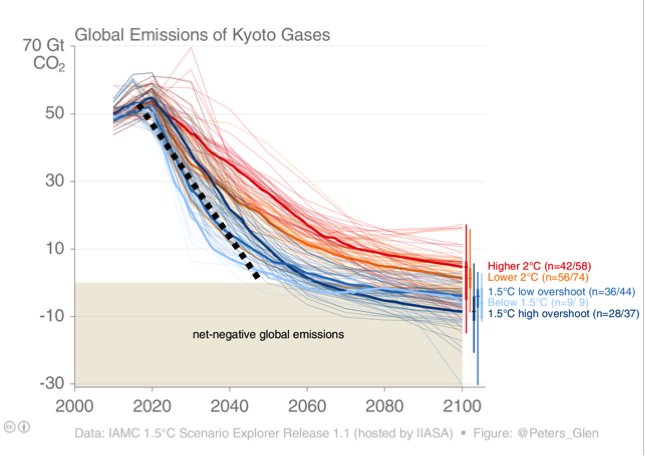 This greater ambition allows the CCC to acknowledge our commitment to equity; We have caused a significant proportion of the historic warming so should cut our emissions faster and being a rich nation we also have a greater financial and technical ability to decarbonise more rapidly. This greater ambition has also been used by the CCC to compensate for our lifestyle emissions which are not currently attributed to the UK as they are generated by the production of the goods we import. The CCC report also covers all aspects of the economy, including aviation and shipping. It is a major triumph when compared to our current legislation.
Yet, it is still not enough. To be fair, any scenario they proposed would probably not be enough, because as a society we have left taking climate change seriously far too late. We passed the upper limit of a "safe" level of CO2 in the atmosphere of 350ppm way back in 1987, and every kg of CO2 we have emitted since pushes us further into a dangerous and more unstable planetary system, which is harming people around the world right now. Today, in 2019, have already emitted so much CO2 that there is approximately a 10% chance of exceeding 2°C of warming, even if we were to stop emitting CO2 immediately. If we want to have a 75% chance of staying below 2°C, the whole world needs to reach net zero carbon emissions by 2030. So even if we achieve global zero carbon by 2030 there is a one in four chance we will exceed 2°C of warming.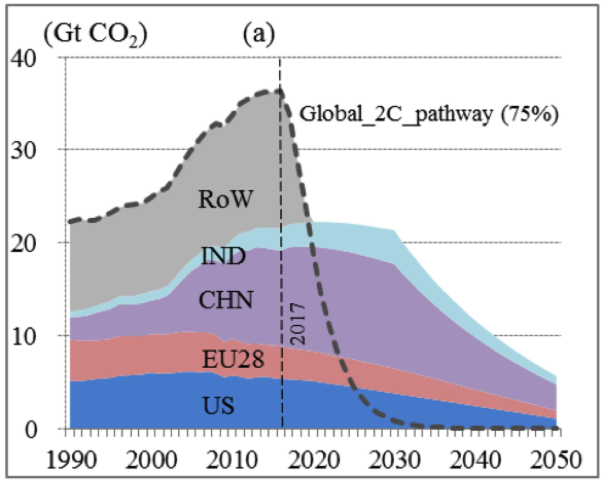 Figure courtesy of Jiang et al (2019) (https://agupubs.onlinelibrary.wiley.com/doi/10.1029/2018EF001078)
So why is the suggested pathway not enough, what is it about the CCC report which concerns me?
On a fundamental level, the CCC has a number of criteria it needs to consider when advising the government on greenhouse gas emission targets, which includes the impacts of any targets upon the economy, taxation, public spending and public borrowing. So the CCC worked on a bottom up approach to find the fastest decarbonisation pathway within this framework, but this framework binds the CCC, limiting what it can consider. It has also tried to use the metric of "world leader" status as a measure of success, thus as long as we are doing better than others we are OK. The problem with these approaches is that it ignores all the scientific research behind the carbon budget concept, finding what can be done within the current economic system, rather than what our understanding of Physics and the Earth's systems tells us needs to be done.
The CCC report, despite acknowledging our equity commitments and our consumption emissions for the first time, has not raised the UK's level of ambition anywhere near enough to even cover our equity commitments, let alone both equity and consumption emissions.
"Considering both the UK's relative wealth and large historical emissions ('Greenhouse development rights') would require 2050 GHG emissions reductions significantly greater than 100% relative to 1990 levels (over 150% reduction relative to 1990 levels in a 1.5°C scenario). Under this allocation the UK would be removing GHGs from the atmosphere overall to compensate for its high historical emissions and would need to reach net-zero GHG emissions considerably before 2050." (p107).
So they have included some adjustment for equity, but only a little and not enough, then also used this adjustment to cover our consumption emissions as well, making the equity contribution even smaller. On top of this, the CCC suggest that on a global level the shift from net-zero CO2 to net-zero GHGs could be used to accommodate possible problems or uncertainties with the IPCC carbon budgets, yet we have already allocated this possibility to inadequately covering our equity commitments and consumption emissions.
This leads on to another fundamental issue, the pathways generated by the CCC are compared to the IPCC scenarios in the 1.5°C special report.
To be fair to the CCC, this is what they were asked to report on. But these budgets have come under significant criticism as being far too optimistic and underplaying the urgency of required action. In particular, the scenarios may well have underplayed historical warming so far, which would reduce the remaining carbon budgets; underplayed the significance of anthropogenic aerosol cooling, so when we stop burning coal around the world temperatures could rise a lot further; underplayed the rate of warming, with the IPCC opting to utilise the most optimistic of a range of warming rates; plus all the scenarios used by the IPCC have colossal levels of negative emissions embedded within them, which could quite easily be undeliverable on the envisaged scales; and finally the IPCC carbon budgets do not take into account natural feedbacks such as Arctic methane release which can accelerate warming. Even if we ignore all these potential issues and take the IPCC scenarios at face value (as the CCC have done), we are still only talking about a 50-66% chance of limiting warming to 1.5°C or a slightly equitable contribution to a 66% chance of staying below 2°C. So still significant possibilities exist that we will raise temperatures above very dangerous levels by following the CCC's suggested pathways.
So what should we do?
There are a lot of very positive aspects to the CCC scenarios, they do advocate very rapid and large scale changes, but we could achieve so much more. They have continually erred on the side of caution to ensure deliverability, rather than consider genuine system change and doing everything, and I mean everything that is within our capacity to decarbonise as fast as possible. As the IPCC advocate, every bit of warming matters, every kg of CO2 matters and every decision matters, we now need to put this philosophy into action.
What we should have in the new Scottish Climate Change Bill:
• Net-zero GHG emissions by 2030 at the latest.
• Rapid near term decarbonisation, with net-zero carbon emissions by 2025.
• Creation of a Citizens' Assembly on climate and ecological justice to hear the evidence, assess the policies and decide the necessary action to address the cause of the climate and related crises in line with the science.