Free and Fair Competition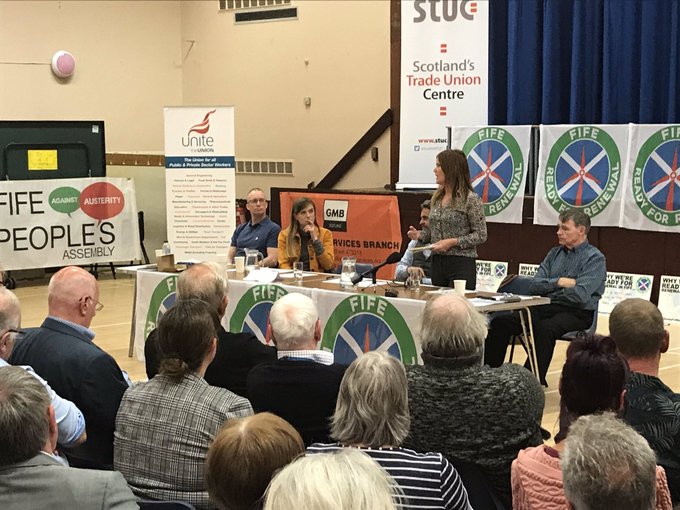 Last Thursday evening more than 130 people packed out Buckhaven Community Hall. Local residents, trade unionists, environmentalists, and cross-party politicians came together as part of a campaign calling on EDF to commission work for their new offshore windfarm in local manufacturing yards rather than, as is suspected, shipping content over from Indonesia.
Despite being invited, EDF didn't turn up.
If they had, they may well have argued that their decision is simply business and the Indonesian yards are more 'competitive' than the local yards in Methil and Burntisland. While the Indonesia yards may be cheaper, let's examine the claim that this is simply the result of free and fair competition.
Environmentally, shipping the turbine jackets – the steel structures which secure turbines to the seabed and are made in Fife as well as in Indonesia – is estimated to release up to 4,500 tonnes CO2 per jacket moved. Shipping 30-32 jackets from Indonesia would therefore be the equivalent of 35 million cars on the road for a day. 54 jackets, the total number in the development, would be the equivalent of 62 million cars. None of this is factored into EDF's consideration when awarding the contract. They simply don't count these emissions.
Human rights groups and trade unions have also noted serious concerns about worker's rights in Indonesia. Minimum wage rates are less than a pound an hour. In recent years, the General Secretary of one of the main trade union confederations has been summoned for interrogation on a systematic basis. Saipem, the Italian multinational who owns the Indonesian yards, has been criticised for not paying the minimum wage to workers involved in decommissioning projects and last year they were found guilty of bribing Algeria's former energy minister in exchange for oil contracts. Only last month a worker died following a fire on a Saipem vessel.
The Indonesian yards are also part of a so-called 'free-trade zone' where they benefit from a number of tax exemptions. As the economist and regional development expert Mike Danson argues, 'this leads to unfair competition in the fabrication of turbine jackets by European multinationals offshoring construction to zones where they can benefit from exemptions from taxes and regulations, and other subsidies'.
The idea that Indonesian yards might win the work because they are more efficient is clearly nonsense. The system is geared to allow companies to shift production around the world and maximise profit at every turn.
This isn't free and fair competition. This is the offshoring of emissions, the offshoring of good quality jobs and the offshoring of tax.
It is a rigged system which must be fought and must be over-turned.
That needs to start with EDF awarding work to yards in Fife. It should be quickly followed by governments at all levels doing everything they can to ensure that never again can companies and shareholders profiteer from our natural resources without benefitting workers and local communities.
Communities like those in Buckhaven, Methil and Leven have had enough. They want more renewables. They want to play their part in tackling climate change. But they want the work and the economic benefit associated too.
In a multi-million pound industry surely that isn't too much to ask?