Some Problems for Woman's Football in Scotland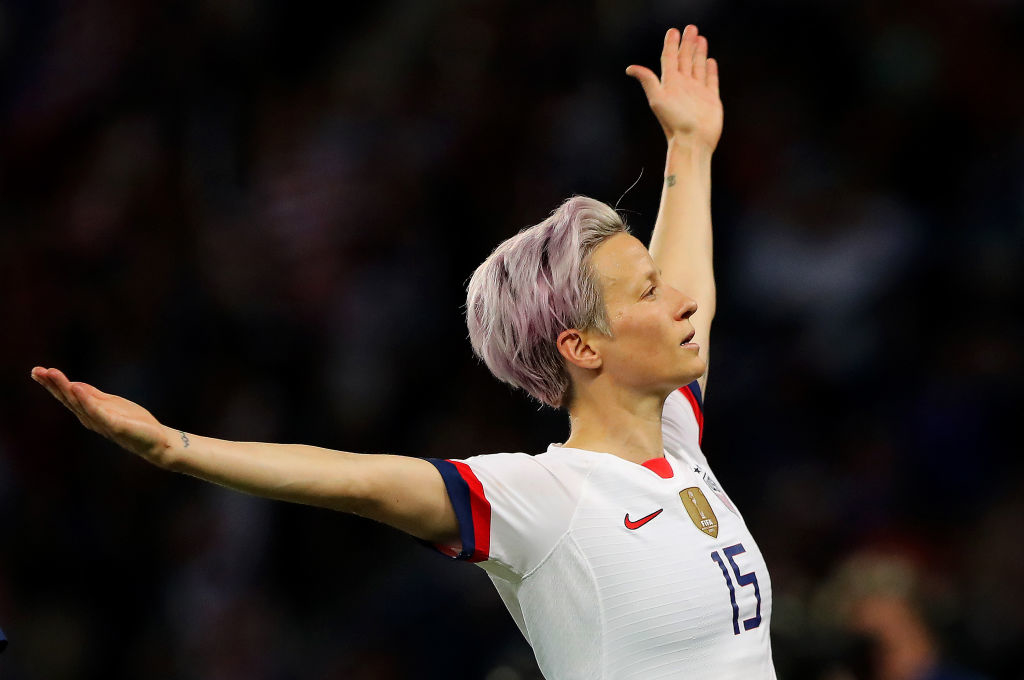 The FIFA Women's World Cup has been lauded as a game-changer, a moment of huge cultural shift. In terms of coverage it has gone mainstream with 11 million people watching the US-England game in the UK, in terms of culture it has been 'normalised' and it is a breakthrough moment where iconic images and stars came to the fore and a generation of girls and young women have role-models to look up to.
Megan Rapinoe's goal celebration stance provoked adulation from women enjoying its unashamed triumphalism.
But while the game is having it's 'breakthrough' moment there are considerable problems ahead in Scotland. Amongst the celebrations, the game may be about to come across some harsh realities. Like most of the big set-piece events (see Glasgow Commonwealth) the question of 'legacy' is rearing its difficult head.
The issues are many, but here are three ones for the game in Scotland. How do you create a professional league in a game watched by so few people? How do you create 'equality' in a sport where the male counterparts are (sometimes) paid stupid-money? How much do you create a different culture/ethos and how much do you mimic the men's game?
Numbers
The number of women and girls playing football in Scotland has almost doubled in the last five years, according to figures from the Scottish FA and Scottish Women's football. The total registered with the governing bodies has increased from 7,126 in 2014-15 to 14,071 in 2018-19. This sounds good, and is quickly improving, but is still low.
There are currently no professional or semi-professional teams in Scotland. Glasgow City, from where most of the Scotland team have come, only muster a couple of hundred for a home game. Even the English top league has an average attendance of 1000 or so.
There's a big big gap between Scotland and England, where the bloated Premiership is disgorging millions into the women's game, sensing a lucrative new market and a marketing opportunity. Scotland has nothing like that, though the SFA is supposed to spend the £1.2 million it will receive from FIFA back into women's football.
Dani Garavelli, writing in Nutmeg explains:
"In Scotland many top flight clubs are still paying little more than lip-service to their women's teams. Celtic, which promised to create the country's first professional club, is understood to have struggled to have signed players, and its plans appear to have been put on hold."
But is professionalisation the way to go at all?
Many ancient Scottish clubs with diehard loyal fans struggle on the brink of falling into amateur or semi-pro status. Wouldn't it be better to build the game on an amateur basis and grow it organically? Such a thought is a heresy as we rush for 'equality' but mimicking the fragile economics and flawed sub-cultures of the men's game seems like an odd direction given the pride in which women players (and fans) describe the different qualities of the game played by women: less diving, less cheating, less aggression and a better and family-friendly atmosphere. These are great qualities but ones which are likely to be tested in a pro-game.
One Club
One solution offered is for the women's game to be nurtured by existing clubs. This is already well underway on the continent where it is seen as 'one club, many teams' and Hibs and Hearts are leading the way in Scotland. This approach is favoured by many as it puts women's game in the same stadia and on an equal footing. But there are problems too. Are you going to take the kids to the men's game and then to the women's game too? How much is that going to cost?
Another approach is to create women's clubs and cultures.
The success of Glasgow City (founded by Laura Montgomery and Carol Stewart in 1998) is one example. The club have won twelve consecutive SWPL league titles. It was formed in part to step away from the city's sectarian culture, and in this sense it seems to be a pilot for creating alternate structures for the game.
Scotland-England
There are real problems with clubs having their best players pinched by English clubs boasting (relatively) huge fees and the potential for a professional career. If Scottish teams were to go down the amateur road they'd have to have a mechanism to cope with that. Protective contracts or a culture of developing talent over the long-term might be the way forward.
But some of the euphoria of the World Cup seems to lead to unrealistic expectations. Mimicking the male game, or chasing after England's development may not be the best strategy. To get a sense of the asymmetrical nature of the two nation's funding, it's estimated that the production costs of one episode of BBC's Match of the Day equals the entire tv budget for Scottish football. The same applies to women's football.
While it's easy to compare the demise of the men's game and the rise of the women's game, I'm not sure how helpful it is. Garavelli writes that: "In April the women's squad beat Brazil (something the men's team have never done.)" You can understand the temptation – but I'm not sure this is a meaningful comparison.
Nor does the belief in the SFA augur well. The SFA lack competence, imagination and credibility, and this is likely to be as true for women's football as it has been for the men's game.
Having said all this, the future is bright. Women's football has arrived and is here to stay. It's an inspiration.
But chasing the immediate goal of commercialisation may be its downfall.
There are many examples of sports that have accelerated and burnt out in that chase. The race to have 'icons' and high-paid players doomed the North American Soccer League in the 1980s and could be replicated here.
There are many qualities on display at the World Cup that exemplify the women's game: integrity, endeavor and goodwill among them. But it may be they have their roots in amateurism (in its best sense) rather than gender.