Small Press Day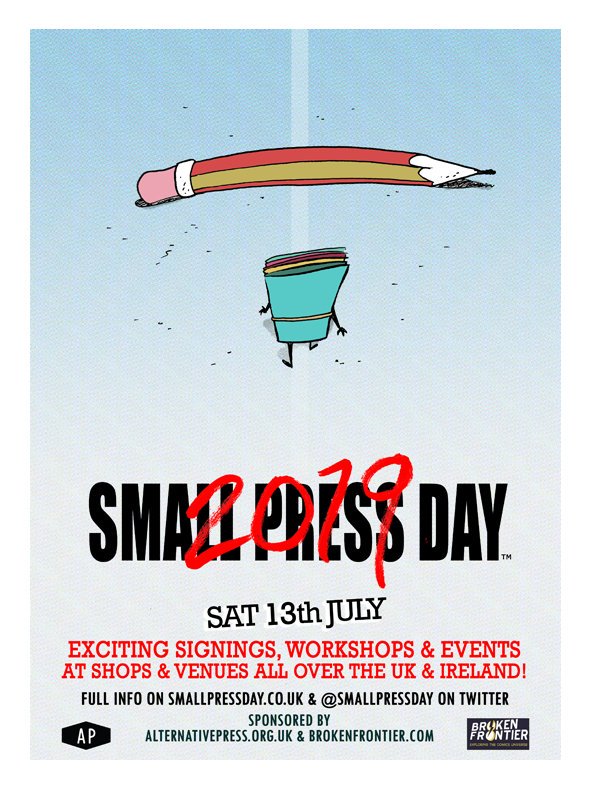 By graphic novel creators Metaphrog aka John Chalmers and Sandra Marrs @metaphrog:
Small Press Day 2019 this Saturday July 13th will see a celebration of self-publishing, DIY culture, and grassroots comics across the UK and Ireland.
Small Press Day started from a Twitter conversation in 2016 that led initially to a buzz and almost immediately to 25 events. It's no surprise the small press should have a dedicated day of events: in recent years it has flourished, and each year the number of events continues to grow. This Saturday will be the 4th annual Small Press Day, the brainchild of Amneet Johal (Alternative Press), Andy Oliver (Broken Frontier) and David Ziggy Greene.
Perhaps we are biased, as we started out making small press comics ourselves, with Strange Weather Lately and then our Louis series of books, and are very much rooted in a punk rock, DIY sensibility.
When we started making comics over twenty three years ago, the small press scene was tiny, and the comic scene itself was almost exclusively male-dominated. Then the small press began to mushroom, diversify, growing rapidly over the last ten years. Now, wherever you go in the UK, hundreds of self-publishers, zine makers, comic creators and illustrators are doing their own thing. Zines and mini-comics cost very little to produce – they are accessible to everyone, and the power of creativity is unlimited.
But frankly the small press isn't just incredible, it's indispensable.
The small press is where innovation happens, where writers and artists can experiment freely, away from the restrictions of commercial publications and that's how art, research and journalism can truly develop and not become stale.
The creators make stories, and address subjects, that come from their hearts, stories they really care about and ideas they are passionate about communicating.
Small press and fanzines are essential for diversity, championing minorities and supporting the rights of women. And there's something for everybody whatever your passion: zines on music or a particular group; football zines; queer zines or LGBT zines; voices from different cultures and backgrounds. And, diversity is essential in any ecosystem for healthy development and evolution – a monoculture stifles life, eventually nothing grows.
The small press of today is the mainstream of tomorrow. Graphic novels wouldn't be where they are without the likes of Trina Robbins, Robert Crumb, Bill Griffith, Denis Kitchen, Françoise Mouly, Art Spiegelman, and the underground comix that pushed and experimented with what comics could be. Publications like RAW, Weirdo and Actus Tragicus nurtured new talents including Chris Ware, Daniel Clowes, Rutu Modan, Harvey Pekar, Charles Burns, Joe Sacco, Julie Doucet and Peter Kuper to mention only a few.
There are loads of exciting workshops, signings, and comic fairs happening across the UK on Saturday. A full guide to events can be found here.
And here are a few highlights: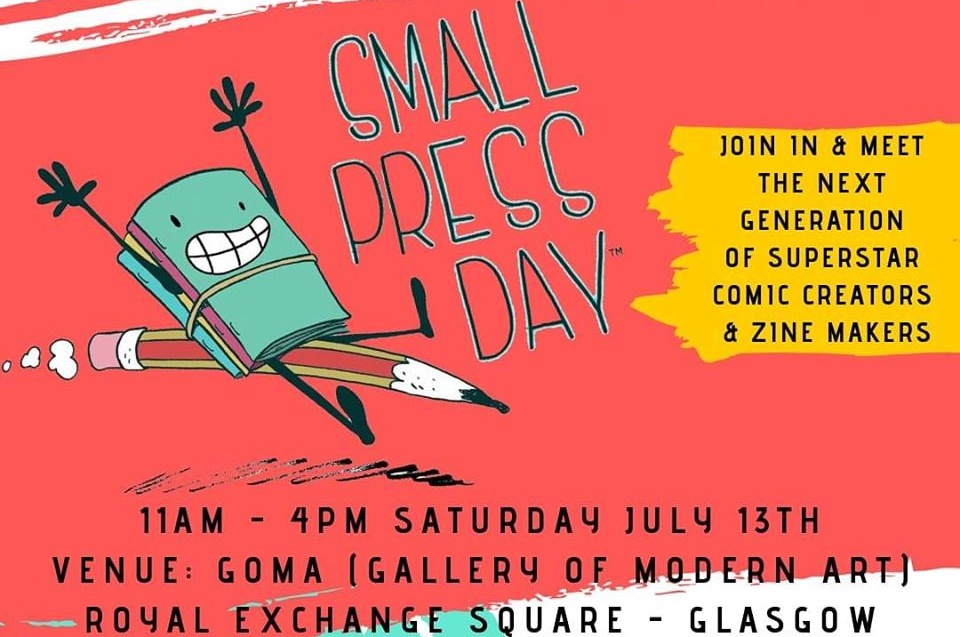 In Scotland:
At Peacocks Visual Arts Aberdeen: Grandmothers' Tales – a pop up comic exhibition: Artists exhibiting are Niki Banados, Maria Flower and Sophia Luu, and Maria will be hosting the night. More info here
Dundee Comics Creative Space are launching The Ultimate Comic Collection – Volume 4 of their Comics Club anthology series at DCCS HQ in the Vision Building in Dundee (12-2pm) with a drop-in comics workshop
Forbidden Planet Glasgow at GoMA, 11am – 4pm. More info here : Join in and meet the next generation of superstar comic creators and zine makers.
Attendees will include:
John Lees, Neil Slorance, Jamie and Helen Boyle (The Life of Nill), Jonny Cannon (The United/The Divided, Transylvanian Knights), Alan Henderson (The Penned Guin), Jake Parappa Hainey, Peter Watson/Gordon Johnston (The Lang Walk Hame/Hot Schitt), Matt Smith (Smith vs Smith), Allan MacRitchie (Grave Wax), Ny Ali (Nytastic titles) and Sarah Allan
And also in Aberdeen there will be a day of signings at Asylum Books & Games (more details here).
And around the UK and Ireland highlights include:
Gosh! in London will host several workshops including a Broken Frontier workshop with Andy Oliver, Lucy Sullivan and more.
Orbital Comics in London will have a full day of signing and drawing comics with 18 creators!
Bath: Bam Comic Fair https://bamcomicfair.blogspot.com/ with creators including Rick Jackson, Nick Prolix, Jason Garrattley, Lise Richardson, Raechel Leigh Carter.
Leeds Small Press Day: Local artists including Zorika http://akiroteacomics.com/ will be exhibiting in the Central Arcarde
At Leeds Travelling Man and Geek Retreat: Panels and workshops and a Body Positive Life Drawing session with Nick Gonzo
Border Bookshop in Yorkshire: Cake and comics with Cat Byrne and Chris Browning
Also, for those who can't make it to any of the events: There will be a #virtualcomiccon on Twitter, with creators like Tom Ward and Matt Simmons joining in.
To see samples of the work by some of the creators mentioned, take a look at our Twitter thread here.