I'm with Nicola: stick to Plan A (but with more action)
In the last few weeks there has been a serious discussion as to how the SNP push forward with plans to hold another independence referendum. As usual in these circumstances there is, generally, two camps being created here. There is the Plan A camp, which is to stick with current strategy, and Plan B, which is to take a new approach that is one level down from UDI. The second camp is one lead by Angus MacNeil MP and councillor Chris McEleny.
After their original resolution failed to get through to this year's SNP conference the two submitted their proposals in the form of an amendment. The amendment reads are follows: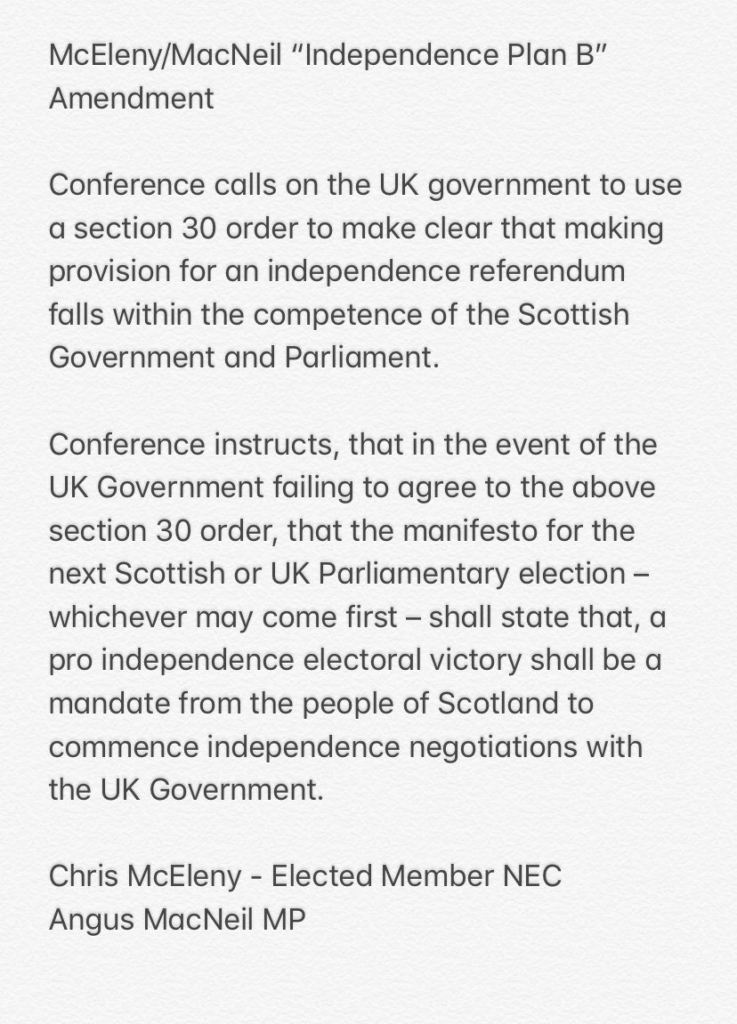 When Nicola Sturgeon and the cabinet had a public discussion in Stirling, the First Minister was asked as to what alternatives she would seek if a Section 30 was not granted for another referendum. Her response is one most of the Yes movement can get behind.
FM is asked about alternative options for independence if Section 30 is not granted, response about legitimising those refusing one is very good. pic.twitter.com/qlmam1jTuS

— Robert (@RobDunsmore) August 9, 2019
I wish to offer more reasons as to why SNP members should reject the Plan B amendment.
1) Seeking independence through a General Election works in favor of unionists
If we want voters to see past political parties and embrace the open vision of independence, will that not be undermined through a general election when only political parties are on the ballot paper and not the question of independence?
Lord Ashcroft's most recent poll found that 40% of Labour voters in Scotland back independence. This group of Labour independence supporters will be vital in pulling out a majority for Scottish independence (and, in the event of a Hard Brexit, there is a good chance more Liberal Democrat supporters will back independence too).
When faced with a binary choice of Yes/No there is little to no pressure for voters to stick with party lines. They are not putting a cross next to Jeremy Corbyn, Boris Johnson or Nicola Sturgeon. They are faced with a straightforward question on independence.
If these same voters were faced with a General Election they are far more likely to vote with their party, regardless if they support independence or not. There are many within and outside the Yes movement who have a strong dislike for the SNP, so asking them to endorse independence through a party they dislike will not work in our favour. This also works against the Yes movement's message "Independence is not about the SNP".
Ashcroft's poll found that 52% of Scots now back independence. This is good news overall, but this is a very thin lead. So why put it at risk?
2) Solutions should be found in Scotland, not at Westminster
If we want to circumvent Westminster obstruction then it must be done at home, in Scotland. Even an advisory referendum would be wiser than MacNeil and McEleny's Plan B.
If we believe that Scottish sovereignty lies with the people of Scotland then we must focus our efforts here, not at Westminster.
3) What happens if the SNP win an election with a minority of the vote?
We can't call the Westminster voting system, first past the post, democratically bankrupt but then argue to abuse it for our own political gain. By doing so we are no longer serious democrats.
Democracy is at the very core of the independence movement. We want independence so we can have governments that reflect the will of the Scottish people. Starting independence negotiations, against the wishes of the majority, is the opposite of what independence stands for. When dealing with a binary question we need a referendum to address it.
4) As the First Minister says, giving up legitimises Westminster's anti-democratic argument
The more we talk about alternatives to the 2014 gold standard the more we legitimise the unionist argument for blocking another independence referendum. We should ask less questions about alternatives and continue our focus pressuring unionists to accept a fair debate.
That is not me saying we should never ask about alternatives. These are discussions that should happen, but the majority of our energy should be focussed at challenging Westminster.
5) Independence through a general election will not be legally recognised by either the UK or international community
One of the reasons that many SNP members support Plan B is that Westminster can simply ignore calls for a Section 30 and thus stop us getting closer to independence. But there is a very obvious flaw in their own proposal…Westminster can also ignore calls to negotiate independence with Holyrood. So what would be the point of Plan B if we are faced with the exact same problem?
The international community would not recognise these negotiations either, unless there is a clear majority expression in favour of independence. That requires a referendum. A clear expression for independence cannot be found in a general election (see reason 1).
6) Plan B completely gives away our strategy for unionists
Even discussing Plan B, before it's even reached the SNP conference, works against the independence movement. Unionists will have time to plan against MacNeil and McEleny's proposals. Unionists will bring up point 3 and argue the SNP will happily ignore the majority of the electorate for the sake of independence.
"Ah" cry defenders of Plan B "but unionists will always spin SNP policy."
Correct, but usually the Yes movement can respond to spin and point out unionist misinformation. In this case it's completely clear that Angus MacNeil and Chris McEleny are happy to ignore the majority of the electorate (in the scenario that most voters back unionist parties) for the sake of winning independence.
"But what happens if we win a majority in a general election?"
That is less likely to happen. See reason 1.
7) We're already making serious progress with Plan A (but more can be done)
Look at what's happened in the last week. Scottish Labour are in open civil war with UK Labour over their policy for another independence referendum. They are tearing themselves apart over a very basic democratic principle.
Conservative's have already shifted their language from "no referendum" to "if you win another pro-indy majority you might get a referendum." The very fact the tone has shifted in our favour is proof that Plan A is progressing. However, where I sympathise with MacNeil and McEleny, progress is not going fast enough. We could be doing a lot more.
I agree with them that we need to pick up speed and move now with serious campaigning. We need to act as if we're at peak 2014. We need a properly organised campaign with other independence groups. The SNP needs to campaign alongside other groups and pro-indy parties. Instead of saying we need to be active we actually need to act.
But for the reasons stated above we cannot endorse their amendment for the SNP conference.
When Westminster is playing an anti-democratic game then other solutions must be found, but not at the cost of ignoring democracy itself.