Bye Bye Boris, Bye Bye Britain
The decent thing to do would be to resign, so that's not going to happen.
The fact that our un-elected Prime Minister lied to our un-elected Monarch has sent the legal fraternity into a state of unbridled joyous frenzy, and the ruling that Prorogation was unlawful is a victory for parliament.
But before we get too misty-eyed about the state of the Soon to be Unleashed Britannia, we should remember that everything remains fundamentally broken.
Anna Soubry and Chuka Umunna pouncing on the idea of a 'national government' led by some old dude of their choosing, the Liberal Democrats rejecting both liberalism and democracy, the Labour Party collapsing in front of another open-goal, are all signs of a political class split between hopeless opportunism and venal, barely legal black ops.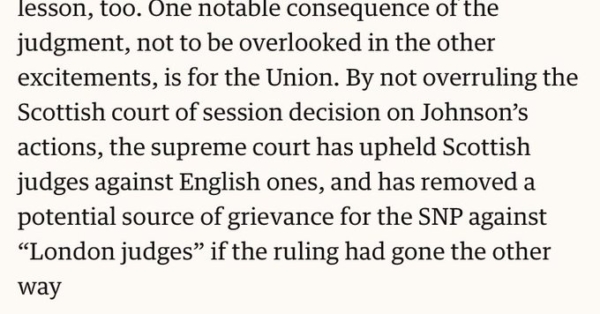 Some – see Martin Kettle here – have even used the fiasco as an example of how wonderful the Precious Union is.
So what now?
Frothing at the mouth, the Brexit Brigade are descending on the aforementioned legal fraternity, expect much 'Enemies of the People' rhetoric and the attempt to dox smear and traduce anyone who doesn't pass some mythical loyalty test.
Expect centrist Britain to coalesce around some totemic myths about the 'Rule of Law', the Mother of All Parliaments and John Bercow as some progressive force.
Parliament re-convening doesn't solve our deep-seated constitutional crisis all it does is point tv cameras at it.
The overall effect of this rolling constitutional crisis is to not undermine but reveal the structural weakness of British democracy: the pivotal role of the monarchy in this weakness; the complete lack of checks and balances; and the centralised power of any Prime Minister, elected or not.
Oh for the days of stability under Prime Minister May.
All of this should inform not just a massive vote for independence, but the need to create a contemporary Scottish democracy, not replicate the failed structures and institutions of the regime we'll be shortly leaving.