Challenging the far-right and climate change in Poland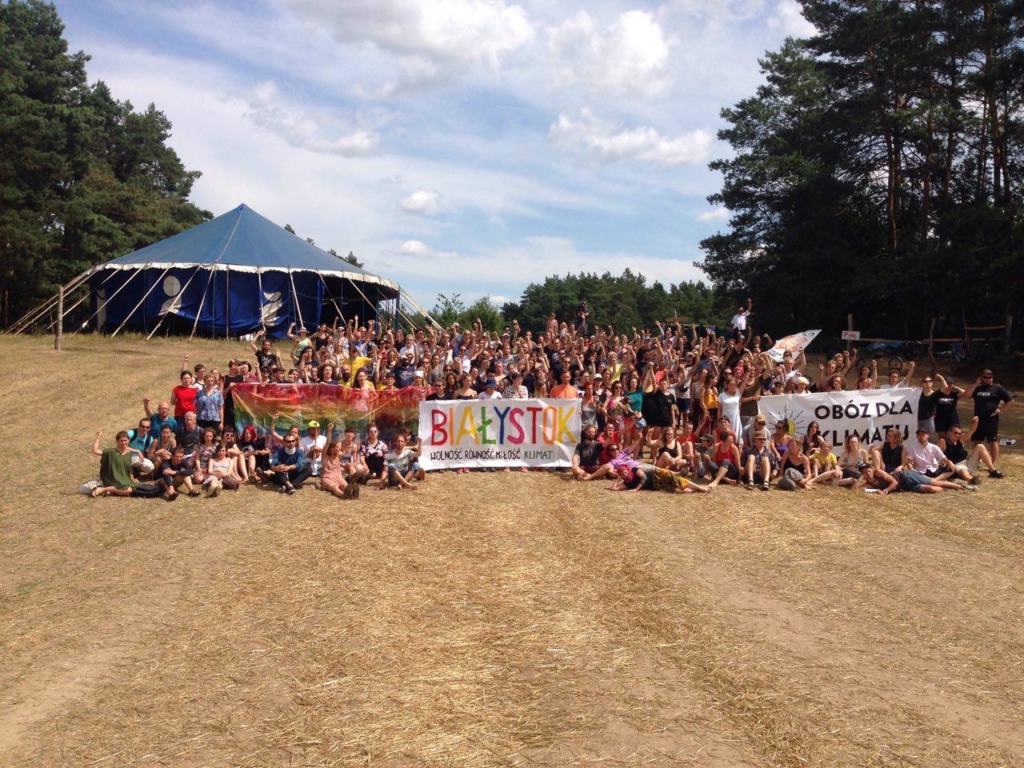 Steve Rushton reports from Poland on direct action and occupation of the Kopalnia Tomisławice open-pit lignite coal mine, and efforts to defend the Białowieża Forest.

"Poland's first mass direct action against coal is not trying to speak to the government. We speak directly to the people. If you ask the government for something, you empower it. We don't think we can affect the ruling far-right party; we speak to the people to empower them." Explains Diana Zawilec, an activist from Poland's second Climate Camp (Obóz dla Klimatu)
In late July, over 800 people gathered in fields near Poznan. After a week of workshops and skill-shares, around a hundred people attempted to occupy Kopalnia Tomisławice open-pit lignite coal mine. Thirty activists made it to the open coal face.
Poland's far right governing party, Prawo i Sprawiedliwość (PiS) will almost certainly win the country's general elections on 13 October. In power since 2015, the government has denied climate change, arguing burning coal is patriotic. The government is increasingly authoritarian, discriminating against women as well as LGBT and migrant rights. But the fight for democracy and against climate change is no lost cause. Movements grow using varied tactics on different fronts. They even prompt democratic innovations relevant far beyond Central Europe.
"Civil disobedience tactics already stopped this government destroying Białowieża Forest. To succeed again, we must communicate clearly to the public as Poland has a limited history of environmental activism. This climate camp has drawn masses of attention, media discussed the open mine all week," says Julia, a co-organiser of the climate camp while it is packed down.
Białowieża Forest or "Europe's rainforest" is the largest ancient forest on the European Plain, rich in biodiversity, including the bison. In Spring 2016 the PiS government increased logging in Białowieża, which extends into Belarus, based on dubious arguments about stopping spreading beetle infestation. Activists working from small protests camps put their bodies on the line and halted the cutting.
PiS is also known for its attacks on Poland's independent judicary, and you might expect the right to protest to be eroded. But Julia, who works for a human rights NGO, explains Bialowieza Forest defenders successfully argued in court they were acting against a state of emergency. Activists who occupied the coal mine in July did not receive heavy charges, but police response was violent. They used tear gas, beat protesters with batons, resulting in one broken collarbone.
Beyond the monumental resistance uprising against Soviet domination, Poland has had limited civil disobedience. Until now. Julia explains: "I sometimes think the only advantage of PiS is the strengthening of civil society. There were no protests before. It's incredible how many people now mobilise, like against the abortion law. I hope society recognises its power in solidarity." In March 2018, thousands took to streets in 'Black Friday' demonstrations, which stopped parliament further criminalising abortion.
From spending a week at the climate camp, it was clear how the participants came from a constellation of growing struggles, notably Poland's squatting scene and those working for women's, migrant and LGBT rights. It was no accident camp food was vegan – many participants came from animal liberation struggles or anti-hunting struggles.
During the same week in southeastern Polish Bialystok, fascist thugs violently attacked the city's first Pride parade. When time came for a solidarity photo at the climate camp, everyone turned up – not something taken for granted in a conservative Catholic country.
Julia adds: "In every way we are the opposite of the government. They have an autocratic path, we are super democratic, as you see in the daily assembly where decisions are made."
Not only did the camp launch Poland's first mass climate direct action, it doubled in size from the previous year. People from across Poland, some experienced and others not, shared skills and ideas that will disseminate long after the tents have been put down.
Social movements and protests fill the void of national politics to effectively challenge PiS's ultra-nationalism. Women's marches, Pride parades and protests against limiting the role of the judiciary have brought thousands to the streets. In cities, independent local politicians are also winning, offering another politics. These are vital as the main party opposition – the Civic Platform – provide meek opposition. As Professor Aleks Szczerbiak writes on the LSE blog, PiS are popular pushing Christian-Right values. In comparison, Civic Platform are also against migration, gay marriage and abortion, just not as fiercely.
Rural areas and small towns have typically been heartlands for PiS and their pro-coal stance. But dissent from these areas is rising, not least as the climate crisis intensifies. The camp was hosted on a farmer's land. One of the most important workshops – in a week full on programme – was locals explaining how they have been struggling against the open-pit mines.
Farmers and NGOs have succesfully stopped licences for new coal mining, lodging formal complaints with the EU since 2008. An escalating drought only pits more farmers against the water-intense and highly polluting mines. This anti-coal shift is now even being pushed in industrial areas deep in Poland's coal country. For instance, in late September 2019, residents of the town of Imielin made a human chain around their main square against underground coal mining threatening their town. The final decision here is under appeal at the provincial level.
Coal fuels 80% of Poland's electricity. But small towns and municipalities show alternatives' potential. For instance, the town of Kisielice has produced all its energy needs for over five years from wind, solar and biomass. Likewise, there are solar cooperatives, including three that cover blocks of flats in the city of Szczecin.
Poland's Energy Minister Krzysztof Tchórzewski has been one of coal's biggest cheerleaders. But in 2019 even he admitted Ostrołęka C is the country's "last coal power plant". His reasons: coal's high costs and the new EU pollution regulations . Instead, he wants nuclear power. But coal burning will not drop until 2030, even 2040. Beyond its seismic risks, nuclear cannot be built overnight. Yet the climate movement can redirect the future.
On 26 September 2019, environmental lawyers ClientEarth announced a lawsuit against the owners of Bełchatów power plant, Poland's public energy company (PGE). The plaintiffs will sue against Europe's most polluting powerplant, asserting the court needs to shut it down by 2035. ClientEarth's previous successes this year alone include slowing down and possibly halting the construction of Ostrołęka C, and stopping another power station, called Polnoc being built. These legal fights not only shut coal down, they bolster the countries fledgling renewables, an industry whose growth has been stunted by PiS. ClientEarth are also working in coalition with local activists and environmental NGOs – for instance in saving Bialowieza Forest that went to Europe's highest court.
The European Union acted swiftly to stop Polish deforestation, and increasing regulations are slowly curtailing fossil fuels. In early October, PiS is again in conflict with the rest of Europe as it vows to defy 2050 carbon neutral targets. In contrast, the EU has previously assisted with financing and even subsidising Polish coal industries. To engage with this continental conversation the climate camp provided an important space. Many international activists took direct action and the action was supported and inspired particularly by German anti-coal movement Ende Gelände.
But just as Polish eco-defenders look internationally, we can learn from Polish tools for positive democratic change.
Gdansk has had three citizen assemblies since 2017, where a random selection of citizens have extensive, expert-informed discussions to make decisions. They made binding decisions on how to deal with flooding (caused by climate change); smog; and increasing democratic participation. This all cut against the grain of Poland's national politics, and has been replicated in other cities. Now Warsaw is preparing a citizens' assembly on how to deal with climate change.
"We can demonstrate and protest, but beyond that you can inspire your city to have a citizen's assembly; Friday's for Future [school strikers] had a meeting with Warsaw's mayor and convinced him in 20 minutes." Marcin Gerwin, the coordinator of citizen's assemblies in Gdansk explains.
Gerwin has written this guide about running citizens' assemblies, here in English. Criteria for success include a random selection of citizens – demographically representative, who are given all the information and able to deliberate then making binding decisions, based on 80%-plus approval. Citizens' assemblies are one of the tools used by citizen coalitions taking back their cities across the country, learning from the international municipalist movement.
PiS's almost certainly win Poland's upcoming elections, which will send a message around Europe of far-right political resilience. But although we must take this seriously, we must recognise that the fight against the intertwined climate crisis and far-right has fronts from streets to city halls, from courtroom battles to media culture wars. It is not solely won or lost by national elections.