The significance of this week's ban on summiting Australia's Uluru/Ayer's Rock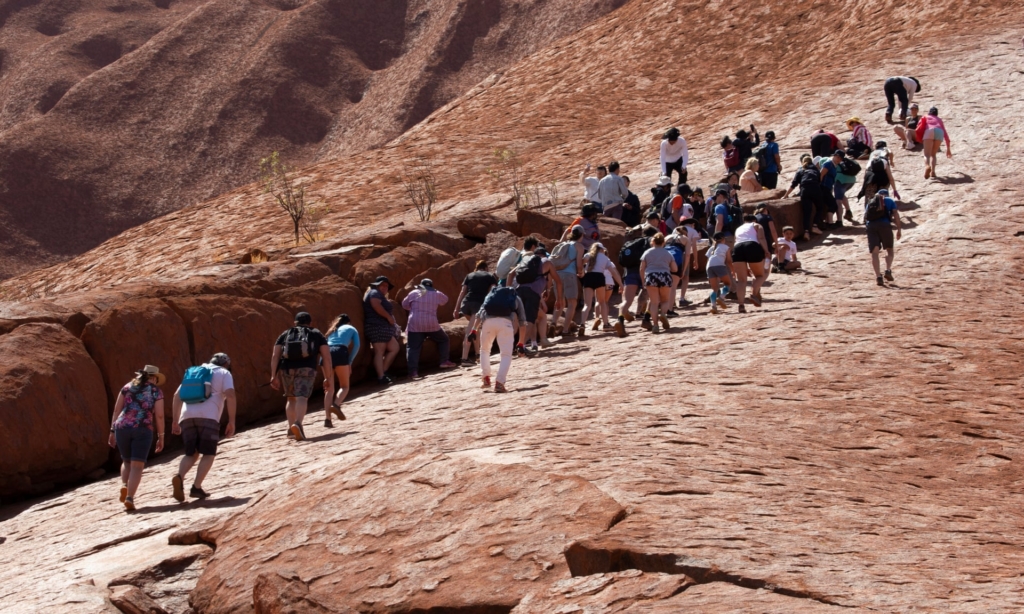 Christos Galanis on the need to defend the sacred and respect indigenous wisdom and place.
This past week at 4pm local time on Friday October 25th 2019, access to the climbing of Uluru (aka Ayer's Rock) in Australia was definitively cut off to tourists, culminating in what has been a decades-long struggle for Aboriginal sovereignty against the incursions of mass tourism. The ban comes 34 years after ownership of the rock was returned to its traditional Aboriginal Anangu stewards, who have been caring for these lands for over 30,000 years. The route to the top of Uluru is deeply sacred to the Anangu people, and the path to the summit is only ever used within the context of an initiation ceremony for Anangu men. The route to the summit is understood by the Anangu to be the same path taken by their ancient ancestors during the Dreamtime, during which the very land itself was formed from their bodies and movements. The notion of climbing the peak with the attitude that it is just an object to be climbed and consumed for leisure is deeply offensive to the sensibilities of the Anangu, for whom the worshiping of Uluru is synonymous with the respect and reverence given to the most fundamental source of life itself. To make matters worse, tourists use the top of Uluru as an open air toilet, shitting and pissing on the peak, which then runs down the rock and poisons the water and wildlife below. A Euro-Centric translation of the kind of offence being undertaken by summiting tourists might look like myself and some friends walking into the Vatican, grabbing a large crucifix off a wall, and playing baseball with it there inside the building during a mass that the Pope himself is presiding over.
After many years of the Anangu pleading with tourists to stop climbing their sacred rock – including posted signs and an invitation to instead walk around the perimeter of the rock as a less invasive way of visiting it – thousands upon thousands continued to scale the peak year after year, arguing that Uluru belonged to 'all Australians' and that it was rather a matter of national education and civic enlightenment that told them that they were entitled to step anywhere they wanted, at any time, and that the 'right' of attaining the view from Uluru's peak superseded the wishes of its Aboriginal stewards.
It's a strange kind of contorted reasoning, where on the one hand, modern secular materialism argues that all matter is dead and interchangeable – that the notion of sacredness is just primitive superstition, and that there is no law or boundary that is superior to that of human liberty and human knowledge production. Yet on the other hand, since at least the early 1700s, modernist Europeans (most especially Anglo culture) have been obsessed with penetrating the highest, most sacred summit sites around the globe – from Africa to the Himalayas to the Swiss Alps to the Scottish Highlands, Anglo 'explorers' have expended tremendous treasure and extinguished countless lives (their own and their Sherpas and hired help) in order to defy local indigenous prohibitions against summiting their sacred summits. This was just one of the ways in which the middle and upper classes could viscerally participate in global projects of imperialism in their own way. Where local indigenous populations considered prominent summits to be sacred and off-limits to human presence, modern explorers saw the same peaks as untamed natural adversaries to be conquered in the name of human progress and evolution. By thus 'proving' to the local indigenous populations below that there was nothing sacred about the peaks – no Gods or divine spirits to be found up there – the conquerors simultaneously performed the supposed supremacy of modernity and techno-science as they slowly penetrated the few last remaining uncharted regions on their maps, until finally, from the peak of Mt. Everest in 1953, nothing was left that could withstand the gazing eye of Euro-Centric modernity as it surveyed all that lay below it.
When I first moved to the US state of New Mexico in 2010, one of the things that first endeared me to the state and culture there was when I was first told about sacred mesas/plateaus that were considered off-limits to non-indigenous peoples and tourists. While it was perhaps not legally binding, the general culture among most people there was that these sacred sites should be respected, and that there were some places where, due to culturally understood signs of respect, people like myself were asked not to walk. I felt a similar appreciation the first time I took the Rail Runner train from Albuquerque to Santa Fe, where, before traveling through Pueblo land, a recorded message plays throughout the train, asking passengers to please respect local indigenous protocols and refrain from taking photographs out the windows until the train has passed beyond Pueblo lands. Although I couldn't perhaps put words to it at the time, these prohibitions made me feel safer and more comfortable living in New Mexico, even as an Anglo and foreigner, because it meant that there were still at least places in these lands where something other than modern secular materialism reigned supreme – that there was still some semblance of resistance remaining that continued to defy the extractive gaze of a colonialist paradigm.
We need boundaries and limits in order to preserve meaning and perspective. Without spaces that are reserved for special or sacred occasions – without the reverence for Mystery and protocols through which to observe it collectively – all space becomes equally mundane, and the spell of Universalism holds us under its sway. Universalism tells us that things are the same everywhere, for everyone, and that there is no other possibility other than the currently dominant paradigm of secular modern materialism. Universalism tries to convince you that mountains are there to be summited and conquered as quickly and efficiently as possible before hurrying on to the next summit. Universalism causes the imagination to atrophy, and it tries to convince you that it's useless to even try to imagine other ways, other paradigms, other qualities of relationship. At its roots, Universalism is the re-packaged specter of Monotheism and the illusion that there is only one singular God – one singular power, or divine source of all life and meaning – and that this singular power is known and possessed exclusively by a particular group of people which makes them supreme above all others.
It may seem inconsequential to some that this week, in the Australian desert, footsteps have ceased to plod up the sides of Uluru. It may seem beyond most people's concern that its peak will once again know stillness and silence for the first time in almost 100 years. Yet, the significance of this shift should not be overlooked. For those who will still choose to visit Uluru in the future and take the opportunity to circumambulate the rock along the six and a half mile track around its base, perhaps some will be aware that the slow circling of mountains by foot has been a form of ritualized worship and respect performed by various indigenous cultures around the world for many thousands of years. The West African elder Malidoma Somé translates the Dagara word for Mystery as "the thing which your knowledge cannot eat". For Mystery is the groundwater of the imagination, and in order for it to flow and continue to feed life itself, it resists being made visible and rational. By preserving and observing the sacredness of places such as Uluru, we are reminded that there are other possibilities; other paradigms other than the current dominant regime of extraction and moving on. We're reminded that the fastest and most efficient solutions are often incompatible with long-term sustainment of life itself. We're reminded that Universalism is not universal, and that the weave of the world is woven by a spiraling dance of divine counterpoint and sacred difference.