Looping the Thread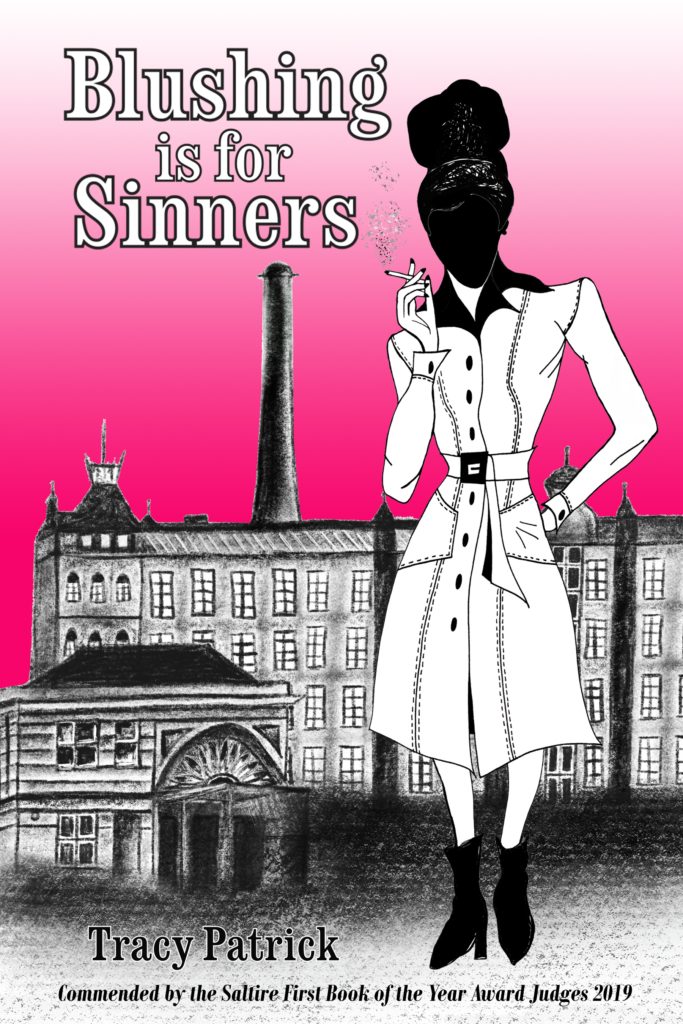 One of the most enduring sounds from my childhood was the drone of my grandmother's Singer sewing machine. As I sat watching the television, I'd be dimly aware of the comfortable hum of the needle coming from the 'wee' bedroom of her council house, where she sat surrounded by pincushions and thimbles, scissors and safety pins, and folds of material waiting to be transformed into clothes, costumes and furnishings.
It was my grandmother who designed and stitched my mother's wedding dress and her bridesmaids' dresses, as well as the pink and blue suit she wore as mother of the bride. Never one to throw away what could be salvaged, the wedding dress was later transformed into my baptismal gown and, even smaller pieces of material, into tiny satin ballgowns for the Barbie dolls my sister and I played with. It is only now, looking back at old photographs, that I realise the incredible skill that went into my grandmother, Dorli's, creations. She made fancy dress costumes for us on Hallowe'en, and for the Lilias Day Parades in Kilbarchan where we lived, including a ladybird with bobbing antennae, and a very cute snowdrop outfit I had complete with white cap and green leggings.
Yet her talent went largely unrecognised. Like many women of the war generation, self-sufficiency was something of a necessity and she had what almost amounted to an aversion to buying new clothes (she'd even tear up my grandfather's old pyjamas to use as cloths). Yet Dorli had a creative flair that, had she been born in a different era, might have been nurtured by a university course in art or design. But such ambitions were rare amongst women of her generation and social class. She came from rural Europe, a small town called Gratkorn, near the city of Graz, in Austria. My grandfather was from Elderslie, Renfrewshire, the apparent birthplace of William Wallace. Theirs was a war romance, then he brought her over to Renfrewshire and the rest, as they say, is family history.
I won't go into the inevitable Nazi insults hurled at her as a result of her Austrian accent. She changed her name to Doris, and learned English slowly and by ear, piecing together nouns, verbs and sentences. Her favourite novel was Pride and Prejudice, which she read faithfully, over and over. Sadly, Dorli died before my first novel, Blushing is for Sinners, was published, so I'll never know what she would have made of the story of Jean, a Paisley mill worker who longs for a better future; and her daughter, Ava, who ends up growing up without her mother in a different country, Canada. Yet, somehow, it seemed natural that I should dedicate the novel to Doris. Jean is a romantic dreamer who falls in love with the wrong man and, as the contrast between her fantasy world and her reality becomes increasingly bleak, she embarks on a drastic course of action.
I have read some of the letters Dorli wrote to my grandfather after he was demobbed, and while she was waiting to be brought to Scotland. They are tender and filled with a young person's ideal expressions of love. The reality of finding herself in a council flat in a grim Scottish industrial town with two small children to bring up must have brought a certain amount of disillusionment to a romantic soul who dreamed of the Hapsburg empire and grand opera houses of Vienna.
I remember going with my grandfather on Friday afternoons to collect my grandmother from the Chrysler car plant where she worked, and watching hundreds of women pour from the factory and out onto the street. Like the mill girls, my grandmother belonged to a generation of women who thrived on the camaraderie that enabled them to survive years of repetitive piece work. She once lost her wedding ring in a box of car parts only to have the team at the other end take the trouble to find it and return it to her. In my novel, Jean's mother, Senga, and her friends, Maggie, Isa, and the no-nonsense 'Big Una' are reminiscent of this generation, the lifelong friendships they formed, and the small kindnesses they showed to each other that shone a light through the dark times. On finding out the mills will no longer be offering long-service certificates, Una says: 'It's a sign. It'll be just like the end a the trams, only naebody'll be lining the streets tae wave us goodbye.' Similarly, Jean recalls how, on her mother's last day at the mills: 'the front room was filled with flowers and all the women she worked with came round for sandwiches, cake and tea. After they left she cried like somebody had died, like it was a funeral.'
By the time I was at school, this way of life had already disappeared. I remember passing the Ferguslie mills on the bus every morning, the buildings like old vanguards of days gone by. They were outdated institutions, something to be rebelled against, like the 'daft old guy in war medals' who chases Jean's loud-mouthed boyfriend, Billy, round the cenotaph. It is Billy, who, in his unflattering way, senses the transitory nature of industry: 'One day, nane a this will exist. All gone, like cardboard in the rain.' Nowadays there is an element of nostalgia about the mills: the social activities and educational classes; the holiday outings; the medical care they provided to women when there was no NHS; the detailed architecture. Indeed, the Coats and Anchor labels would have been familiar to Dorli whose own mother swore by the quality of the thread. Back then, living in Paisley was something to write home about.
By contrast, Jean's daughter, Ava, has opportunities afforded to her that women of older generations lacked. Perhaps the geographical distance between mother and daughter in the story is somewhat symbolic of the distance between myself and Dorli, an intensely private and serious woman who, no doubt for her own reasons, did not reveal much about her inner life. It is only when it is too late, I realise there was so much about her I didn't know. The quiet hum of the Singer always blended into the background, behind the TV and chatter. It was only when it finally stopped that I really began to listen. My grandmother's roots belong to me too and, like Ava's son, Scott, who is fighting to protect the old growth trees of British Columbia from logging, dedicating this book to my grandmother is a way of exercising some kind of guardianship over her memory and over our shared history.
I have one of her boxes of thread at home, dating from the sixties and bearing the distinctive Coats logo. Inside is a mosaic of colours: sungold; air force blue; glowing pink; artillery red; wood violet. It was Dorli's black cotton thread that I used to hand-stitch copies of my poetry pamphlets a few years back. Her mother was right; the thread is still strong and sturdy as ever, its quality undiminished.