Sobering Up with Darren Grimes
If this election has quickly become tedious, today we were offered a lift by a video from Darren Grimes tweeted out by Toby Young. It's so marvelous in its stupidity it deserves some deconstruction.
Vote Corbyn, lose Scotland. Sobering. pic.twitter.com/LW9FxF51nH

— Toby Young (@toadmeister) November 10, 2019
The opening line: "Vote Corbyn, lose Scotland. Sobering" is a lovely opening framing, which basically describes Scotland as a possession, never a good look for a Family of Nations/ Awesome Foursome/Union of Equals (delete as inapplicable).
The tagline at the end "Is this really what we want?" just begs for the chorus response "YES!!!"
It is of course factually wrong in multiple ways, the SNP has ruled out a coalition with Labour, but in cutting up video in a fake news fantasy at least Toby and Darren are keeping up with the times as the BBC's recent cenotaph re-working for Boris has shown.
You've got to love the "RBS shutting down branches" line, because they've been doing this for years, as well as almost crashing the economy, in case you'd forgotten.
Remember when five of the world's largest banks were fined a total of £2 billion after an investigation into the rigging of the foreign exchange market – and the Serious Fraud Office brought in? Yeah that was RBS.
According to Amnesty International: "The Royal Bank of Scotland, together with other well known high street financial institutions such as Barclays and HSBC, are providing investment to the tune of around £800 million to the producers of cluster bombs."
Yeah, that's RBS too.
But my favourite has got to be this frame…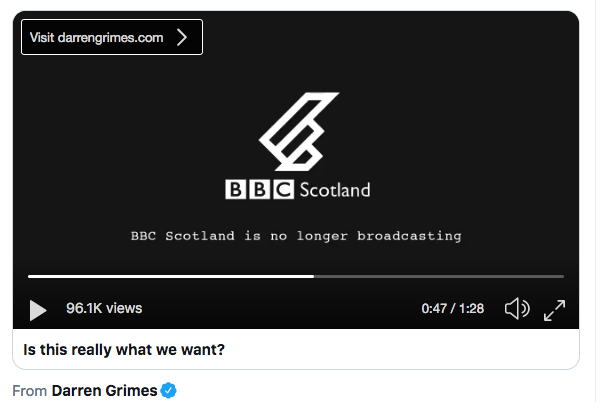 This film suggests that the institutions closest to the Scottish peoples hearts are the British army, RBS and BBC Scotland. They even have the cheek to end the film suggesting Scotland would be unable to join the EU, just as we are in the midst of being dragged out against our will.
Grimes you'll remember was the channel for funneling large amounts of dark money in the Brexit campaign and has been the subject of police inquiry for his links to AggregateIQ, the Canadian tech firm linked to Cambridge Analytica.
The Spectator's Toby Young penned this remarkable homoerotic tribute to Boris Johnson and he was of course forced to stand down from his role on the board of the new universities regulator after a deluge of sexist and homophobic comments was revealed.
Anyway, this is by far the best thing that's happened this week.
Darren and Toby. Keep up the great work!