Questions about the new Chair of the Scottish National Investment Bank (SNIB)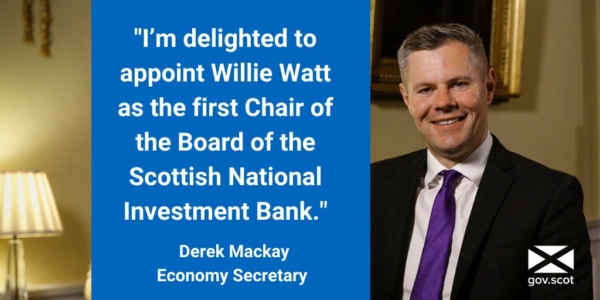 INTRODUCING WILLIE WATT, CHAIR OF THE SCOTTISH NATIONAL INVESTMENT BANK
GENERAL ELECTION media froth rather buried last week's announcement that Finance Secretary Derek Mackay had appointed veteran investment broker Willie Watt as the first chair of the SNP Government's new Scottish National Investment Bank (SNIB).  Watt will effectively shape the future lending direction of SNIB – which is scheduled to open its doors next year – so his apointment is significant in telling us what the SNP leadership expects from this flagship policy.
Given the palpable failure – if not actual toxicity – of the private financial sector in recent decades, there is an obvious need for a state-owned investment bank able to take the long view and act in the social interest.  Theoretically, therefore, the SNIB is a powerful tool for shaping Scotland's economic future.  Unless it is captured by representatives of the very financial class who have done their best to ruin the Scottish and global economies over the past period.
So just who is Willie Watt?  Let me start with a modest complaint.  In any functioning democracy, political appointments to significant administrative positions (such as chair of a state bank) should be subject to some process of public scrutiny and confirmation by elected representatives.  Mr Watt has been appointed by Scottish ministers (specifically the FM and Financial Secretary) without any such public scrutiny process.  That is wrong.
For example, SNP MPs at Westminster (myself included) have worked with MPs of other parties to gradually bring senior UK financial appointments under scrutiny and confirmation by the backbench Treasury Select Committee.  Currently the Governor of the Bank of England, Deputy Governors, members of the Bank's committee which sets interest rates, and the heads of important regulatory bodies (e.g. the Financial Conduct Authority) are subject to pre-commencement public hearings vote by the Treasury Select. In 2017, the newly appointed Deputy Governor of the Bank of England, Charlotte Hogg, was forced to resign the post after a hearing at the Treasury Select (which I took part in) exposed serious conflicts involving her brother, a senior banker with Barclays.
Unfortunately, since early on, successive Holyrood administrations have been reluctant to entrench or extend any system of confirmation of political appointments.  In rejecting a private members bill introducing confirmation hearings, initiated by the SNP's Alex Neil in 2002, the then Labour-Lib Dem administration pontificated that "excessive Parliamentary scrutiny might have a deterrent effect on the number of candidates coming forward. It might also be perceived as extending politicisation of the appointments process". Translation: we don't want messy democratic scrutiny getting in the way of jobs for the boys.
A democracy is just that – an open system where the citizens get to know and chose their leaders, including the chairs of public bodies. If there are those who demand secrecy before applying for, or being appointed to, public positions then that seems a good yardstick by which to reject them a priori.
The appointment of chair of a major public bank is a post that should be subject to public scrutiny and confirmation.  We are not talking about the operational chief executive. We are not talking about a technician. We are talking about the key figure who chairs the policy board of the bank and oversees its governance and probity. It is vital the public has faith in such an appointee and can hold them, in turn, to account.
Not is it sufficient for such an appointment to be supervised by some small, internal panel appointed by ministers. Overseeing the Scottish National Investment Bank is as political (small 'p') a task as you can imagine. Elected members must be involved in making the appointment if only to ensure the appointee is then free of ministerial undermining.
Alas, Willie Watt has 'emerged' as a key figure in Scotland's economic future with no such public or democratic scrutiny.  In fact, with less scrutiny that would be the case for a UK public appointment in the financial sector. This cannot be good for the future Scotland we are all trying to build. And it cannot be good for the SNIB or its credibility.  The Scottish Parliament must demand that Mr Watt appear before it and seek its confirmation, after due questioning.  This is not a partisan matter. It goes directly to the heart of the democratic process.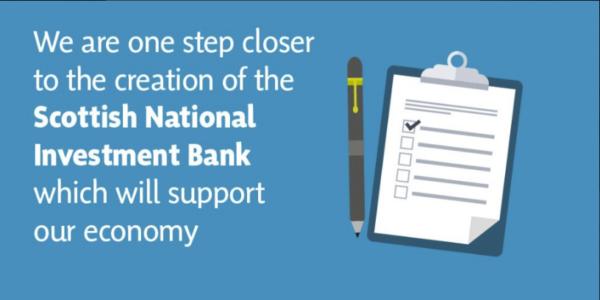 WHO IS WILLIE WATT?
Which brings us back to Mr Watt.  For the past 18 years, till he retired in February, Watt has been boss of Martin Currie Limited, which manages and invests money on behalf of global clients.  Previously he spent 16 years with the 3i Group, a multinational private equity company based in London.  Watt is also a member of the advisory board of Scottish Equity Partners, a venture capital outfit specialising in high tech.
In other words, Willie Watt has spent his life as a major cog in the global investment world. If Scotland has a financial bourgeoisie, Mr Watt is its principal representative.
In Mr Watt, despite the down-to-earth 'Oor Willie' handle, we have international finance capital's representative in Scotland.  For Martin Currie Limited is no longer some couthie Edinburgh investment trust but the wholly-owned UK brand of Baltimore-based Legg Mason, one of the world's largest asset managers; i.e. it invests in stocks, bonds and property on behalf of rich clients, who can be private or corporate.  It is hard to estimate the total assets controlled by Legg Mason, but it is somewhere around $758bn in assets under management.  That's equivalent to the annual GDP of Turkey or Saudi Arabia.
Willie Watt was at the helm of Martin Currie (whose Scots roots go back to 1881) when it was acquired by Legg Mason in 2014. It is important that members of the Yes movement grasp the fact that most of Scotland's financial sector is now under foreign control.  Fifty years ago, the opposite was true. Independent Scotland will be a significant regional base for global finance capital. That, in turn, will influence our political establishment and economic choices.
Legg Mason likes to operate through a series of local 'front' such as Martin Currie Limited. However, even before the 2014 takeover, Martin Currie Limited had internationalised itself. For Martin Currie's holding company – which controls the various, individual, global investment vehicles managed from Edinburgh – is actually registered in Bermuda and has been since 2007.  Mr Watt was chief executive of Martin Currie Limited when the latest Bermuda registration was secured.
Why does an Edinburgh-based company (though US owned) have its registered offices in Bermuda?  The reason is crystal clear: by registering its ownership outside of the UK's legal jurisdiction, Martin Currie Limited can hide the identities of investors in its investment vehicles.  Hide these identities from the UK taxman, other tax authorities and global law agencies. Additionally, being registered in Bermuda gives Martin Currie Limited (and its labyrinthine series of global investment funds) significant tax advantages.
(Note: one benefit of the recent hung UK Parliament was a law change in 2018 forced on the Tory Government to make Bermuda, a British Overseas Territory, more open to disclosing beneficial owners of assets registered on the island. This comes into effect next year. We will see if it makes any difference.)
So Mr Willie Watt, who registered Martin Currie Limited in Bermuda to hide its secrets and minimise taxes, is to be put in charge of Scotland's new public sector investment bank.  And appointed without scrutiny at Holyrood – no wonder.
WHAT'S HAPPENED INSIDE MARTIN CURRIE?
Let us see something of Martin Currie Limited under Willie Watt's tutelage. The sort of questions Mr watt might be asked if ever he was scrutinised by a Holyrood committee.
You first must understand that Martin Currie Limited is what is known as an 'active' share investor.  It adopted this adventurous (and risky) new strategy in 2001 when Willie Watt became chief executive – just as the global financial system was going mad.  Watt sold off the company's traditional (but pedestrian) private client business in 2003 then offloaded its private equity arm a year later. The way was clear to play the markets and make pots of cash.
Active investors think they know more than anybody else. An active investor does detailed research into companies and markets, looking for 'value' (i.e. a way to make a quick buck). It then advises clients where best to put their cash, to maximise returns. In other words, Mr Watt was selling the ability of himself and his investment team to outperform the market.  All this is in contrast to so-called 'passive' investment funds, which merely track existing market trends (buy when the market goes up, sell when it falls).
Alas, Martin Currie has been poor at active investing, triggering major recent personnel changes at the company.  We might care to remember that in connection with Willie Watt taking over as first chair at SNIB.  True, the failure of active investment strategies is a common theme globally in the past decade.  In fact, most active investors fail to deliver returns that outperform passive investment strategies over the long term.  There are several reasons for this.
First, since 2008 bank crash, central banks have printed huge amounts of new money in order to boost bond and share prices. This has removed much volatility from the markets and kept share prices artificially high – which favors passive investors tracking ever-rising stock values. In turn, desperate for profits, active investors like Martine Currie have been driven to take short-term risks, usually with catastrophic consequences.  Martin Currie tends to bet on a narrow portfolio of 35–55 stocks, of biggish companies.  In particular, the firm has been forced more and more to invest in Asian stocks (the real reason it was acquired by Legg Mason).  But with the Chinese economy slowing rapidly in the last few years, future returns to clients look increasingly problematic.
Relying on risky investments in the chaotic world of Asian capitalism is a dangerous game, as Martin Currie discovered in 2012 when it was fined £8.6m by UK and US regulators for advising the use of client's money in one fund to buy unlisted (i.e. private, over the counter) bonds issued by another client, who just happened to be having a serious liquidity crisis. In other words, Martin Currie used insider knowledge and influence to move cash from one client to another who was in trouble rather than who was a good investment. The transaction proved to be a poor investment for the purchasing fund, which duly halved in value over the next two years.
In the cosy world of regulation, the official documents explaining the scam deliberately did not disclose which Martin Currie fund transaction subsidised which other Martin Currie transaction, lest customers rightly get spooked. The whole operation took place in the company's Shanghai office, which explains why nobody went to jail.
Amazingly, because Martin Currie settled early with the FSA, it received a 30 per cent discount on its fine.  By the way, the fine was levied on the company, not Mr Watt personally.  Oor Wille must be glad he does not have to face a Holyrood scrutiny panel.
Willie Watt left Martin Currie at the start of 2019.  It was a providential exit as Legg Mason, Martin Currie's owner, is in trouble of its own. The company's ill-advised and very belated launch into Asia has come unstuck. The result is that Legg Mason's management and board are under attack by a vulture hedge fund called Trian. This is owned by billionaire Nelson Peltz, a man who has cut a swathe through US industrial and financial companies in search of a quick buck.  Unsurprisingly, Peltz is a big fan of Donald Trump and was also business partner of the late and unlamented Jeffery Epstein.  Peltz has now been given seats on the Legg Mason board. Thus the outreach of the vulture hedge funs reaches ever deeper into the Scottish financial sector.
Which, of course, is why we desperately need the Scottish National Investment Bank. And why the private financial world will do everything it can to subvert the SNIB. Game on.