Protest Trump, Protest Nato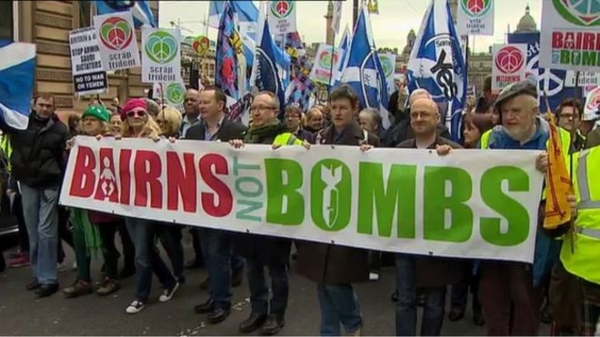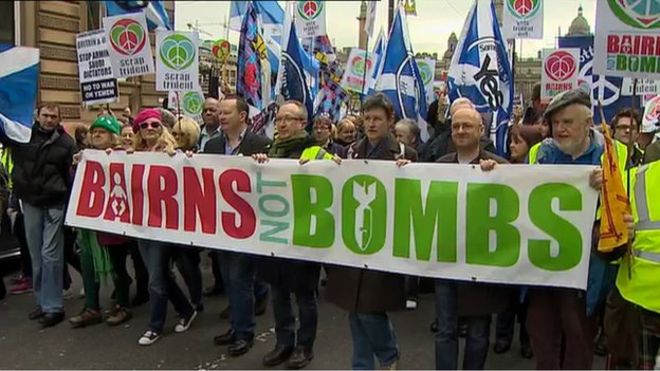 On the eve of protests against NATO Scottish CND has responded to remarks by Jens Stoltenberg, the alliance's Secretary-General about Nicola Sturgeon's opposition to nuclear weapons.
Chair Lynn Jamieson said:
"First Minister Nicola Sturgeon has repeated unequivocally the absolute rejection of nuclear weapons and their use by herself, her government and her party. We warmly welcome these statements and are hugely encouraged by the positive response to her stance from TV studios and audiences outwith Scotland. Her statements, and those by Green Party and Plaid Cymru representatives, are a valuable part of the shift that is de-legitimising nuclear weapons worldwide as the Treaty on The Prohibition of Nuclear Weapons (TPNW) gets ever closer to the status of international law. This move towards pariah status for nuclear weapons is accelerated by Pope Francis's call for all states to ratify the TPNW and insistence that possession of nuclear weapons per se is immoral."
"We also note the recent NATO re-statement by its chief Jens Stoltenberg that NATO will be a nuclear alliance so long as nuclear weapons exist. Scottish CND's position on NATO and Scotland's future is crystal clear: It would make absolutely no sense for an independent Scotland to join such an aggressive alliance and align with the US bloc. Now that Scottish independence looks likely in the near future, the nature of our relations with the rest of the world must be high on the agenda, and our national stance on NATO needs to be openly and honestly articulated."
"Membership of NATO is incompatible with a future in which our country stands with the majority of the countries in the world and seeks real security for people and planet rather than military posturing threatening mass death to all living things."
Scottish CND is organising a No to Trump / No to NATO rally between 5:00pm and 6:00pm at the Buchanan Street steps in Glasgow on Tuesday 3rd December. Main focus of rally is to protest NATO/Trump while the Heads of State summit is happening in London where Donald Trump and Boris Johnson will be at a reception in Buckingham Palace. There will also be a protest at the east end of Princes, St., Edinburgh at 5.30 p.m. on the same day.