EveryKid Toybank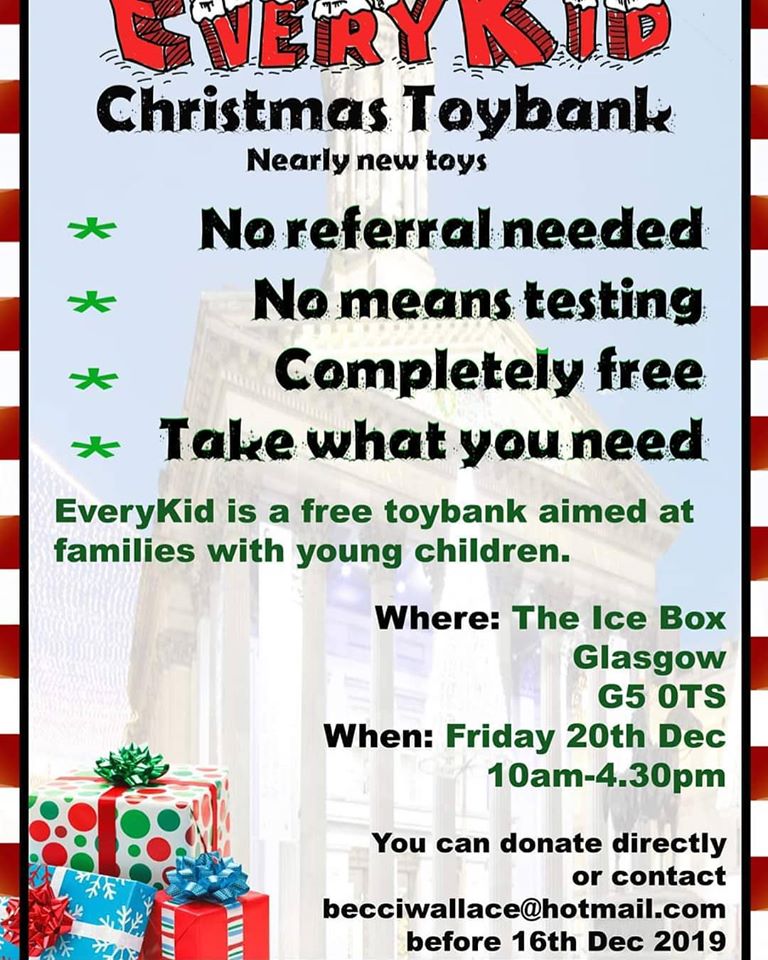 We spoke to to Becci Wallace of Everykid Toybank as part of our Winter Solidarity series.
What's the main activities of the project? What do you do?
EveryKid Toybank is a free toy bank which provides access to good quality used, nearly new and new toys to families who may need them before Christmas. We are completely donation based. We will be running our first, completely free and accessible Toybank in The Ice Box Arts and Music Centre on Friday 20th December. No referral is needed and we do not means-test anyone. I had the idea for the project, organised promotion and will be collecting donations and setting up on the day. However, the project is basically a coming together of a few people; me (Becci Wallace), Jamie McDermid- who is providing our venue, Ryan McGeady of Drumchapel foodbank who has provided advice and toys, Rachel Munro who has kindly offered to collect donations as well as local volunteers and all those who have generously donated.

What are the origins for the project?
I have two young children. Every 6 months I do a clear out of all the toys which they no longer use. Usually I give them to charity shops but I started taking them to local foodbanks this year because I don't think its fair that families who are accessing foodbanks should have to buy toys when so many are being given away. If we can provide toys to families who may need assistance then hopefully it will relieve some of the pressure of Christmas. Most foodbanks still require a referral for people to access their services so we wanted to make sure there was a facility that was free for all who may need it.
How can people support or get involved?
Firstly, we need to make sure that people who could use this service know about it. So, if you know someone who may benefit, please, direct them to our event next Friday.
We are taking good quality toy donations. The only stipulation is that they must be complete and in working order – something that a child would be thrilled with on Christmas morning. If you drive, you can drop off at the Ice Box Arts and Music Centre in Gorbals any day except Monday between 1 and 7… if not, we are doing 2 days of donation pick up in vans. You can contact myself or the Ice Box for more details.

Can you suggest another project that you think is doing good work deserving of support?
There are so many local/grassroots community food banks, community centres and services who are providing vital aid in their communities, all of whom deserve recognition. A special thanks to Drumchapel Foodbank which is open throughout the week and has helped contribute to our project.