Inside the Saltire Society Literary Awards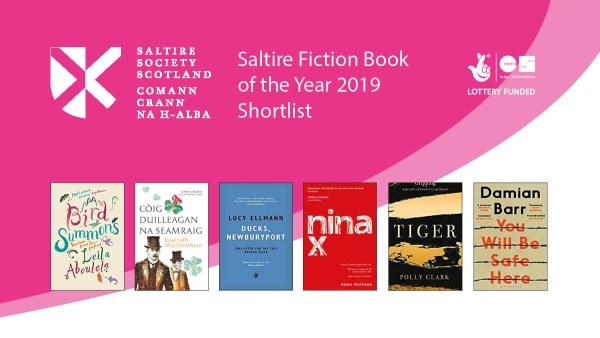 Stevie Marsden (University of Leicester) and Claire Squires (University of Stirling) explore the murky world of literary awards, identity class and the consecratory power of literary prizes.
Earlier this month, under the headline 'Scottish literary awards caught up in gender row', The Scotsman reported the resignation of Lesley McDowell as one of the Saltire Society Literary Award judges. Her resignation was in response to a decision she contested: the award of the Fiction prize to a book with a female protagonist written by a man, honouring it over three female authors writing female characters.
Ewan Morrison's Nina X was the winning title, over Leila Aboulela's Bird Summons, Polly Clark's Tiger and Lucy Ellmann's Ducks, Newburyport (as well as two further books by men, Damian Barr's You Will be Safe Here and Ruairidh MacIlleathain's Gaelic-language title Còig Duilleagan na Seamraig).
McDowell also expressed concern about the award decision-making process in Scotland's pre-eminent literary awards, saying that 'none of the five judges had completed all six books', with two of the judges failing to finish Ellmann's 1000-page title. Further, she said her panel was told it couldn't make a joint award, despite the First Book panel doing just that.
Literary awards often stoke controversy. This year's Booker Prize was no exception, with its joint award to Margaret Atwood's The Testaments and Bernardine Evaristo's Girl, Woman, Other was made without the prize administrators' approval. This 'rebellion' meant that the first Black woman to receive the prize had to share it. Comments from judge Afua Hirsch, implied Atwood's award drew on her lifetime's writing, rather than on the book under consideration.
Ducks, Newburyport was also shortlisted for the Booker. 'What happened?', asked Ellmann's publisher Sam Jordison in the TLS, understandably hurt at his author's loss, but also commenting that 'Everything about the [award] process starts to look questionable.'
Amongst all this award controversy, we published an article,'The First Rule of Judging Club… : Inside the Saltire Society Literary Awards'. The timing was coincidental to McDowell's resignation, but our findings are instructive when considered alongside recent controversies.
'The First Rule of Judging Club' details research conducted in partnership with the Saltire Society. We acted both as academics (Stevie as PhD researcher, Claire as her supervisor), and as participants (Stevie as Literary Awards administrator, Claire as judge). Our dual roles meant we were able to open up what might be considered the 'black box' of evaluation in literary awards, revealing parallels to the reasons why McDowell resigned, particularly in terms of decision-making processes, and how gender plays out within them.
During our time in the judging room, we encountered an over-reliance on a quantitative approach to judging and, on some occasions, a lack of full discussion around shortlisted and winning books. Although the quantitative approach we witnessed has been abandoned, McDowell's account indicates some continuing patterns.
Our research also addressed gender inequalities in literary prize judging – as Nicola Griffith's work shows, 'the more prestigious the literary prize, the less likely the winner is to write about women or from a woman's perspective'. Women do less well in literary prizes than men; leading to the foundation of women-only awards including the Women's Prize and The Stella Prize.
It can be hard to access statistics of submitted titles for prizes, but Stevie's research suggests that there is a prize pipeline issue, i.e. publishers submitting fewer titles by women. Indeed, research from the ROAR group shows that women are under-represented across the Scottish literary sector, including in publishing, book reviews and literary festivals.
And as we conclude in 'The First Rule of Judging Club', the question remains whether judges should be content to replicate the proportions submitted, or bring this inequality into their discussions. We'd encourage the latter approach, believing that judging without discussing gender and other identities and demographics such as race, class and sexuality can reassert unconscious bias and power imbalances in the literary field.
What's more, statistics from Stevie's work shows that representation of women writers dropped by 20% from the shortlists to the winners for the Society's Book of the Year (this award has since been separated into different categories for Fiction, Non-Fiction and Poetry) and by 10% for the First Book. Such figures indicate there are discrepancies at the final stages of the competition that intensify inequalities, rather than 'merely' replicating skewed submission figures.
And so, while the timing of McDowell's resignation as judge and the publication of our article was coincidental, it was serendipitous. Despite their long history, the Saltire Society Literary Awards remain an enigma to many. Their history, and the extent of their influence in Scottish culture, was buried in archives until Stevie completed her PhD research (currently in preparation for a book forthcoming in 2020).
Yet now, the awards are under the microscope. Is that such a bad thing? While literary prizes need some mystery to generate suspense and spectacle, it is important to interrogate the processes by which literature is being evaluated, especially if there is evidence that unconscious bias is influencing judgement.
From our experiences, we would urge judges and literary prize administrators to be attendant to inequalities in their processes, and be prepared to discuss them openly. Literary prizes perform an important (though contested) role in book culture, and the Saltire Society Literary Awards are a crucial annual celebration of Scottish books and authors. We hope this long remains the case. But given the consecratory power of literary prizes, and what they mean for book culture more generally, it's crucial for them to be fair, equitable, and open to interrogation and challenge.