Postcard from Melbourne, Australia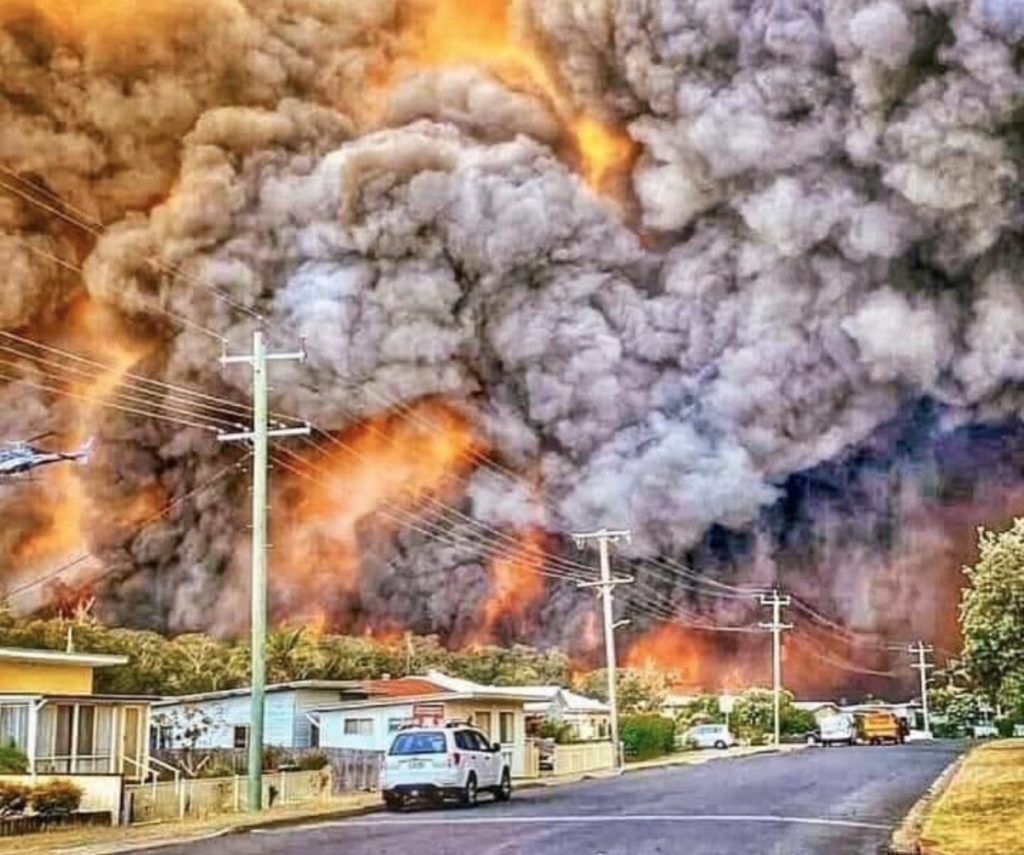 Everything that was already burning was burning even more, everywhere you looked was burning.
This was how the local fire brigade captain from the NSW town of Balmoral told it on Boxing Day. Watching the news, listening to the radio, getting updates online it seemed the whole continent was burning. It's been on fire for two months in some places. What the hell is happening? Climate change, obviously, but not obvious to everyone. The Prime Minister is yet to fully acknowledge the climate crisis. The increase in global temperature and the localised droughts have meant that areas never before burnt are now too dry to resist fire. Climate change doesn't cause bushfires but it exacerbates the conditions in which they occur. It makes them more likely and extends the fire season. An 'older, gentler climate no longer exists' writes fire expert Cormac Farrell in The Guardian today.
Since April, ex-fire chiefs from across Australia have tried to meet with Prime Minister Morrison to discuss the impact of climate change. The fire chiefs wanted to chart a national co-ordinated plan to deal with the increasing emergencies caused by global heating. Morrison is a Holy Roller who believes, like many in his cabinet, that global heating is god's will and therefore there is little that can be done. When in Opposition, Morrison brought a lump of coal into parliament, held it aloft and pronounced coal as 'the future.' Meanwhile, this former marketing man turned Prime Minister, the man who created the tourism campaign familiar to the UK as: Where the bloody hell are you? spent most of the week before Christmas trying to evade this very question. After denials from his own office, it emerged that he was was actually in Hawaii, on a family holiday and had no intention of returning early to helm the national crisis. There is no Plan A in Australia to deal with this. Morrison's absence and unseemly forced return signified that there is also no Plan B.
It is now post-Christmas and 41 degrees celsius in Melbourne and I'm sweating even with the fan on. I need to park myself near the air con and feel guilty about it. Like my sister's cat, I'm dazed and confused by the heat, the high winds, the new colours on the heat charts – magenta/purple – because the old colours are no longer adequate to the situation. With the highest fire level descriptor 'catastrophic' evoked every day somewhere in Australia, what comes next? 'Cataclysmic', quips my brother who texts me to say that he dived into the pool late last night and it was so hot, he was 'sweating under water.'
My sister co-owns a place with friends in East Gippsland in the middle of a state forest. The house is encircled by fires which started over a month ago. We watch daily, often hourly, updates of fire conditions. The fires have burnt over 200,000 hectares already. The fires are so intense they cause their own weather – firestorms and lightning strikes – the clouds resemble a nuclear explosion. The fires are not yet under control.
I open the front door in inner-city Melbourne and am hit with a blast furnace. The heat and wind seem predatory and insistent, pressing up against the limits of the national grid and our capacity to understand what has become the 'new normal.' After three decades of living in Scotland, each time I come back I'm constantly comparing Australia to what it was like when I was a child and a teenager and a young adult. And this time, emphatically, summer is already very different. As a kid, I remember bushfires in the Dandenongs and the heat haze of Total Fire Ban days. I remember water restrictions. That was summer. I don't remember consistent temperatures over 40 degrees that have no consistency. In the past, there was always a build-up to the very hot days in Melbourne, you knew what was coming, then it would arrive and be relieved by a thunderstorm and a sharp drop in temperature, always known as the Cool Change. But now? Yesterday we were at the beach in Lorne, down the Great Ocean Road and it was a very pleasant 23 degrees. A few kilometres away thousands of people were being evacuated and a local music festival cancelled in anticipation of today's fire risk. There was little temperature build-up to today's plus 40 temperatures and high winds. My brother-in-law has just announced that a storm is close. But the Cool Change has not arrived. In fact, the longed-for drop in temperatures bring with it a change of wind direction which can be even more catastrophic and increase the scale of the fires. There is no release.
The news is a nightly horror show of devastation and exhausted firefighters – many of whom are volunteers and have not been at their regular jobs in weeks. We sit there wondering why there is no co-ordinated action from the federal government, leaving emergency fire and flood management mainly to the individual states. We wonder how long a volunteer fire force can be enough to contain a nation ablaze for months on end. These catastrophic fires and weather events do not follow state boundaries. As Australian firefighters share vital resources with Californian firefighters, and with the extension of the fire season on both continents there is now a shortage of vital equipment.
For the First Nation peoples in Central Australia in poor housing and with all the water gone, for many farmers and those living off-grid, this summer is already calamitous. And the fire season proper has not even started.
It seems obvious to me that Australia is one of the places where the climate emergency is already acute. But where is the leadership to deal with it? Australia was one of the nations which recently scuppered the Madrid climate summit. It's no coincidence that nations which have had out-of-control fires this year are those with climate change sceptics in power – Trump in America, Bolsinaro in Brazil, Morrison in Australia. Yet there is a complacency in government and in the population at large in Australia which confounds me. The Greens have little traction here, although that may change after a summer like this. What will it take to shake up comfortable, well-off, white Australia? When the leafy middle-classes can no longer get to work, when their children can no longer breathe the air, when the water runs out? When the tourists can no longer see the Opera House through toxic haze? That's already happening. When the air-conditioning is no longer adequate and the SUV's run out of fuel? Where is the investment in solar, wind, geothermal? Why is the recycling in Melbourne worse than it was a decade ago?
Where the bloody hell are you? I'm in Morrison's Australia and it is terrifying. It bears no relation to the new tourist advert with Kylie. The marsupials are dying, the wine harvests are threatened, the tourists are being evacuated, a haze continues over Melbourne, the hospitals are on high alert and the Western suburbs are currently without power. The edge of a suburb near where I grew up is ablaze. Three days over 40 degrees this month – the first time in over 100 years. The new normal. 'The Prime Minister is testing the theory that the best way to resolve a crisis is to be as far away from it as possible', says Julie Bishop, former Foreign Minister in Morrison's Liberal( Tory) government.
Just now a thunderstorm; the temperature has dropped five degrees. Is this the Cool Change?
But the day is not yet over and the long summer of climate crisis is just beginning.