My Free Bike. Comments Welcome.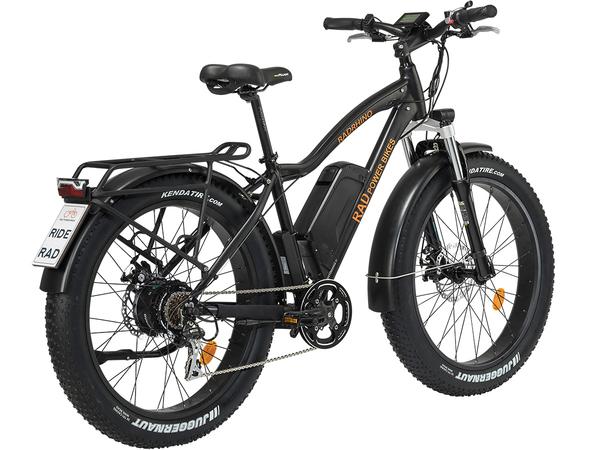 I got a bike for Christmas. Two grands  worth, but I really think I should give it back. It's a moral dilemma. Your advice will be welcomed. No seriously. Usually when I have a moral issue I think, now what would Rod  Stewart do in the circumstances? But well he's not here, and you are. So speak to me.
Let me explain. I'm a sometimes freelance journalist and over the years I have researched and reviewed electric bicycles, both here and in Holland and Japan so when  a pal asked me to advise him on the best sort for buying for his hire business I phoned a bicycle manufacturers and asked them to lend me their latest model for a few days, both  for him and a review in the papers
In a twink they had arranged for one to be sent over from Holland and with it came the message that I could keep it when I had done the review. You get my problem. Do I have the right?
Let me not get too self righteous here. Over the years I have taken many a freebie without guilt. Holidays in the West Indies., The QE2, cameras, life jackets If there is a hell and the good Lord disapproves of freebies I will fry for sure.
Now virtually everyone I have spoken to say, keep it, it's the system, they get free publicity, you get the bike, shut up and get on your bike.
And I can see their point. I intend riding it across Scotland in mid winter and camping beside it in the snow, thrashing it to death during a month in the city, researching the new battery technology and that's all  before I spend a day or two writing it up for the Herald and working out how to edit the pictures and send them over. It's not as if I am at it.
Well maybe not entirely.
Now let me first exonerate the bikes manufacturers. They are based in the States ( Its a Rad Rhino ) and when I phoned  them before Christmas the last thing they needed was trying to sell a second hand well thrashed bicycle in a foreign country, no corruption was intended, in fact they were great, as is the bike.
So what's my problem?
Well it's all Donald Trump's fault. And Boris's And the Independence debate. And being an old age pensioner and being horrified at whet is happening to the world. Having recently seen Trump at a rally in Mississippi I am genuinely convinced he's a sociopath and whilst I have yet to fully understand Boris, or indeed why Britain (! – Ed) voted for him the thought of these pair of dangerous clowns running so much of our  lives genuinely frightens me. Particularly post Brexit when they will be getting their heads together and devising plans for a new relationship.
And I don't write that for effect. It looks highly likely that they will be in power for the next six years.
I fully expect nightmare times ahead and given what's been happening in Iran has only turned up the volume on my fears. It's been the first time in my life that I am glad I don't have kids, and that's not a comment I make lightly.
Now of course many of you will respond by saying that the way ahead is for an Independent Scotland and I can see and respect that point of view and indeed understand it's logic, even if I am still not convinced. But this being the New Year lets not have the same old battles, let's try new tacks, new ideas. We are facing a world crisis. Time for fresh thinking.
Bugger the bike, how should we respond?
Well this being the New Year I think we should look at how we have responded in the past since Boris came to power and evaluate it, and see if we have made much of an impact, or have been wasting our time. Yep the way we have reacted has been to gripe and moan and kick off on line, and campaign and have marches.  And the affect? Pretty much damn all. In the main we would have been as well to have just turned  on the telly and watched Cash in the Attic.
Plus, and here's where the bike comes in, we have increasingly stopped being Scottish.
Being Scottish? What exactly does that mean and and how have we been drifting from it?
Now I suppose this can all be easily categorised as being an old man  ( I'm sixty seven ) saying "In my day" but its more than that , let me stick to " In recent days" Scotland's image abroad, it's brand if you will, has been of straight talking, total honesty, decency and professional efficiency. We will all remember the old chestnut about the Scot who had visited London and was asked what the English were like and had replied "No idea I only met the heads of departments." and that silly joke has traction around the world.
No matter which country I visit the reputation of the Scots is still extraordinary. It doesn't matter if I am in India, or America, or  Japan the generally truth is that if your accountant was a Scot you had an increased hope he wasn't going to diddle you. Same for your bank manager. Or Ships engineer. Or teacher. Or Doctor. Or the guy who comes round to fix the plumbing.
We are a tiny country that has been punching well above our weight, not just through colonialism, but because we have delivered a good product in terms of decency, reliability  and if you will forgive for a term that has been taking a bit of a battering, Christian values.
Of course all that took a huge hit in 2008 when so many Scots were involved in duplicitous dealings in the financial meltdown. There is little doubt that we should have jailed a few and let the world witness that we weren't having it.
So what's all this got to do with my wretched bicycle?
Well my thoughts are that if we are to move forward we must return to punching up those values, re-establishing the brand, defining it, selling it, being it. Or we are lost.
If we sell out to the world of cheap sex, on line gambling, as much corruption as we can get away with without being found out, following the amorality of Trump and Boris then we are no longer Scots and it's all just a race to get the biggest share of the cake and the devil take the hindmost.
Anyone want a bike?