Holiday Lets, Airbnb and our Housing Crisis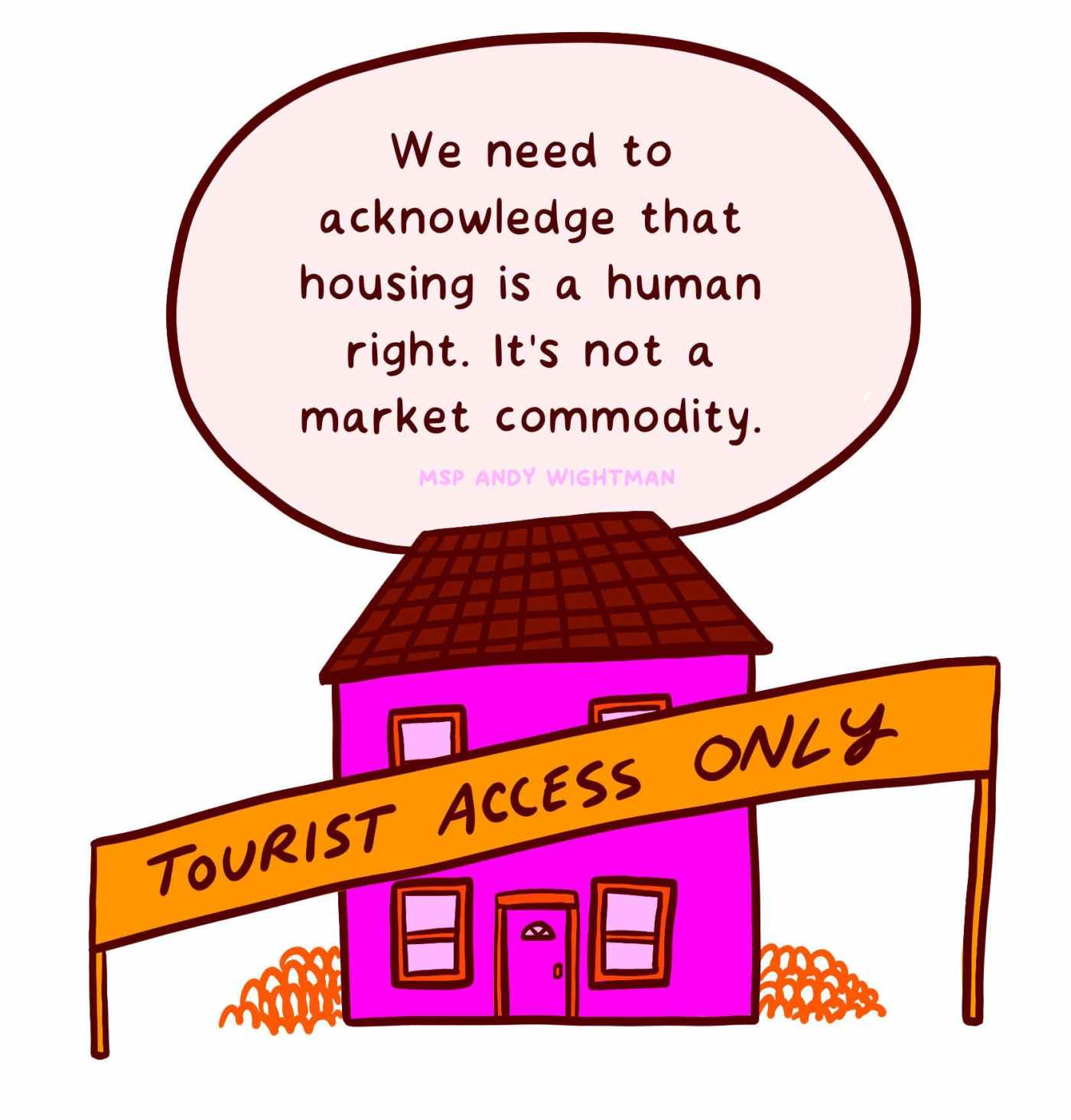 Gordon Maloney from Living Rent on the fight back against holiday lets and what's next?
Across Scotland, short-term holiday lets are devastating communities. In parts of Edinburgh, there are now more holiday lets than ordinary flats for rent. In some areas in the Highlands, almost 20% of homes are Airbnbs.
And while the figures for the number of holiday lets are shocking, the truth is that we don't really know the full scale of the problem. Most available statistics only include listings on Airbnb.  However, there's a number of other, similar platforms, and an unknowable number of properties being rented out in more informal ways. And that's a big part of the problem – right now, the complete lack of regulation means we don't even really know what's going on.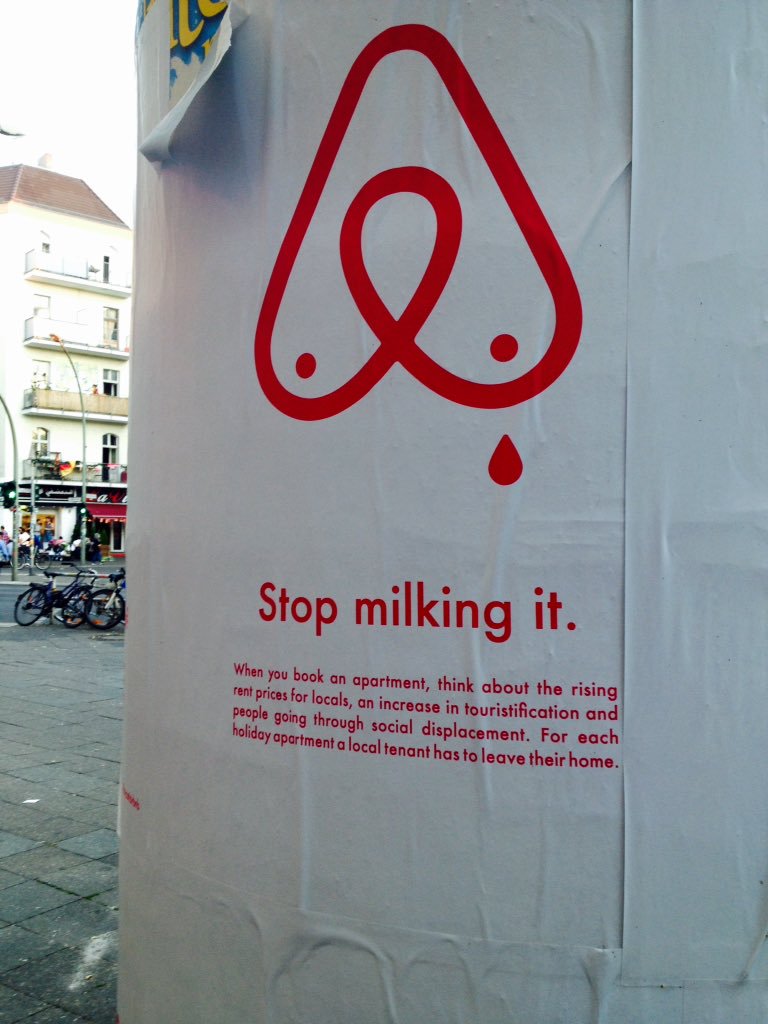 The impact these holiday lets have doesn't really need spelling out – every property rented out as a holiday let is one less home for a family to live in. They drive up rents, break up communities, and put a huge strain on local infrastructure.
The situation is at breaking point. That's why it's so important that the Scottish Government is finally promising to introduce new measures to crack down on short-term lets.
There is, of course, still a lot of work to be done, but it is hard to imagine that we would be here without the tireless efforts of tenants and campaigners all across Scotland.
How did we get here?
Lots of groups and organisations across the country have done a lot of work to make this happen, and Living Rent has been a huge part of that. We've been campaigning hard for exactly these sorts of new measures:
It's proof (if ever we needed it) that tenants and communities organising and building power can force governments to act in our interests. That said, there are big questions hanging over what they've promised.
What have the government actually announced?
The announcement Kevin Stewart, the Housing Minister, made was pretty light on detail. He announced broadly three things:
A new licensing scheme for short-term lets
New powers for councils to regulate holiday lets, including the ability to designate so-called "control areas"
New taxes on these sorts of leases
But beyond that, there isn't really much detail – and that's cause for concern. Three of the key questions will be:
How will these powers apply to existing holiday lets? The problem is already wildly out of control in many areas, and if these new powers don't allow councils to shut down existing holiday lets, then they won't have the impact we so desperately need.
Where will the money raised from new taxes go? In some places, money raised from so-called tourist taxes is ring-fenced to further promote tourism – we absolutely can't let that happen here. Living Rent has been calling for any new money to be set aside to improve local housing.
How easily will councils be able to designate control areas, and how easy will it be to set limits on the number of holiday lets within those areas? In 2016, the Scottish government introduced "rent pressure zones" which were meant to allow councils to introduce limited, localised rent controls in hot-spot areas. But the process was so convoluted that it has failed utterly, and no council has successfully used them, and we can't see a repeat of that here.
And then, even if the government's legislation is water-tight and strong, we still have a massive challenge to force councils to use these powers to the fullest extent. Crucially, in places like Edinburgh, that has to mean shutting down huge numbers of the holiday lets currently in existence.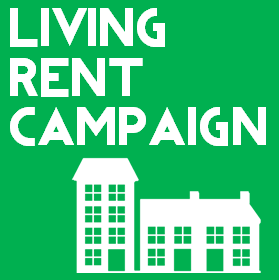 So what now?
Over the months ahead, Living Rent will be working hard to keep up the pressure on the government to make sure the legislation goes as far as it needs to, and on councils to make sure they use those powers. We can't miss this opportunity to start to undo the damage holiday lets have done to our communities.
But the truth is that all of this is bigger than just holiday let leases or Airbnb. Scotland's housing model is broken in really fundamental ways, and we need huge and radical changes. From slum conditions and sky-high rents to rough sleepers freezing to death on our streets, tinkering around the edges won't do.
There's lots of policies tenants need – rent controls, banning winter evictions, better protection from discrimination, stopping landlords from abusing deposit schemes, and the list goes on – but the only way any of that can happen is by building a strong, organised, fighting movement of tenants that can force the government to introduce them – and that can take on and beat landlords and letting agents for ourselves.
And that is exactly what Living Rent is doing – and why you should join and get involved: www.livingrent.org/join
Image credit:

Maria Stoian

@mariadraws and at

mariastoian.com