Divisive Nationalism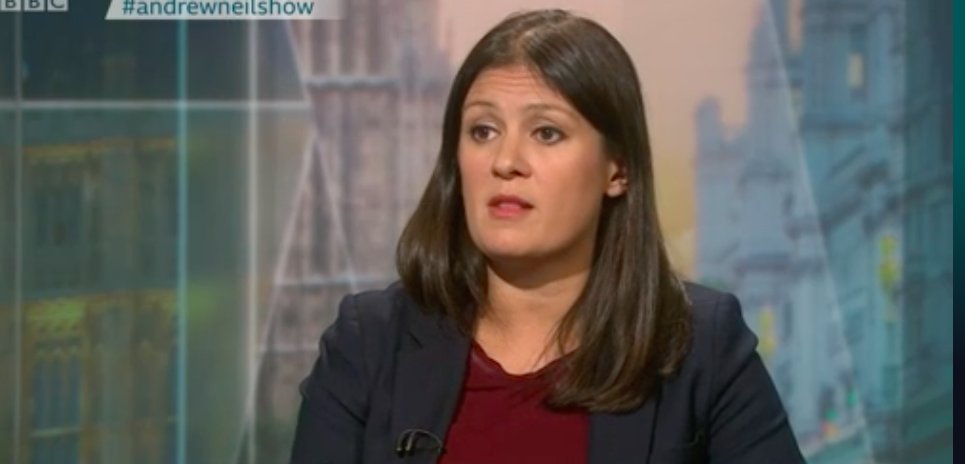 This week saw a parade of Labour candidates dish out statements and interviews that were astonishing in their misreading of – not just the Scottish and British political crisis – but of the meaning of democracy and self-determination.
Just as faltering signs of awakening from elements within Scottish Labour were breaking out to change their position on supporting a second referendum, the candidates doubled-down on their position as the post-Corbyn civil war erupted again in confusion and contradiction.
On a visit to Glasgow Jess Philips said: "The idea that the answer to the UK leaving a union with our most important trading partner is for Scotland to leave a union with her most important trading partner only makes sense if you're a nationalist".
She continued: "Labour believes in the union because we believe in redistribution, because we want to bring people together, not divide them, and because our compassion doesn't end at an imaginary line on a map. Let nationalists make the case for nationalism, we should make the argument for solidarity and internationalism."
The intervention was quickly followed up by a widely ridiculed interview with Andrew Neil, in which Lisa Nandy said: "In places like Catalonia and Quebec we have managed to go and beat divisive nationalism with a social justice agenda."
Lisa Nandy's comments about Catalonia are of course appalling but symptomatic of a wider/deeper ignorance on the British left, which is ironic as they are always framed in terms of being proudly "internationalist" and brimming with "solidarity" – when both principles seems completely absent.
The idea that Spanish, or indeed British nationalism might exist and be problematic is unimaginable to the likes of Philips or Nandy.

This is particularly strange given that we are currently awash with a strange brew of English nationalism, triumphalism and far-right government obsessed with Big Ben Bongs and wrapped up in red white and blue. It is strange indeed that Nandy could celebrate Catalonia as an example of "beating divisive nationalism" without mention of the systematic state violence and corruption of the rule of law that has been condemned across Europe.
As David Whyte and Ignasi Bernat have written:
"The ease with which Spain convicts political prisoners and forces politicians into exile is a mark of the endurance of the culture of the dictatorship in which the judiciary were politically motivated and politically compromised. The crime of rebellion used by Rajoy, and the current government to detain political prisoners was a 19th century offence, brought back by Franco in the 1940s to prosecute and execute thousands of opponents using his military courts."
But in Nandy and Phillips eyes the only question here was "nationalism" – which in its magnificent binary ignorance would trump consideration of civil rights, human rights and the rule of law.
The Labour candidates statements mark just how low in the water the party is.
It not only fails to comprehend the nature of movements of self-determination, and indeed the party's history of supporting such movements in the past, but also the nature of the movement in Catalonia, which itself has a distinct brand of socialism, republicanism, feminism and radical de-centralist threads within the independence movement (just as the Scottish movement has). To dismiss such currents and movements as "divisive nationalism" is pitiful.
Not all Labour leadership hopefuls were as ill-advised.
A group from within Scottish Labour (Scottish Labour for Radical Democracy) put out a statement saying: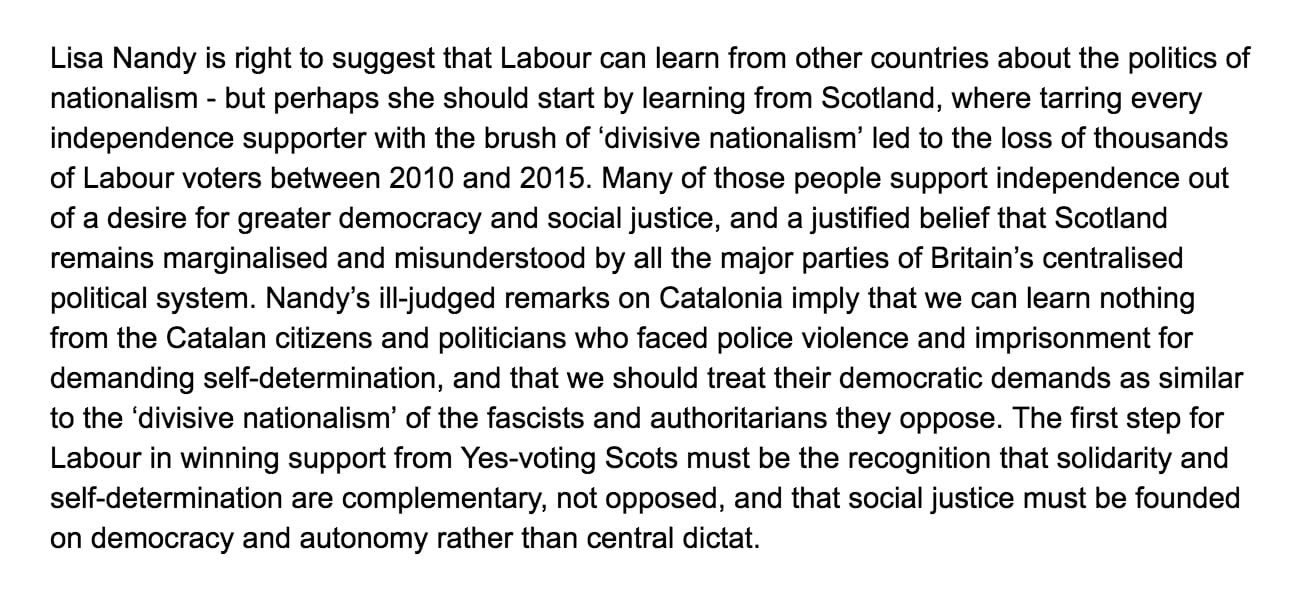 Clive Lewis and Rebecca Long-Bailey have said that the party needs to accept the case for a second referendum, along with other senior Labour figures, including the former cabinet minister Ben Bradshaw and a number of defeated MPs.
But the confusion is magnified by the interventions of warring factions in Scotland, from Richard Leonard and Ian Murray – Scotland's sole remaining Labour MP representing the heartlands of Morningside.
Murray has been likened to the American major after the about the Battle of Bến Tre in the Vietnam war who said: "It became necessary to destroy the town to save it".
He views Scottish Labour's death-throes as essential and necessary in the wider constitutional war to save the union, and as so represents a sort of Terminal Britishness for which there is no end in sight.
Leonard told the PA news agency: "One of the things that I'm saying to all the leadership candidates in this contest is it's good that they're concentrating a lot of their messages on Scotland – that they understand if Labour is to win again, we have to win in Scotland."
"But I'm getting the message across that in the end, on the Scottish constitutional question, that will be decided by members of the Scottish Labour Party.
"The Scottish Labour Party will be the ones driving that agenda."
Except we know this not to be true, nor in any way practical.
How can it be possibly be workable to have a constitutional position agreed in Scotland but not at a UK level?
The week before the Labour Party dropped the F Bomb, resurrecting the tired old Federalism notion, before shrinking away from it and retreating to internal squabbling.
Perhaps we should give the Labour and Scottish Labour party a break? This is, after all, a period of re-building and reflection.
But the problem is they are exhibiting such a deep-level state of utter confusion about basic political principles it is difficult to imagine them emerging unscathed from this moment.
If the Conservatives are captured by a paralysing sense of nostalgia for British Greatness, the Labour Party seem too to be transfixed by an imagined past. Like with most imaginaries these past histories are evoked without detail or accuracy.
Labour's mythical past of "solidarity" and "internationalism" avoids difficult questions about the party's failure to support the Anti-Apartheid Movement, its failure to show solidarity with the striking Miners in 1984/85 and its complete amnesia about its own origin-story, as the party that supported Home Rule.
Labour are captured by Brexitmania and consumed also by a new malignant form of British nationalism.
The reality is that both "nationalism" and "socialism' exist on a continuum, ranging from authoritarian and libertarian wings, and from decentralised and centralised ones. Both political tendencies have rich and complex and often over-lapping histories. To display ignorance of this is to mark yourself out as unfit for office. Mouthing "solidarity" and "internationalism" while displaying neither is an affront to the memory of Jimmy Reid, John Maclean and even Robin Cook.
At the end of the day, the reality – sad or not depending on your view here – is that Lisa Nandy and Jess Phillips don't really matter. They may have exposed some deep ignorance but neither are going to lead the Labour Party, and even if they were, the party is a long long way from office. In this they are not really in the fight at all.
As George Orwell wrote in Homage to Catalonia:
"One of the most horrible features of war is that all the war-propaganda, all the screaming and lies and hatred, comes invariably from people who are not fighting."