The Population Bomb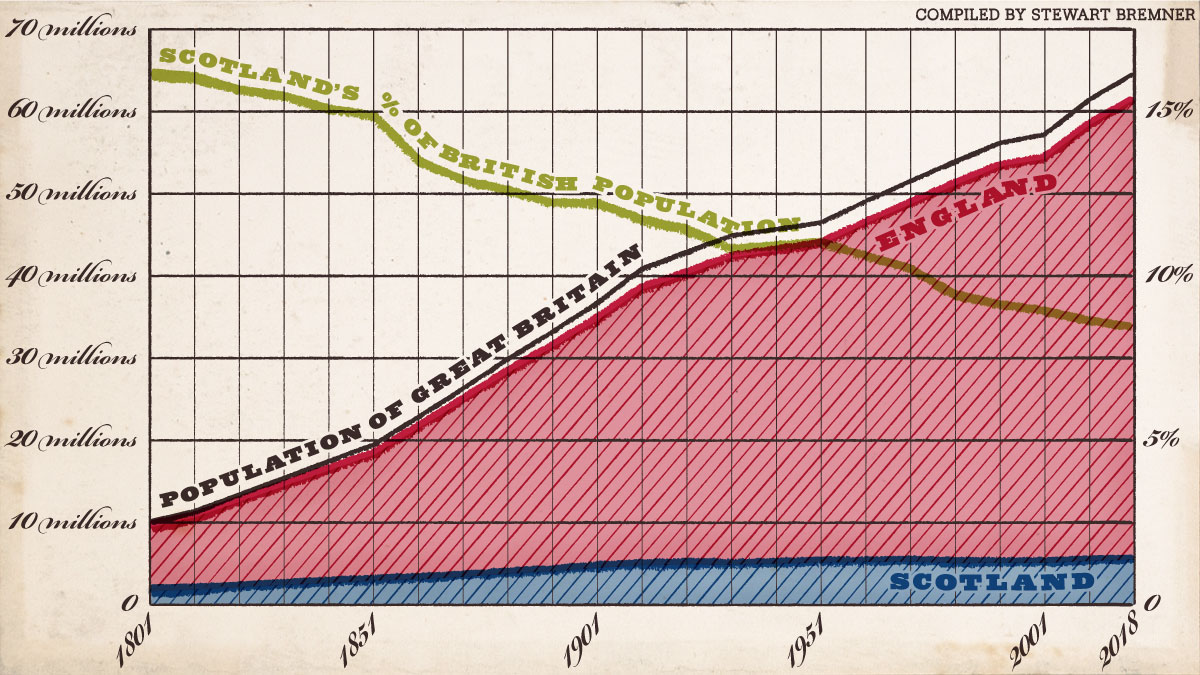 Oftentimes, economic performance is used as the primary measure of a country's success. It would be a good idea for us to stop relying on such measures, if we are to move forward – or even continue at all – as a society and as a species. Another way in which we might instead look at the success of a country is in the size of its population.
This is a crude measure and the impacts on population change are many and varied. However, it is possible to gain a basic understanding of whether people actually want to stay in a country, if we look at how population changes over time. Knowing if people wish to live in a country, or have children there, can be seen as an indication of the desirability of said country. Basically, the more people who want to live there, the nicer a place to live it most likely is.
Population sizes are usually taken in censuses. In 1755, Scotland is thought to have been one of the first countries after Roman times to have undertaken a census. As useful as the 1755 information is, it doesn't tell us much without something to measure it against. Forward then to 1801, the first year that UK-wide censuses began to be carried out. We can use this to compare Scotland's population performance against its closest neighbour. We can also see from this how well Scotland has fared in the Union.
In 1801, Scotland's population was 1.6 million and England's 7.7 million. As you can see from the first chart, England's population has soared over time, compared to Scotland's. In 2018 Scotland's population had grown to 5.4 million and England's a staggering 55.9 million.
Where England's population had been 4.8 times larger than Scotland, it is now 10.3 times larger.
From the total population of the island of Great Britain, Scotland's share fell from 16.2% in 1801 to 8.4% in 2018. Conversely, England's rose from 77.9% to 86.7%. While some of the first 60 years of that may be attributed to the Clearances, the trend for Scotland has been ever downwards.
As a part of the United Kingdom, Scotland has been shrinking for over 200 years. What does that say about the desirability of Scotland? It would suggest that it's shite being Scottish, so ye be best tae flit awa.
But what about other countries? If we look at similarly-sized European countries, the picture is not any better. We can see here six countries, chosen for their similar starting size and because, like Scotland, their geographical area barely changed over the time period.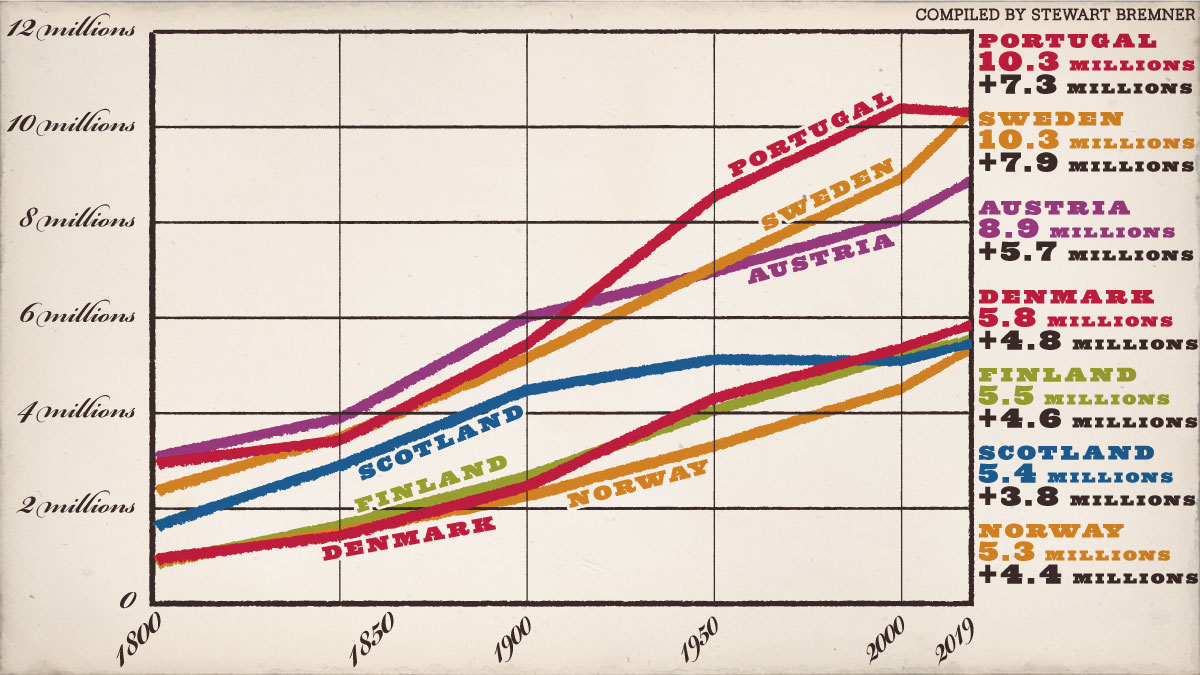 In 1800, Finland was half Scotland's size, it has now almost 100,000 more inhabitants. Sweden was then 1.5 times bigger than Scotland, it is now twice Scotland's size. Compared to other similarly-sized European countries, Scotland does not appear to be a desirable place to stay.
One reason for this could be that over the period of the second table, only Scotland – a part of an unusual union – continually had the majority of its decisions made outwith its borders.
Given Scotland's continually diminishing size – and therefore status – within that Union, it is entirely logical that Scotland has little say in the running of the Union. This makes it no surprise that, as a country, it is unable to create the conditions to retain and grow its population.
Scotland has little control over the internal policies that could make people want to stay here, or and have a family here. It has almost no control over the policies that could be used to attract people from other countries. This is especially clear in the current climate of intolerance emanating from the heart of the Union these days.
London, that beating heart, is also worth a quick comparison. When census records began, it was 1.6 times smaller than Scotland, with a population only slightly over one million. Today, it is 1.6 times bigger than Scotland.