Cool Kate Brings in the Scottish Budget But No Indyref Fireworks To be Seen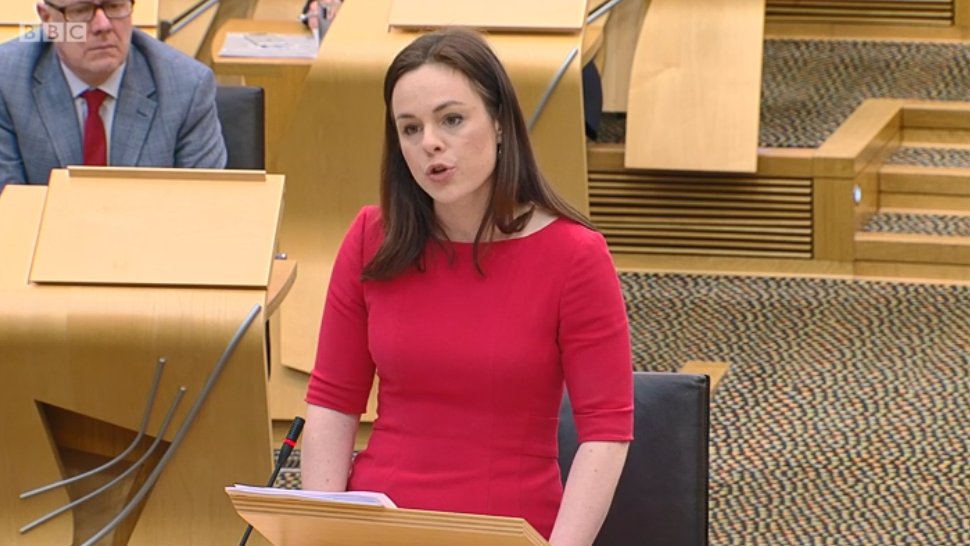 THIS year's Holyrood Budget (actually for 2020-21) has turned out to be memorable for reasons nothing to do with the public finances. However, the fallout resulted in the first ever budget presentation by a female MSP, the cool-under-fire Kate Forbes. Mind you, Westminster has never had a female Chancellor either.
The first thing to say is that there is certainly more cash around next year. Scottish Government spending is slated to rise in real terms thanks to Boris' plan to buy popularity and pay off his hedge fund backers with a mini speculative boom. Scotland gets the Barnett consequentials, though we won't know the full details till the UK Budget on 11 March. However, before Jackson Carlaw starts crowing about a "Boris bonus", is that real Scottish spending levels are still shy of where they were in 2010.
Understandably, most of the extra Barnett cash goes to care and health – now taking over £15bn of total Holyrood spending for the first time. Meanwhile, capital spending is being refocused long-term on climate change projects, with circa £1.8bn in investment promised for specific (and rather random) projects to reduce emissions.
Scottish income tax rates stay on hold, but thresholds are raised in line with inflation except for the two higher rates (which should net an extra £51m). Ms Forbes claims "Scotland will continue to be the lowest-taxed part of the UK for the majority of income taxpayers". Quite why she or the SNP leadership should be proud of such a claim continues to perplex me.
The SNP Government took the decision very early on to protect real spending on the NHS. But if your overall spending is caught in Westminster's austerity vice, and you elect (with voter support) to protect the NHS, then something has to give fiscally. That something was local government. This Budget however, Kate claims to have found an extra half billion to deliver a rare real increase in council spending. The pathways and ring-fencing of local authority funding are nightmarish to fathom, but I suspect councils are getting a bit more. Sadly, this is nowhere near making up for the real squeeze of the last decade.
Overall then, a typical workmanlike SNP Budget that manages to deliver a little something for everyone; doesn't offer too many political hostages; and pays attention to genuine social priorities. However, such Budgets always run the risk of undershooting in the long run because firefighting every problem never focuses enough cash on solving any particular one.
That might be the dilemma of all democratic administrations everywhere, of course. But eventually such satisfying behaviour often ends up frustrating the electorate. One example: the new Scottish Child Payment (SCP) is a brilliant, compassionate policy designed to help stem the unconscionable rise in child poverty that resulted from the Westminster-imposed welfare spending cap (introduced in 2014 with Labour support). Kate Forbes announced the £10 weekly SCP supplement to UK child benefit would start later this year. Wonderful, except that even when rolled out fully in 2021, the SCP is unlikely to substantially reverse child poverty. That's why we need independence.
NOT A BUDGET FOR INDEPENDENCE…
Here's the rub: this was not a Budget to prime an independence campaign or even challenge Tory Treasury rules on spending. It played by the Westminster rules yet again.
Far from expecting an imminent referendum, Kate's Budget seems to assume we'll be in the Union for at least another decade. Her Budget speech contained some formulations – possibly authored by her predecessor. For instance, she promised to invest more than a quarter of a billion pounds in peatland restoration "over the next ten years". And again, "we commit now that we will ring-fence an additional £2 billion of transformational infrastructure investment over the next Parliamentary term…"
If you truly expected a referendum this year – and a Yes result – surely , you would not be talking about the next term in this devolved Parliament? Or making a modest £25m per annum investment in peat reclamation sound more impressive by adding it up over a decade – the very decade one would hope an independent Scotland would be in a position to transform land tenure and management in its entirety.
I know that Holyrood budgets have to be presented within constraints, especially if you are a minority government. But equally, this was not by any stretch of the imagination either a fighting budget designed to precede a militant referendum campaign.
…MORE A NEGOTIATIONG POSITION
Of course, much of what Kate Forbes proposed today is provisional, to say the least. First, the SNP government has to find support across the aisle if it is to secure a majority to get the budget passed. That could have been baked in early by offering something more inspirational on climate change. Say, free bus fares for young people. That could have brought on board Labour and the Greens and played well in the country. I'm still flummoxed why Nicola's team seems reluctant to go in this direction. True we got a scatter of new green projects, but I fear the impact will be lost in the crush. An extra £5m for electric police cars is minor compared to turning the younger generation on to public transport so they lean not to need cars in the first place.
The other problem is that this Scottish budget remains at the mercy of whatever Chancellor Sajid Javid proposes in his budget performance on 11 March. That's assuming he is still Chancellor by then. It is now clear that Dominic Cummings, the neo-fascist obsessive in the woolly hat who runs Boris Johnson's policy unit, has been briefing outrageously against Javid, who he sees as too fiscally conservative.
If Javid makes (or is forced to make) major cuts in tax rates and thresholds, that could have an impact north of the Border. Lower rates in England, means a bigger gap for the Scottish government to fill from its share of income tax revenue – that's before you get any net income to spend. And without control over non-earned income, the income tax loss to Scotland could just get wider. Never mind the added complication that adjustments to the block grant income from the Treasury get done in retrospect.
To date, the Scottish Fiscal Commission's forecasts of income tax revenue have been rubbish, meaning sudden big holes in the Holyrood purse. For instance, because of past forecasting errors, £200m will be deducted from 2021 block grant this April. The deduction for next year could be three times as big.
Expect to see Kate Forbes making more budget statements between now and March. But on today's form, she'll be good at it.