Sinn Féin With Portfolio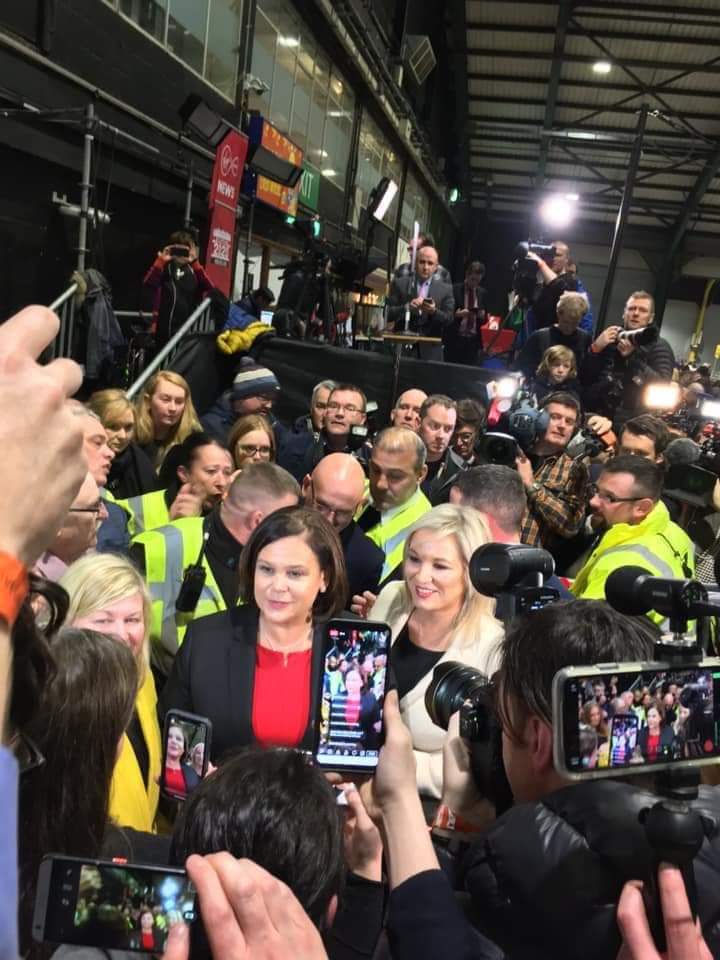 I still remember the first time I visited a GP in the UK. He was a cheerful doctor, an Asian Arsenal fan, who spoke in glowing terms of David O'Leary as a defender, glad to big up an Irish player to an Irishman. After the consultation, I had to get some medicine and found myself bemused. No one had asked me to pay for the visit to the GP. Despite having grown up next door to the UK, when confronted with the reality of a health service, free at the point of use, my brain couldn't quite process it. I mean, you have to pay the doctor, right?
Most people outwith Ireland now know the genuinely seismic results of last weekend's votes are the result of long-standing concerns over health and housing. But the reality of those concerns are probably quite alien to non-Irish readers. As my own experience should make clear, Ireland's healthcare service is a very different experience to the UK. Ireland is the only country in Europe that does not offer universal coverage of primary care, and hospital care is a complex mix of public and private options resulting in a two tier system of access to hospital care. Growing up in the 80s, the term VHI or Voluntary Health Insurance was a common one – if your folks could cover it, they would. In 2015, 46% of the population was purchasing private health insurance (Wren and Connolly, 2017). Ireland's first attempt at something like the NHS only got cross party agreement when the Committee on the Future of Healthcare's report on a proposed universal healthcare system, Slaintecare, was approved by the Dáil in 2017.
Our healthcare system is the legacy of a historical alliance between church and the medical profession who first opposed a programme for free healthcare when they worked together against Dr Noël Browne and the Department of Health's Mother and Child Scheme in 1950. Browne was a socialist minister of health and he has been much on my mind lately, as a member of Ireland's first coalition government which brought together Fine Gael and the more leftwing Clann na Poblachta. Opposition to Mother and Child scheme, combined with Browne's legendarily abrasive nature, resulted in the collapse of the government and halted any serious reform of healthcare. It's a warning from history for Sinn Féin who have taken advantage of the massive desperation and dissatisfaction with health and housing. Successfully turning the electorate's frustration with Fianna Fáil (FF) and Fine Gael (FG) into 37 of the 160 Dáil seats is one thing – but to fail to achieve change in coalition would be quite another.
In splitting the votes that traditionally went to the big two of FF and FG, Mary Lou MacDonald and her party have won a great victory. The question for many of us is to whether Sinn Féin can hold onto their newly won voters. As one friend of my mothers' noted, 'It's my first time voting for Sinn Féin, but I wasn't voting for either of the other gobshites. Maybe they'll do better'. For now, we'll have to wait and see what comes of coalition talks. There's 100 days to form a government, but it won't happen quickly – in 2016, the FG minority administration took 70 days to agree on. As of the time of writing, the current talk is of a FF and FG coalition with the Green party, which would probably spell the death of the Greens and a further sharp fall in the FF vote as their republican anti-FG voters finally jump ship to the old enemy, Sinn Féin.
Whilst we wait, I wanted to highlight some aspects of the election that may not be as familiar to readers outside of Ireland. It's tempting to read much of significance into the result about Scotland's own independence conversations, or the UK and Brexit or a renewed growth of a nationalist left. But it's probably best not to. As with any country, the easy narratives of observers from further afield are significantly less likely to be based on what is actually happening now, and as importantly, what has gone before.
The respected Irish historian Diarmaid Ferriter noted on RTÉ's radio coverage last weekend that whilst the vote wasn't expressing a wish for Irish unification, nonetheless many of the voters wouldn't oppose a border poll. Although it was low down on the list of priorities on the exit poll, more than half those questioned wanted border polls in the north and south within the next five years (1). There has already been an extensive report done by FF Senator Mark Daly on the challenges facing any planning for a border poll (2), which was adopted universally by the all party Oireachtas Joint Committee on the Implementation of the Good Friday Agreement (3). The election result may move things along more quickly, but talk of unification has been in the air for a while now.
Another factor easily overlooked if you're from outside Ireland is that parties on the broad left as a whole did well. The Greens (a centre left Green Party) jumped up 9 seats, and the Social Democrats (formed by former Labour TD Roisín Shortall and Democratic Left TD Catherine Murphy) tripled their seats to 6. Although Labour and the socialist Solidarity-People Before Profit party both lost one TD, they still hold a combined 11 seats. There were also wins for independent left TDs such as Thomas Pringle and Joan Collins. The phrase 'vote left, transfer left' became a social media hashtag in the run up to the election, and counts indicate that Sinn Féin's votes frequently benefited the broader left. Ireland's fractured left may seem a weakness, but in truth the smaller parties are happy to work together in technical groups within the Dáil to ensure they can propose debates, ask parliamentary questions and sit on committees. The Committee on the Future of Healthcare was set up by Shortall and Murphy and its work on Slaintecare (albeit flawed – its coverage of maternal health is conspicuously lacking) will have a huge impact on Ireland. With the steady decline in FF and FG vote share over the last three elections, and parties on the left the only ones offering reasonable solutions to health and housing, it doesn't seem like their influence is waning anytime soon.
We're big fans of transferring votes in Ireland and are frequently implored to number our voting preferences down to the bottom of the ballot paper. So it's been gratifying to see Sinn Féin's voting surpluses being transferred to the benefit of the broad left (4). A new study suggests that although the effect of transfers might not have been as decisive as fans of Single Transferable Vote would like, transfers in this election were more important than normal, with 13% of TDs gaining their seats due to transfers lower down the ballot paper compared to the average rate of 10%5. Again, it will be interesting to see whether this continues at the next election (which could be within the year).
It's been gratifying to see the elections reflect the frustrations of the Irish voting public. But as noted at the beginning of this article, it presents a huge challenge for whoever forms a government (if we don't go back to another election). All we can say for sure for now is that Ireland voted for health and homes. And heaven help the government that fails to deliver it. We don't want to pay for GP visits anymore.
Wren, M and Connolly S (2019) 'A European late starter: lessons from the history of reform in Irish health care'. Health Economics, Policy and Law 14 355-373
1 https://www.irishtimes.com/news/politics/more-than-half-of-voters-want-border-polls-north-and-south-1.4167428
2 https://senatormarkdaly.org/category/a-united-ireland-in-peace-and-prosperity/
3 https://www.oireachtas.ie/en/committees/32/implementation-good-friday-agreement/
4 https://www.irishtimes.com/news/politics/election-2020-sinn-f%C3%A9in-surpluses-added-extra-dimension-to-
transfer-battle-1.4169192
5 https://politicalreform.ie/2020/02/11/the-transfers-game-in-election-2020-how-critical-were-lower-preferences-in-
determining-the-result/