Neither Brightest nor Best: The new UK Government Immigration Policy
A UK Points-Based immigration policy will begin on 1st January, 2021 when free movement into and from the EU ends. Here are the official "characteristics" of the new system in order for an applicant to achieve the magical 70 points that will allow him or her to come to Britain: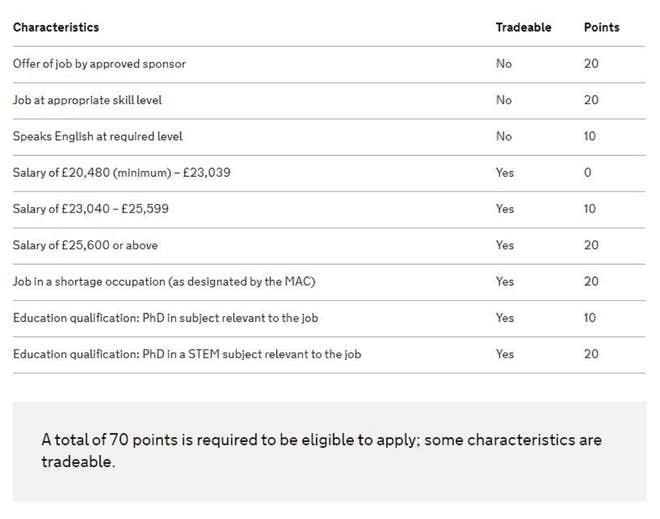 There are of course complicated adjustments and exceptions that may be applied. The UK Policy Statement (19th February, 2020), 'Skilled Workers' Section 6 further complicates the ground rules by stating: "In effect, applicants will be able to 'trade' characteristics".
The ink, however is scarcely dry on this Government's claim, that this is a "firm and fair points-based system"; when we discover that the firmness is obviously negotiable, and the 'fairness', with all this loose wording, becomes an obvious invitation to the lawyers to have a field-day with the 'characteristics-trading'.
Of course we should not believe that this failure is because the Government will not be aware of the shortcomings in the system. This is, rather classic UK regulation: with all the hallmarks of these great British regulatory institutions that established the standard: the Financial Services Authority (extinguished hastily after the Financial Crash), or the Department of Agriculture and Fisheries (rendered extinct because it became all too obvious that it was the prisoner of the industries it was supposed to be regulating) – these failed institutions, however best represent how Britain actually prefers to do regulation in areas outside the reach of the EU: in short, British regulation is conventionally designed to fail. The British backstop has always been 'self-regulation' whenever Government can fudge it; but this is merely a token that regulation in Britain is almost invariably a matter of optics over reality: all fuss and no substance.
Why do I say this?
Let us look at official British immigration statistics. We are leaving the EU. EU citizens already do not feel very welcome, therefore we would expect EU immigration into Britain to fall; and it has fallen, but this is simply to miss the point. The proposition of Brexit was to take back control of Immigration, and to reduce the immigration numbers to the UK (forcefully promoted, whatever the consequences). Britain always has had control over non-EU immigration, and curiously has never done anything to use that control to reduce non-EU immigration in any meaningful way; it is just used as a self-regulating trade-off with EU immigration. We are merely now going through the process of switching from EU to Non-EU immigration, and are now in the middle of resetting the pipeline to point in a different direction. Do not expect anyone to look closely at anything. Non-EU immigration has actually increased, indeed it slowly gathering pace to replace the lost immigration from the EU. This was always going to happen. It was obvious and inevitable; indeed there can be little doubt that it was what the Conservative Government wanted to achieve; an election victory to execute Brexit (and triumphantly claim to have reduced EU immigration); with the target no doubt of not actually reducing net immigration to the UK at all.
Here are the official statistics, to June 2019 ('000s):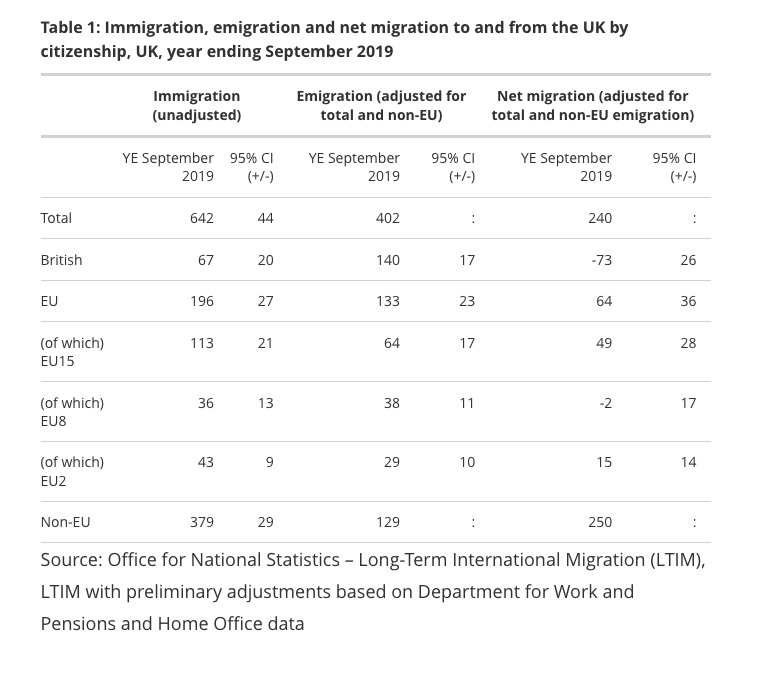 Net immigration to the UK from the EU for the year to June, 2019 was 48,000. Non-EU immigration was 229,000. Non-EU immigration (which has already always been under British control) is now almost 5 times EU immigration. For comparison, ONS statistics for 2014 (provisional) were net EU immigration 142,000; non-EU immigration 168,000. In fact, as the ONS pointed out in 2014: "Net migration of non-EU citizens has been higher than net migration of EU citizens since 1980"; until around 2013. Almost nothing here is quite what it seems, or follows the contours of the slipshod politics.
Let us look at this from another perspective. In typical British mindless fashion, the Government declares a triumph by presenting a policy on immigration. The complacent media provide the required propaganda platform.
The real question we must ask, however is who is going to ensure the rules are applied, or consistent, or mean anything at all. There were over 600,000 people migrating in or out of the UK in 2019. Given a completely new, comprehensive, detailed, rule-based system based on individual qualifications, on job history and life history, who is going to do the due-diligence? Who is going, not just to scrutinise paper and tick boxes (only too easy to avoid or evade), but check the facts? Where is the manpower? Who is going to audit the performance? It will require thousands, if not tens-of-thousands of skilled personnel to process all this new material, if it is not soon going to deteriorate into another – all too common – abject British regulatory failure. It is not even clear that such information gathering could be done accurately in a reasonable timescale for a functioning immigration service in a country that needs immigration. Has anyone seen any evidence of the planning required to implement this complex regime, or worked out the genuine consequences if it is actually intended to work, rather than merely to provide the illusion that "something is being done" under the fatuous rubric 'Get Brexit Done'; or indeed established the cost of providing not just some figures – but accurate information?  
British immigration policy will not reduce immigration; it will merely 're-balance' it; expect to see the term 're-balancing' as a vogue technical term. All the trade deals with other countries – India and the Far East for example, will look for greater access for their citizens to the UK as the price of free trade. We are only re-balancing immigration away from Europe and toward whoever cuts a deal with the UK. Nothing else will change very much.