How to Respond to Covid-19?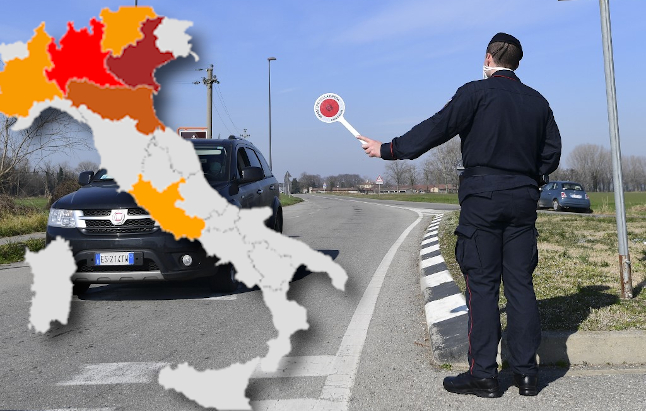 In the face of evidence that UK responses to corona virus are at best lacklustre and at worst driven by some weird laissez faire ideology, Damian Killeen reports from Italy.
I saw my first masked Italian yesterday, a friend of mine who is a senior medical professional. On an evening out, including enjoying a beer and food in a bar, it was notable that we had no difficulty in finding a table and that the streets were relatively quiet for a Friday evening. My friend was following the advice given today by the Italian President Matarella in a TV address and echoed by numerous other politicians and medical experts; while the Corona Virus remains a threat, wear masks, reduce physical contact (widely interpreted as not kissing on greeting – shaking elbows or legs or giving military salutes are taking place instead), stay a metre away from each other and wash hands regularly and thoroughly.
This advice comes in the context of a national shut down for two weeks of schools, universities, sports events and any occasion which encourages members of the public to come together in public. This measure has been described as draconian by some and it will, undoubtedly, have a major impact on the Italian economy but my impression is that, despite the major disruption caused throughout Italy by the imposition of these rules, there is a general acceptance that they are necessary for the welfare of citizens. Whether this goodwill can survive the fortnight, or any possible extension, is yet to be seen.
A note for those considering what actions might have to be taken in Scotland; there has been no outbreak of panic in Italy. Although there has been a rush on buying masks and hand sanitisers and some people are, no doubt, stockpiling essentials, there is no mass reaction against the professional and political advice that is being given. One reason for this is the high regard and trust in which medical professionals are held and the consistency of their advice. I share this regard on the basis of my experience of the system and that makes me feel secure while I am in Italy. Another is the transparency with which the political and professional systems have handled information about the outbreak of Covid-19 in the country.
This is something for which many, including political leaders, believe Italy has suffered in its relations with other countries that have used this transparency as an excuse to isolate and demonise Italy as being, somehow, to blame for the spread of the virus elsewhere. Italy's Foreign Minister was in Brussels this week calling on others to halt or prevent this kind of scapegoating. Following the broadcast by Canal+ in France of a video showing a stereotypical character spewing a mouthful of infected sputum onto a pizza, the Italian Minister has offered to sit down with the French President to share a pizza, an invitation that is yet to be accepted.
Research suggesting that the first European case of infection was in Munich, not Italy, as a consequence of a visit by an asymptomatic Chinese person who later developed the disease, has been well received by those who believe that Germany has been under reporting its cases along with other countries. Following the immigration debacle, the 'solidarity' of the European Union in response to the current viral attack continues to be under scrutiny and could prompt further exits if it is not addressed.
I am in the South of Italy where a small number of cases of Covid-19 have been identified and isolated and where there is no sense of an imminent epidemic. From here, the virus is something that is affecting the North of Italy and adjacent countries as well as other countries around the world. There is more concern for family and friends outside the region, at university or working in the North, for example, than for the possibility of a local programme of mass quarantine. My flights to Scotland have been cancelled and I anticipate that, if I were to return just now by some other means, I would be required to quarantine myself in Edinburgh, regardless of any negative tests or absence of symptoms. So, I am sitting tight in Puglia and this gives me a personal interest in what happens next and what my responsibilities should be.
Listening to the BBC, I hear the suggestion that the over 70's should be prepared to quarantine themselves for a month, especially if they have 'underlying conditions'. This sounded like good advice until I remembered that I am over 70 and take enough medication every day to suggest that I probably have one of these 'underlying conditions'. I am fit and healthy and take care of myself, so I would not readily lock myself in unless I were told that the risk from the virus was imminent or unless I could see real and troubling change going on around me.
Rationally, I understand that self isolation at that point might well be too late but, psychologically, I am reluctant to admit 'defeat' until the last possible moment. I don't think I am alone in these thoughts either in Scotland or Italy, so what is it that might convince me that active prevention is necessary now, rather than waiting until I have arrived in the danger zone?
One thing I have noticed is that none of the many politicians or medical experts I have seen on TV, from the President down with the exceptions of the mayors of infected and closed towns, have been wearing masks, neither in their orations or in the shots of them moving around from place to place. The same goes for the presenters and guests on the numerous celebrity chat shows that fill the daytime schedules or the senior journalists and politicians who fill the evenings with their debates about what should be done about the infection.
Preventative measures are only present on TV in news coverage of infected areas and hospitals or in research institutes where the search is on for an antidote to Covid-19. This creates a sense of immunity which, subliminally at least, contradicts or undermines the message of the need for prevention. I would be more inclined to adopt a mask myself if, for example, Flavio Insinna, the presenter of my favourite quiz show L'Eredità, together with his pre-feminist 'Professoresse', guest competitors and the studio audience, if one is still allowed, were to appear wearing anti-viral masks.
Actions, it is said, speak louder than words and, if there is a need to increase preventative or containment measures to save lives in response to this particularly virulent virus, then those who are charged with leading us into the necessary behavioural changes will be most effective if they are seen to model the behaviour they want us to adopt. I will, at least, try to acquire an appropriate mask today and I will seriously consider wearing it if I am going to some public space. So, how about it Nicola. Will you become the first European leader to address the public wearing a mask to demonstrate that the virus does not distinguish between the rulers and the ruled and that we are all, without exception, truly in this together?