Never have so few benefited so much from the financial sacrifice of so many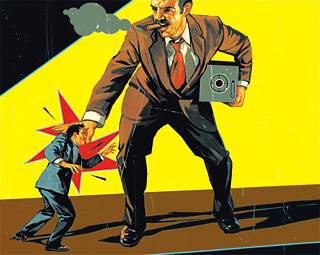 This is the Daily Mail, 20th March quoting Boris Johnson speaking at a news conference:
"Mr Johnson said at a press conference last night that he was determined not to repeat the mistakes of the 2008 credit crunch, when the government was seen as rushing to the aid of banks but not helping 'ordinary people'. 'This time we're going to make sure that we look after the people who really suffer from the economic consequences of what we're asking them to do, and we'll be directing our support to them, looking after the people first,' he said".
There it is: nemesis, borrowed, turned upside down and presented as Conservative salvation. They can't help it. The world, Truth itself becomes a Conservative sound-bite.
The meaning Johnson is trying to redirect somewhere else is however, quite different, and quite clear. It is not, 'there is no money' when the buck stops with Government. Not, "we are all in this together", when clearly we were not. Not 10 years of Austerity to ensure we fail the people we should have protected. Not, 10 years of Austerity to hollow out our NHS and all the community and public service resources we actually possessed, and had nurtured, only for the Conservatives to ensure we are ill prepared to cope with a serious and unexpected crisis that has nothing to do with the cheap politics of just-in-time, rip-off, shoddy banker, off-balance sheet Conservatism.
But wait! Hasn't the Chancellor shown that even this Government can change? Three Budgets in nine days. Think about it.
Three Budgets in nine days.
We might think requiring three attempts in little over a week to deliver a Budget is scarcely an indication of a steady hand, even in difficult circumstances; it isn't of course, but the principal problem is not just three budgets in nine days. The problem is that the Chancellor started in the wrong place; the banks, when the transparently obvious problem was to help people, about to be swallowed up in a personal, unavoidable economic disaster. We have been there before. In 2008 the banks were rescued and given a free pass that allowed them just to by-pass the people altogether and serve their own interests with a free gift; too big to fail, they were rewarded by privatising the profit and transferring the risk to the public sector: leaving the poor, the disabled and our public services, including the NHS to pay through the nose for Austerity. Never have so few benefited so much from the financial sacrifice of so many.
In the end it is people that matter. It always was. Start from there.
The Chancellor is now going to take at least four, perhaps five iterations to find his way to the location from which he should have begun; and that was just to begin. He has therefore misapplied the effort, constructed a Byzantine and probably inefficient, over-priced, sub-optimal, dysfunctional delivery system for his raft of inconsistent, uncoordinated measures, because he simply did not understand what he was trying to do; and changed direction in the middle; twice.