Post-Modern Eugenics: Is Culling the Elderly Now State Policy?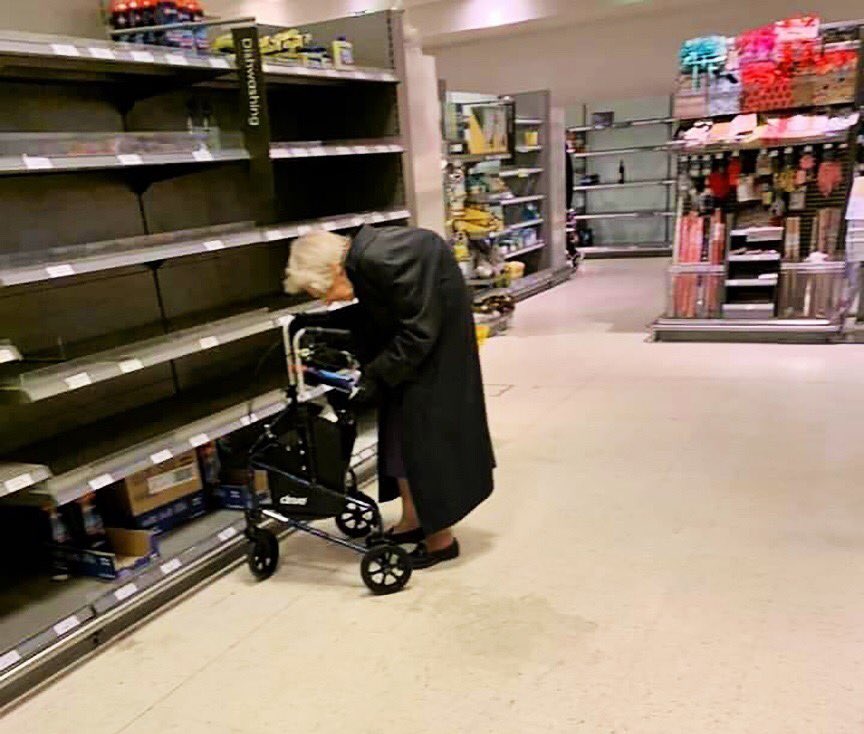 Eugenics is not a comfortable word, which explains why it is being avoided by those cultivating a climate of opinion in which the old should be 'let go' in the current coronavirus pandemic. They're an easy target. Largely economically non-productive, they can be portrayed as a burden on state revenues, even when they aren't. Many occupy houses which could accommodate young families. Others are poor and dependent on state support. A number of them have co-morbidities – dicky hearts, wheezy lungs, hypertension – which puts a strain on the stretched resources of the health service even on a good day. Coronavirus has become the Malthusian cream on the toxic coffee. Surely the numbers can be thinned just a little bit, some seem to feel. Think of the fiscal benefits.
Naturally, singling out the retired provides useful cover for the failure of others. The greatest failure, right now, is the shocking lack of preparation for a health emergency which we have known was coming since December last year. Our political classes, of course, had other things on their precious minds. Like the Brexit disaster, or Labour's tortuous leadership process.
UK preparations for the COVID-19 crisis, which epidemiologists have been warning about since it first hit Wuhan, could best be described as a dream of misty optimism. China was a long way away, and most of us knew nothing of that city bigger than London. Meanwhile over 100,000 Chinese students were about to return to UK universities after the Christmas break, while Chinese visitors poured in after the introduction of more direct Beijing flights in 2019.
Despite this our political masters slept on, waking up now and again, as on Friday March 13th, when Scottish rugby fans who'd traveled to Cardiff were told the game was off, though the Cheltenham Gold Cup went ahead that same day, despite warnings. Not so many days earlier minister Matt Hancock was stating there would be 'no clinical benefit' to cancelling such events, a mantra echoed by Government Chief Medical Officer Chris Whitty on Radio 4's Today programme.
This crisis is no bolt from the blue. The coronavirus was discovered in the 1960s by Glasgow-born scientist June Almeida, while former Chief Scientific Adviser Sir David King advocated putting a pandemic preparation process in place as early as 2006. By 2015 Bill Gates was speaking out passionately about the inevitability of a global pandemic while the political classes failed to listen, lulled by the fact that Ebola was largely confined to rural West Africa (and Scottish nurse Pauline McCafferty) where it killed 'only' just over 10,000. A similar complacency had accompanied the 2002 SARS outbreak, which caused no more than 774 deaths worldwide.
The defining feature of the UK government's approach recalls the folly of Mr Micawber – let's just hope something turns up. Much faith is placed in a breakthrough vaccine. There are around 50 of these currently under study, but only one so far – a formula from Boston-based Moderna – has passed its phase one trials, out of three, before it proceeds to full-scale human trials which would allow it to be licensed for general use. Nothing will be happening inside 18 months, which would be a record. It normally takes ten years to develop a vaccine against a new pathogen.
That leaves UK public policy-making in a bit of a mess, to put it mildly. The gaffe by Matt Hancock about the alleged profligacy of NHS staff making free with their personal protection equipment has provoked fury, though whether that's any worse than a view previously expressed by acting leader, Dominic Raab, that British workers were amongst the worst idlers in the world is a moot point.
Throw in Priti Patel and Liz Truss and it's patently obvious that the present government is, to say the least, ambivalent on matters of compassion. The truly worrying thing, however, is the way a growing consensus that the elderly should be regarded as disposable is permeating our general public discourse. Even the erudite and liberal-minded Professor Margaret MacMillan was subscribing to this belief on Any Questions, claiming that over seventies 'were not productive members of society, were not the people we need to get the economic engines going again, and we tend to be more vulnerable, so we should stay out of the way and let others get on with it.'
Dangerous talk indeed, even if she does express her point of view from a personal perspective. Or I hope she does. It wouldn't be too good if she was talking for over-seventies in general, for it appears that Professor MacMillan is coming close to condoning the disempowerment, gaslighting, and creeping liquidation of her own generation, which is astonishing, if not alarming.
There is, of course, a case to be made for leaving a ninety year old whose functions would soon be shutting down in any event, with or without coronavirus, to drift off into oblivion. Arguably, it would be a cruelty to perpetuate the suffering of such an individual. The words of Florence Nightingale's secretary, Arthur Hugh Clough – 'Thou shalt not kill; but needs not strive officiously to keep alive' – offer ethically robust guidance in such circumstances, and make sense, yet those of us in the 'don't kill the old' lobby needn't be dismissed as flaky Californian life extensionists just because we think some of the elderly have as much right to life as anyone else.
The terms of reference are not always easy to grasp. Sure, when the trumpet sounds, we are bidden – but what exactly is old? In this particular debate (if it can be dignified with such a word) I have heard it said that the over sixties fit the category. This slippery slope of reasoning needn't just affect the old. What of those with learning difficulties, spina-bifida, motor neuron disease, or anorexia?
Who, in any case, will make the choices? Take two random names; Sir David Attenborough, 93, or Kim Kardashian, not quite 40. No offence intended Miss Kardashian, but isn't Sir David doing rather more for our planet? Which one can we least afford to lose? This could almost be a parlour game. Lord Peter Hennessy, a sprightly 72; Katie Hopkins, a boorish 45. Must Peter be sacrificed for Katie? Lord Winston, 80 next birthday or D-lister Josie Cunningham? And so on ad infinitum.
Far from being unproductive, some of the old just keep on working. Who could not be impressed by Nicholas Parsons, who died in January at 96, having recorded his last Just a Minute months earlier. Nor was he the record holder. That prize goes to the Indian vocalist Ushtad Rashid Khan, who was teaching his class in the Kolkata Music Institute only hours before his death in 2017, aged 107.
The old are not only a vulnerable group. They are a target group. They are being passively denigrated in a variety of ways, whether it's the BBC's sacking of long service financial journalist Mickey Clark, or the do not resuscitate procedure applied to a friend of mine in his sixties in April when he succumbed to coronavirus. We are invited to apply a measure of value to human life which is both arbitrary and discriminatory. This is a betrayal of our humanity.
Eugenics was never limited to the Third Reich's elimination of the disabled, the homosexual, and the Jewish. Nor was it merely of interest to the likes of Henry Cabot Lodge, with his Anglo-Saxon 'Teutonic Germ Theory' of a pure America predicated largely on a paranoid fear of 19th century immigration of Irish, Italian, and Polish Catholics, Jews, and Chinese.
It is the subject of conversation here and now, in Britain – only you won't find the word being used. Our ruling establishment screwed up on tests, ventilators, and PPE for health workers, but increasingly the COVID-19 catastrophe is being depicted as somehow the fault of the elderly, and their crime is being alive.
'A true measure of any society' declared Mahatma Gandhi 'Can be found in how its treats its most vulnerable members.' We are now being put to the test, and I fear we are at risk of failing it.