The Unicorn Alone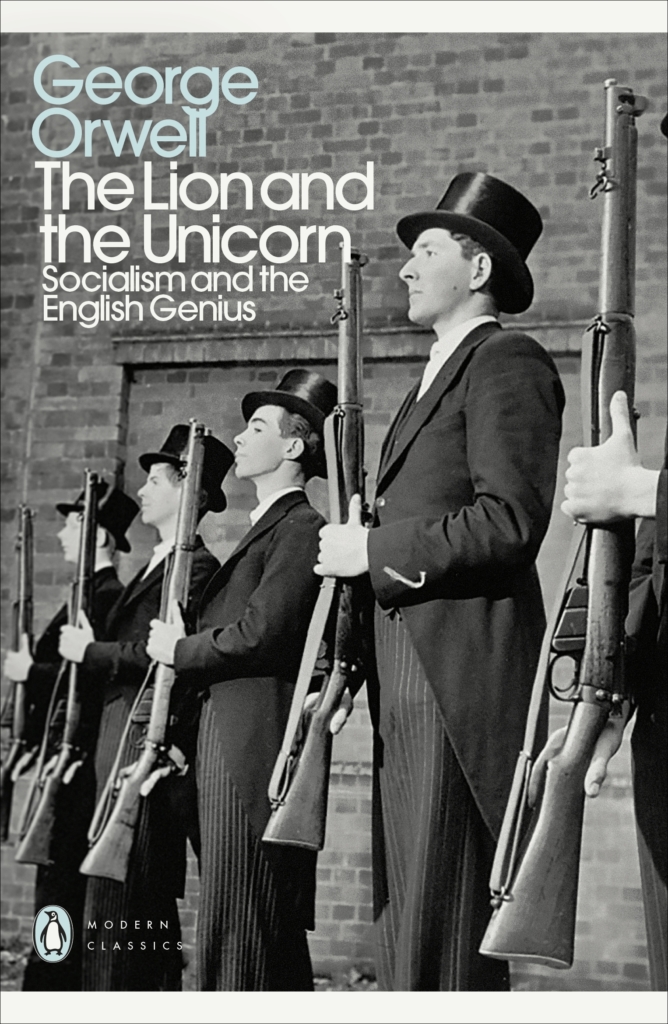 George Orwell's The Lion and The Unicorn is more relevant than it has been in decades. Left-wing supporters of Scottish independence should read it.
The Coronavirus lockdown gives most of us time for reading, perhaps even for re-reading. When I first read The Lion and The Unicorn as a teenager, it felt like reading history, something that had recently been declared over by Francis Fukuyama. I came to believe that my beginning was the world's conclusion: 'boom and bust' was over according to Gordon Brown and the class war was over, according to Tony Blair. Orwell's declaration that "England is the most class ridden country under the sun" felt like a relic of another time.
It doesn't now.
Supporters of Scottish independence may choose to avoid this brilliant essay on the reputation of its author or due to the fact is uses the word "England" 125 times. Worst of all, they may passively accept the unionist claim to Orwell on the basis of the oft-quoted-and-even-more-misinterpreted Notes on Nationalism, published in 1945, that Ruth Davidson and others have used to support the Scottish unionist cause. That would be wrong. Unionists are not so fond of referring to Orwell's work after he learns something of Scotland. Anyone who has read Norman Bissell's wonderful novel Barnhill will know that Orwell first arrived on Jura in 1946. By the February of 1947, he wrote:
"Scotland is almost an occupied country. You have an English or anglicized upper class, and a Scottish working class which speaks with a markedly different accent, or even, part of the time, in a different language."
Orwell goes on to emphasise his support for Gaelic medium education. I suspect these views would get most folk, even an old Etonian, kicked out of a Scotland in Union meeting.
So why is an essay composed in 1941 relevant to our current predicament? Surely our situation is not as dramatic as: "As I write, highly civilized human beings are trying to kill me"? Would 'As I write, highly civilized human beings are spending a third consecutive day in their pyjamas' not be more appropriate? Yes and no. It is not a war that we face, but the frequent sirens in the background remind all of us that we face a significant collective existential threat.
The Lion and The Unicorn could scarcely be more relevant to our current situation. It was composed amid a widespread threat to life; describes a Tory government completely unable to manage that threat and castigates a class system and self-important intelligentsia that exacerbated the threat. Sound familiar?
Consider our current predicament with personal protective equipment (PPE). While everyone from the Queen to the mass media compares our current woes to the heroics of WWII, it is worth remembering that the initial response to that crisis was mismanaged as well. Orwell describes an army that was 300,000 helmets short, with "one aeroplace against three, with rifles against tanks, with bayonets against Tommy guns". Such is his disgust with those in power that he goes on to declare "a generation of the unteachable is hanging upon us like a necklace of corpses". Today and then, thousands died due to imbecility in the government and ineptitude in the opposition.
However, I feel hopeful reading this. It was disgust for a broken system that created the NHS and the welfare state, not a charitable handout following war service. Unlike the New Labour years, when it seemed that the world was in thrall to capitalism, now contempt for neo-liberalism is a mainstream view. The Lion and The Unicorn describes not only a crisis, but an awakening. Perhaps we could replace the word 'war' with 'virus' in this sentence? "What the war has demonstrated is that private capitalism… does not work. It cannot deliver the goods." Just as the war left the legacy of the welfare state so too might the Coronavirus bequeath us the universal basic income.
The idea that makes The Lion and The Unicorn so pertinent is encapsulated by its opening anecdote. The "highly-civilised" German dropping bombs on Orwell would not normally go about behaving in a violent way. It is the nation, patriotism, that has led him to behave in a way that he otherwise would not. Those of us who favour democratic socialism face a conundrum: how do you ask the rich to part with their wealth without the use of violence? Orwell's answer is the most coherent I have read: "People who at any other time would cling like glue to their miserable scraps of privilege will surrender them fast enough when their country is in danger." For the first time in seventy years the Western world faces a situation that "brings it home to the individual that he is not altogether an individual". We are unlikely to find a better opportunity for change.
The less repellent unionists in Scotland are often fond of declaring that they belong to no nation, or as the Labour MSP Neil Findlay put it "I don't like politics rapped in any national flag". However, the stance of the Scottish unionist left, self-described 'democratic socialists' is not even supported by the most prominent self-described 'democratic socialist' ever to have lived. As Orwell makes clear, patriotism is essential to all successful moves towards equality. I believe that is true whether we favour the lion or the unicorn. Left-wing unionists need to be honest – if the nation is necessary to bring about equality which nation do they think might bring about that equality?
Some of humanity's greatest achievements came from adversity. Some of the best times in our history came straight after the worst. The Lion and The Unicorn is an invaluable time capsule as it shows how we move from misery to hope. Then, as now, "England is family with the wrong members in control." But they won't be in control forever. And Scotland will not be adjoined to England forever. The first premise of socialism – value is created by key workers not key bosses – has gone from heresy to common sense in the space of a few weeks. Greater realisations will follow. History is back. Read The Lion and The Unicorn in order to learn from it.
References
http://www.telelib.com/authors/O/OrwellGeorge/essay/tribune/AsIPlease19470214.html
https://www.orwellfoundation.com/the-orwell-foundation/orwell/essays-and-other-works/the-lion-and-the-unicorn-socialism-and-the-english-genius/
https://bellacaledonia.org.uk/2017/05/16/ignorance-is-bliss/
Bissell, Norman, Barnhill, 2019
https://www.orwellfoundation.com/the-orwell-foundation/orwell/essays-and-other-works/notes-on-nationalism/
https://morningstaronline.co.uk/article/f/i-do-not-politics-wrapped-any-national-flag